What Tomorrow's Game Means For Both Teams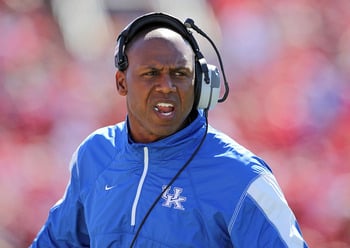 We all know what the Governor's Cup game means for the fans, we hate them, they hate us. Ever since the Final Four game between the Cats and the Cards, the rivalry has been intense on an all-time level. For the first time I can remember, Kentucky and Louisville are battling over everything, including debates over who's Olympic Gold Medal's are more awesome, even though both sides know the answer (Hint: Anthony Davis). But what does tomorrow's game mean for the teams, and the programs themselves?
For Louisville: 
We can be real here, a win over Kentucky, honestly does nothing for them on a national scale. But as far as the rivalry is concerned, gives the Cardinals a big step forward. A win, no matter what fashion, will validate some fans belief that the Cardinals are deserving of a BCS bowl bid this year, with complete disregard to the fact there are definitely 10 better teams in college football than Louisville. Charlie Strong is adamant about the fact that Kentucky "won't win again" in the series, and the Governor's Cup will remain in Louisville until at least next September, so a win saves him and his program from a lot of embarrassment. A win over Kentucky more than likely propels them to at least a 4-0 start with North Carolina ushering in a new head coach, as well as being a much lesser team than they were in previous years. A win also keeps Louisville on track for the undefeated regular season that many believe is a great possibility given the weakness of their schedule (UofL plays 0 teams this season that are currently ranked in the Top 25). 
On the other hand, a loss for Louisville would be disastrous to for the "Cardinal Strong" brand, and would ruin any dreams of the Cardinals finishing near the tops of the polls this season. The flamboyant confidence Louisville fans have coming into the game would be destroyed immediately, and while it wouldn't stop them from winning out against the Sisters of the Poor schedule they have, it would be a permanent black mark on this season. Speaking of the Little Sisters of the Poor, the team ESPN analyst Kirk Herbstreit picked to win the Big East, Pittsburgh, is losing 28-10 toYoungstown State in the 4th quarter as I type this. Go Big East.
If Louisville wins tomorrow, it will be because UK's defensive line couldn't force enough pressure on Teddy Bridgewater to have to make pass/run decisions that are trouble a lot of times for young QB's. It will be because UK's inexperienced secondary couldn't contain Devante Parker and Eli Rodgers, and the young linebackers don't shut down Dominique Brown and Jeremy Wright in the running game.
For Kentucky: 
A win in this game for Kentucky would be beyond huge for the program, giving Joker Phillips momentary relief from the hot seat that he's currently on. With the young roster that Kentucky has, a road win against the school's most hated rival would be a shot of life into a program that has been surrounded by negativity and apathy lately. There's no question that for necessity's sake, this game means much more to Kentucky than it does to Louisville. With the next 2 games being home games against Kent State and Western Kentucky, a win over the Cardinals would more than likely guarantee a 3-0 start for the team heading into their 4th game in Gainesville against a Florida team that looked far less than impressive today grinding out a home win against Bowling Green. Fans who may have turned their back on the program following last year's disappointing season may return with a Governor's Cup win under their belt, and the young Kentucky team will have a boatload of confidence to face the rest of this rebuilding season with.
A loss for Kentucky would give fans another negative result to mourn, and would do nothing to help Joker's position with the fan base. But once again, honestly, there are a lot of people who expect Kentucky to lose this game, so it probably wouldn't affect how the Wildcats go about the rest of their season.
If Kentucky wins the game it will be because Joker Phillips opened up the playbook for Maxwell Smith and let him use his young, talented WR's in a way that gets them the ball in the open field. It will be because they win the Special Teams game, with a few long kick-off or punt returns to set up good field position, and because the multi-headed combo of RB's were able to put the 'Cats in 2nd or 3rd and short positions.
Summary: 
With all the hype of the rivalry game, two programs seemingly heading in opposite directions, tomorrow will no doubt be a brawl. One team has aspirations of a BCS Bowl, while another just wants to see improvement. Both teams are young, but the reason that I think that Kentucky will win this game will be because of their defense. Nobody expects the Wildcats defense to be much, considering they lost nearly 60% of their tackles from last season, including 2 guys named Danny Trevathan and Winston Guy who are now playing on Sundays. The young linebacking corps. for the Wildcats is vastly underrated in my book, as Avery Williamson and Bud Dupree will lead the charge, after showing impressive flashes towards the end of last season. The Defensive Line is anchored by experienced veterans, Seniors Taylor Wyndham and Collins Ukwu on the ends, and Juniors Donte Rumph and Mister Cobble looking better than ever. I believe the front 7 of UK will take enough pressure off the secondary to squeak one out in this game, although it will be very close.
My Prediction: UK 27, UofL 24. Bring it home, boys. #BeatLouisville