What we learned from Kentucky's defense in fall camp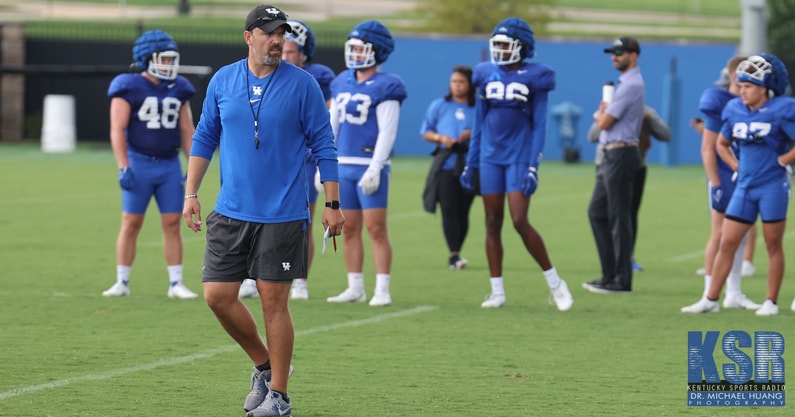 Brad White and his Kentucky defense are currently in the lab at the Joe Craft Football Training Facility trying to figure out ways how to take away vertical throws for Miami (Ohio) quarterback Brett Gabbert. Game prep is officially underway in Lexington.
Before getting into some opponent information, KSR is taking a look back at fall camp that finished this week. After touching on offense, we are now digging into the defense to see what was established during fall camp.
An experienced unit might have a higher ceiling than expected due to strong depth and a couple of potential young impact players.
Deone Walker could be special
On paper, Kentucky's defensive line entered the 2022 season as a team strength. The highly touted class of 2020 is entering year three in the program, and Kentucky was a legit 2-3 deep at every spot on the three-down front.
That was before the emergence of top-300 recruit Deone Walker. The four-star prospect out of Detroit (Mich.) Cass Tech has made a surprising splash early at Kentucky.
"Deone's young, and he's raw, but he's very physically gifted," redshirt junior center Eli Cox told reporters during camp. "He's very tall, he plays with a lot of length. He plays with really good explosion and strength for a young guy. It's something that he'll be able to provide a great look for us on offense because he's built just like every other SEC defensive lineman we play every day."
Over the last week of camp, Walker has emerged as the likely starter at boundary tackle in Kentucky's scheme. That has caused some shuffling with Octavious Oxendine moving over to field end. Off the bench, Kentucky will have Tre'vonn Rybka and one of Justin Rogers/Josaih Hayes. All five of these players are starting caliber players in the SEC.
Thanks to some freaky physical traits, Deone Walker has a chance to be a special player in Lexington, but that might come later in his career. For now, Kentucky has real depth on the defensive line as this group will likely be 7-8 deep throughout the year. Anwar Stewart's group needs to be a position strength and provide the defense some more playmaking.
All signs out of camp seem to point to this as this group consistently got the better of Kentucky's offensive line. The emergence of a true freshman helps make this group strong than expected.
Off-ball linebacker has the full package
With both Jacquez Jones and DeAndre Square deciding to return to Kentucky for their super senior seasons, Kentucky immediately had one of the best linebacker situations in college football.
That showed up again in fall camp.
Both Jones and Square have played a lot of football in the SEC, and each showed excellent play recognition and good communication skills in open practice settings. Meanwhile, D'Eryk Jackson and Trevin Wallace showed playmaking and solid scheme comfortability. Expect each to play a big role.
Kentucky has four guys for position coach Mike Stoops that can all be high-level players in the SEC. White and the rest of the defensive coaching staff must get creative in how they use the personnel available at this position. Luke Fulton and Martez Thrower are two other players who could also play snaps.
With this quality depth, Kentucky should have a healthy rotation throughout the season allowing this group to stay fresh through all 12 games. That needs to lead to consistent playmaking throughout the year. But the biggest attribute this group could bring is football IQ as the two veterans will make sure the defense's alignment and assignment is on point throughout from September through November.
Health will be paramount on the edge
Kentucky knows what they have at outside linebacker. Both J.J. Weaver and Jordan Wright have All-SEC potential, and they are 100 percent healthy. That was something that simply was not the case last season.
Throughout fall camp, multiple people within Kentucky's organization have talked about how good the duo is. Each has flashed strong havoc production potential throughout their careers, and the defense will be heavily reliant on that this season.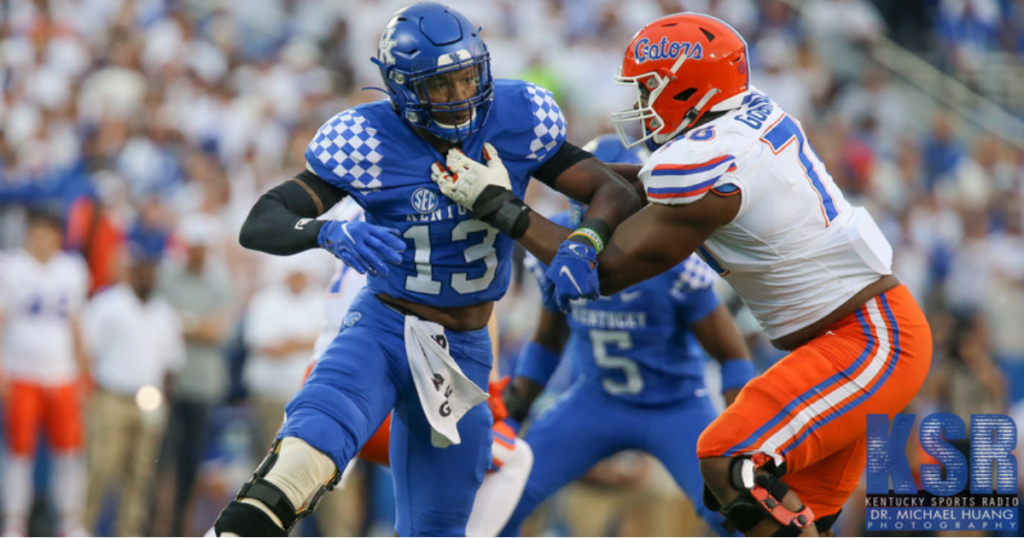 But when digging into the roster, it's clear there is a drop-off after these two players. Keaten Wade is emerging as the top backup option, but outside linebacker is a tough position to play as a true freshman.
Kentucky needs both Weaver and Wright to be highly productive. The ability for both to play together gives this zone-heavy defense a ton of length that can help minimize throwing windows on top of the value the duo has both setting the edge against the run and as an edge rusher on passing downs.
For Kentucky to reach their ceiling, both Weaver and Wright need to stay healthy and log a lot of snaps. Fall camp proved both can be true difference makers when on the field.
CB2 battle is becoming clear
After playing nearly 800 snaps as a true sophomore, Carrington Valentine has a starting spot locked down. The Cincinnati (Ohio) Moeller product is one of the most important players on Kentucky's team, but that was known.
In fall camp, Kentucky had to find a running mate opposite Valentine. The coaching staff went into the transfer portal after spring practice to find another option. But a third-year player seems to have won the battle.
Throughout fall camp, redshirt sophomore Andru Phillips has been the other starting cornerback with the ones. The Mauldin (S.C.) High product brings some physicality to the position, and was a good tackler coming out of high school.
Ole Miss transfer Keidron Smith appears to be CB3 for Kentucky at the moment, but we should expect the super senior to play more than occasionally. Smith will give the defense some much-needed length and size (6-2, 204) on the outside. The coaching staff in Lexington wants to have a healthy rotation, and the Wildcats currently have three players that appear capable of playing winning football in Kentucky's zone defense.
As of late, redshirt freshman Maxwell Hairston has started to flash. The former three-star recruit flashed good ball skills as a high school prospect in Michigan.
Kentucky still has a lot to prove in the secondary, but there are now options for the coaching staff to utilize.
There is quality depth at all three levels
Entering the season, there were some ceiling questions for the defense. There do not appear to be any clear stars. That showed when this unit did not have any player appear on the preseason first-team All-SEC teams throughout the offseason.
With that said, the floor is very high. Kentucky returns four super seniors who are all quality starters and did a great job adding depth in both the transfer portal and the most recent high school recruiting class.
Texas State transfer Zion Childress will join Keidron Smith in the secondary as an experienced player for Kentucky to use off the bench. The Wildcats are very deep at both linebacker and the defensive line. True freshman Alex Afari is pushing veterans for a role at Kentucky's hybrid medium position when the unit goes to subpackages.
Other than outside linebacker, Kentucky should feel strong about their two-deep at every position. The coaching staff has done a good job building a quality roster by stacking recruiting classes while adding extra help for team needs in the transfer portal.
That roster building should lead to some consistent solid play from this defense.