What we learned from Kentucky's offense in fall camp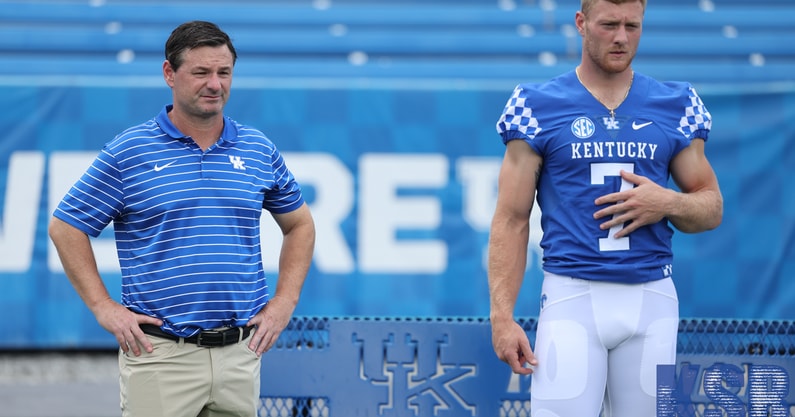 Game prep for Miami (Ohio) is officially underway at the Joe Craft Football Training Facility. The Kentucky football program is now focused on beating another team as fall camp wrapped up this week.
Before diving into some pregame comment for the RedHawks out of the MAC, KSR is going to take a look back at what we learned during fall camp.
After taking in one full open practice, hearing from sources about both scrimmages, and speaking weekly with coaches and players, we are pulling all of the intel for one big post before things really start to ramp up in Lexington next week.
First up is the offense where former Denver Broncos offensive coordinator Rich Scangarello takes over the offense and is installing what appears to be a very complex scheme in Lexington.
Will Levis has a lot on his plate
For Kentucky to get to where the program wants to get to in December, Kentucky will need its QB1 to play like a superstar. All of the physical traits are there, and we saw potential in Will Levis last season, but the new scheme appears to be putting extra pressure on Levis.
Kentucky is breaking in two new starters at both tackle spots and could have a pair of true freshmen playing major snaps early in the season. The offense is going to need to be tight end driven early in the season while Levis puts the other young players in the best spots to succeed.
On top of everything, there appears to be some growing pains with the new offense that likely just won't go away in the first couple of games.
"Until you play, you don't know exactly where you're at," Scangarello told reporters on Tuesday. "There will be mistakes, there will be some growing pains, but you hope that you're able to overcome that."
Kentucky will be leaning on Levis for the offense to overcome some of those issues. With early road trips to Florida and Ole Miss, QB1 will have to play at a high level early for Kentucky to pick up some wins to stay in the SEC East race.
The future NFL quarterback is going to be asked to be an NFL quarterback this year. If Levis can handle that, the Wildcats could be very good early.
Kentucky has found their tackles but can they play?
Entering fall camp, the offense had an idea of who the starting offensive tackles would be, but the coaching staff wasn't 100 percent sure. It seems like Kentucky has found the two guys that will start and have two that could be rotational pieces off the sideline.
At right tackle, redshirt junior Jeremy Flax put a solid fall camp on top of a good spring camp and seized control of the starting spot early in camp. The Detroit native and former junior college transfer should make an impact as a mauler in the run game, but holding up in pass protection will be the big question after struggling in multiple games last season.
At left tackle, Deondre Buford entered training camp as the top option, but redshirt freshman David Wohlabaugh Jr. has emerged as LT1. The Ohio native brings a strong pedigree, positional athleticism, and good length to the position. There are play strength questions that Wohlabaugh needs to answer, but the young player brings real value as a pass protector.
In the meantime, it appears that Buford has been shifted over to right tackle, and true freshman Kiyaunta Goodwin will be Wohlabaugh's backup to enter the year. There is a possibility that new offensive line coach Zach Yenser could go four-deep at times this season. However, two players need to emerge.
Both Flax and Wohlabaugh have won position competitions but need to prove that they can hold up and produce in a real game. These two will be challenged early.
Kentucky will have committee approach without Chris Rodriguez Jr.
We have not heard officially yet, but all signs point to All-SEC tailback Chris Rodriguez Jr. sitting out the first few games of the season. That means Kentucky is in "next man up" mode for running backs coach John Settle.
In the transfer portal, Kentucky added Ramon Jefferson to the roster, and there's legitimate buzz regarding the FCS All-American. The super senior appears to be the favorite to begin the season as the starter, but he'll have a lot of help.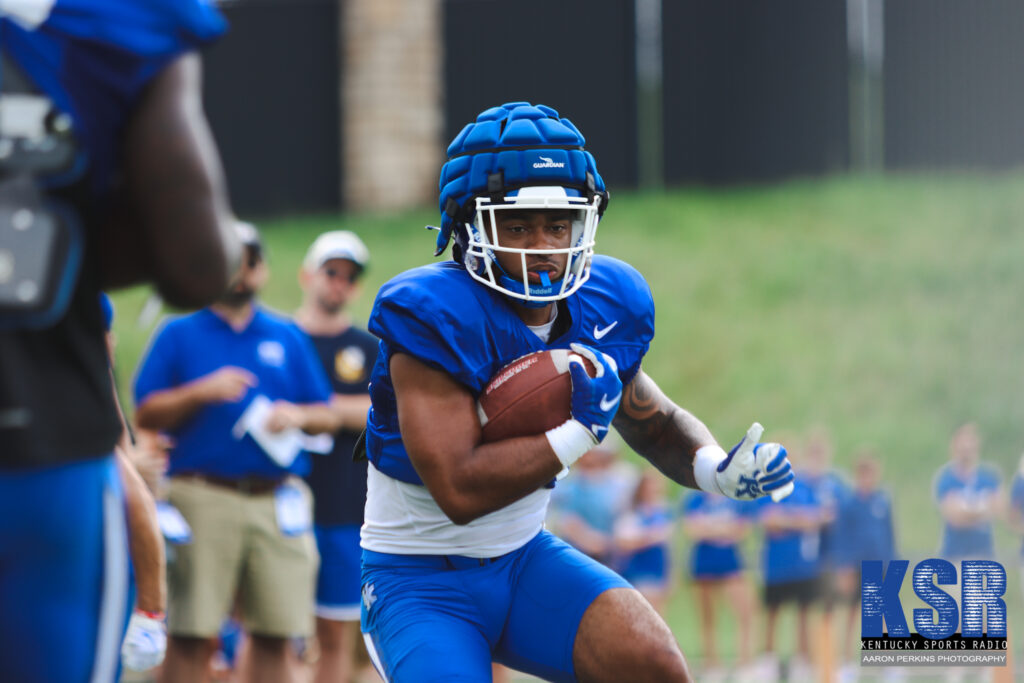 JuTahn McClain is going to have a big role in this offense, and the junior brings strong passing game value to the field. Kavosiey Smoke has not been talked about much, but Scangarello has been impressed about what he's seen from the redshirt senior. La'Vell Wright is another tailback that is pushing for time.
Expect both Jefferson and McClain to have a healthy rotation to start the season while the coaching will also look for some snaps at Smoke. However, it seems that Scangarello would prefer to have a workhorse at tailback.
"Only one tailback plays like one quarterback. There's only one ball to handoff," Scangarello said. "When you got a workhorse like C-Rod, you're not going to take him off the field unless you have to."
However, Kentucky is likely to be without their workhorse for a few games. It seems like Scangarello would like to ride a hot hand. Jefferson is the smart bet as the transfer is a clear zone scheme fit who does a good job of running behind his pads.
Tight end should be a position of strength
Kentucky is entering the season with seven scholarship tight ends — when you include fullback Justice Dingle — and each could be expected to play a role this season. The Wildcats have legitimate big boy SEC depth at tight end.
Brenden Bates will open the season as Kentucky's in-line Y tight end. The redshirt senior appears to be the best traditional blocker of the group at 264 pounds. Next to him, redshirt freshman Jordan Dingle is the favorite to be a starter in 12 personnel at H tight end as the Bowling Green (Ky.) High product has the athleticism to play off the ball and do multiple things in both the run and throw game. The former top-500 recruit was one of the biggest stars during fall camp.
Off the bench, junior Izayah Cummings provides great versatility and might be this group's biggest weapon in the passing game. Keaton Upshaw has made plays as a receiver in the past, and the redshirt senior has great size (6-6, 246) with a strong catch radius. Josh Kattus was another fall camp star, and the true freshman could have a role in the run game as the Cincinnati (Ohio) Moeller product has all of the traits to be an elite lead blocker in some two-back outside zone concepts.
As long Kentucky is without Rodriguez and gives young players reps at wide receiver, the tight ends will be called upon to play a high volume of snaps and make plays. The Wildcats have a lot of players that can contribute and must scheme their tight end personnel open to have success on offense early in the season. Oh, they also could play a big role in pass protection as Kentucky looks to give their tackles some help.
Youth movement at wide receiver
Kentucky went into the transfer portal to add Tavyion Robinson and that was a big recruiting win. The former Virginia Tech wideout is expected to be WR1 for Will Levis operating out of the slot in Kentucky's pro-style scheme. Expect a big year from the senior receiver.
The Cats will need consistency from the transfer addition because this is a position group with a lot of youth.
In the spring, early enrollee Dane Key earned a starting spot at X receiver and that held through fall camp. The Lexington (Ky.) Frederick Douglass product will play a big role on the offense this year. Barion Brown enrolled in the summer, and the top-100 recruit is already being used in multiple ways by the coaching staff.
By October, these two rookies will likely be starters with Robinson. Over the last week, Chauncey Magwood has emerged at wideout and the sophomore might be Kentucky's WR4 due to his slot and outside versatility.
Kentucky is going to be young at receiver and that will likely mean growing pains. There will be learning on the job early, and hopefully that will turn into some consistent big-time playmaking later in the season.