What's changed and what hasn't since UK and Wisconsin last met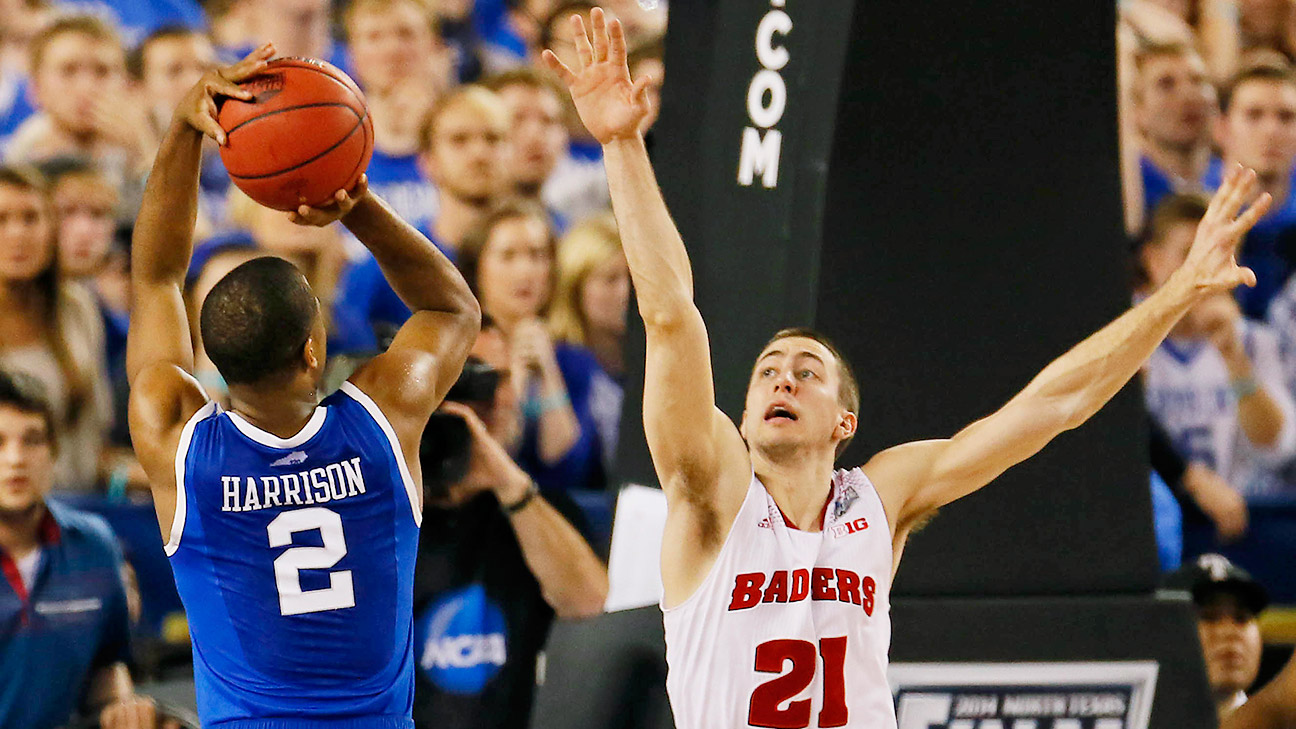 Almost one year ago, Kentucky beat Wisconsin 74-73 on a last-second three from Aaron Harrison to advance to the National Championship. On Saturday, the two teams will meet again with the same goal. What's changed and what hasn't since April 6, 2014? I'm glad you asked...
UK won't have Alex Poythress
Alex roared the Cats back into the game with eight points and seven rebounds, including four crucial points and two huge rebounds in the final five minutes. He also had a key offensive rebound and putback that was part of 15-0 run by the Cats early in the second half. Of course, Alex went down with an ACL injury earlier this season, and will now take over Willie Cauley-Stein's place on the bench from the last Final Four. Hopefully someone will give him a GoPro. Better yet, he can use ours.
UK will have Willie Cauley-Stein
Willie went down with an ankle injury during the Louisville game, and missed UK's final three games of the NCAA Tournament. Although Willie only averages three more points per game this season, he's a totally different player, a well-rounded dunk and block machine who alters games defensively. For some reason, most analysts think Willie will guard Frank Kaminsky, but I think he would be much more effective against Sam Dekker, a 6'9" 220 lbs. forward who hit five threes vs. Arizona. Willie's versatility and athleticism on defense are the perfect recipe to keep Dekker quiet, as long as he doesn't chase butterflies.
Wisconsin won't have Ben Brust
Brust scored fifteen points against UK last year, including three threes to keep the Badgers rolling. Thankfully, he's gone, but...
Wisconsin will have Nigel Hayes
Hayes was a non-factor in last year's game, but this year, he averages 12.4 points and 6.3 rebounds per game. As Andrew Cassady told you earlier today, he can put up a bunch of points in a hurry, and Trey Lyles will need to be at his best to contain him.
Frank Kaminsky is better...
In his senior year, Kaminsky is a favorite for Player of the Year, averaging five more points and six more minutes per game than he did last season. UK used a three-man attack of Julius Randle, Dakari Johnson, and Marcus Lee to contain Kaminsky this year, but I have a feeling Karl Towns will get the mission this go around, with Dakari and Lee running relief. On yesterday's Final Four teleconference, John Calipari ticked off the ways Frank Kaminsky has improved since last year. "He looks stronger. He's working angles better. He's a really confident perimeter shooter," Cal said. "He's passing because he gets double-teamed so much. He's passing better."
...But he still does this
And I have a feeling he'll do that a LOT vs. Karl Towns on Saturday. Welcome to the Flop Hall of Fame, Frank. Please line up there right next to Chris Jones.
UK won't have Julius Randle or James Young
Randle and Young were UK's leading scorers against Wisconsin, with 16 and 17 points a piece; however, Randle was hampered by an ankle injury throughout the game, pulling down only five rebounds instead of his usual ten. Young was huge against the Badgers, scoring seven of UK's first nine points.
But they will have Karl Towns, Trey Lyles, Devin Booker, and Tyler Ulis
UK's four freshmen average a combined 34.5 points per game, 35.9 in the postseason. Karl will be especially important in Saturday's game against Frank Kaminsky. In the postesason, Karl is UK's leading scorer with 12 points per game, and he'll most likely have the task of guarding Frank the Tank. Karl is foul prone and Frank is flop prone, so this matchup will be crucial on Saturday night. Look for Dakari Johnson and Marcus Lee to double team Frank while Karl's on the bench. As mentioned earlier, Trey Lyles may help Willie guard Sam Dekker or focus on containing Nigel Hayes. UK didn't have a weapon like Trey offensively last year, and he could once again be the x-factor for the Cats. Ulis and Booker need to help keep Kentucky balanced on offense, and wouldn't this be the perfect game for Booker to get hot from the outside? He had two threes vs. Notre Dame and he's due for a breakout performance.
UK still has Aaron Harrison, who still does stuff like this
And that's just one more reason I'm not overly concerned about the Badgers.