What's next for John Wall?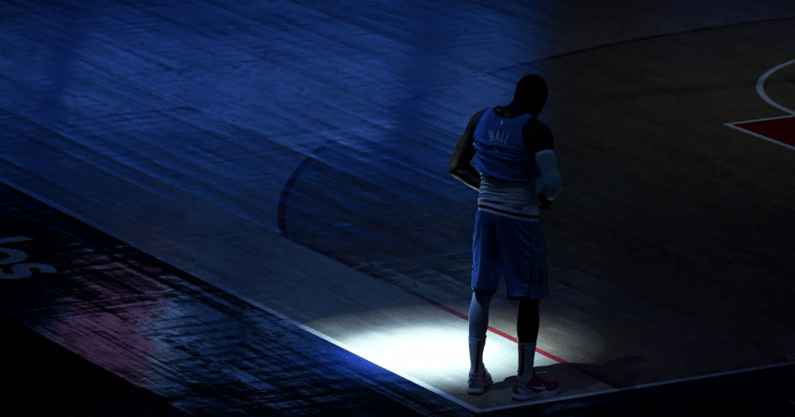 John Wall revolutionized Kentucky Men's Basketball, bringing it back from the doldrums of the Billy Clyde days and catapulting the program back to national prominence to kick off the John Calipari era. In the NBA, he quickly turned into one of the best point guards in the league, making five straight All-Star appearances and earning a four-year, $171 million super-max contract with the Washington Wizards.
Now, that contract looks like a long-term premium package deal with a cable company that has poor customer service and whose Internet rarely works, and it currently sits on the books of the Houston Rockets, a franchise itching to cut the cord.
As much as most people hate their cable company, that analogy is much too harsh. It is unfair to call it (as some people do) the "league's worst contract" because it's not as if Wall grossly underperformed, he just hasn't gotten a chance to play.
Put it this way: In the past five seasons, Dwyane Wade has played the same amount of games as John Wall — Wade retired in 2019.
Not unlike his Kentucky brother, DeMarcus Cousins, who suffered a trifecta of injuries leading to his current journeyman status, back-to-back-to-back foot ailments derailed Wall.
After a heel injury that wouldn't heal, Wall had surgery on it which ended his 2018-2019 season. Just a month later, Wall partially ruptured his Achilles tendon after he took a tumble in his own home. And if that wasn't enough, the Achilles surgery revealed Wall had developed an infection from his previous heel surgery.
In short, goodbye 2019-2020 season.
Houston Rockets join the tankathon
The long injury list and massive salary didn't deter the Houston Rockets, though, which gave him a fresh start when they swapped out a disgruntled Russell Westbrook for him. While analysts scratched their heads about how he would pair alongside James Harden on the court, everyone was excited to see them try. Couple that with some nostalgia of a Wall-Boogie reunion and the Rockets were going to be must-see TV.
Unfortunately for everyone involved, James Harden did not share in this excitement. He allegedly showed up out of shape to training camp and according to Cousins, disrespected the team from day one.
After moving Harden, the Rockets made it clear they were hitting the reset button and going young. Typically, this is code for tanking.
The shift to tanking going younger became evident when they waived Cousins, who was malcontent with his backup role. That was easy enough to do to Cousins who was making the veteran minimum, but when Wall voiced displeasure about the team's desire for him to come off the bench as well, they weren't about to just eat his gargantuan contract.
Wall, an eager competitor and undoubtedly Houston's best player, was not about to be reduced to a lesser role so that the team could land a better draft position. So instead of continuing to start Wall or benching him against his will, they just sat him altogether.
Unsurprisingly, albeit dishonerable, intentionally not playing their best player in order to get good draft picks worked.
Last year the Rockets landed the No. 2 pick in the draft, with which they selected Jalen Green. This season they came away with the No. 3 overall pick, where they will likely draft either Chet Holmgren, Paolo Banchero, or Jabari Smith.
Meanwhile, John Wall is privately working out on his own, probably at a very fancy and expensive gym.
John Wall's (lack of) trade options
Jake Fischer of the Bleacher Report expects John Wall to pick up his $47 million player option for this upcoming season, a story in which you don't need to be an NBA insider to break. He would be insane if he didn't. While the Rockets front office is sitting in the NBA lottery room, Wall will be cashing a lottery ticket-sized check.
The problem that this creates for the Rockets (and Wall if he doesn't want to risk sitting out yet another year) is that it essentially makes him untradeable.
No team is going to be willing to part with a truckload of young assets whose salaries add up to $47 million and thus make the trade valid for just one season of a point guard who hasn't played meaningful minutes since 2019, no matter how good he was then.
Unless, of course, that team is the Los Angeles Lakers.
The Lakers and the Rockets were reportedly in trade talks this season for none other than Russell Westbrook before negotiations fell through when Los Angles got stingy with a first-round draft pick. As frustrated as Laker Nation has been with Westbrook this year, it is not unreasonable to think the two teams might re-engage those discussions.
I can see the press conference now. John Wall sips on a Dos Equis and says, "I don't always get traded, but when I do, it's for Russell Westbrook."
Realistically though, any trade for Wall at his price point is a long shot, especially with just one year remaining on his contract. The Rockets are most likely going to have to negotiate a buyout with Wall, which would make him an unrestricted free agent.
Worthy suitors for John Wall
If the Rockets do buy out Wall's contract, then he will hit the market as the most eligible bachelor on the free-agent market where a handful of suitors will line up at his castle's gate dressed in their Sunday's best holding a briefcase full of the veteran minimum's salary.
According to league reports, the LA Clippers and Miami Heat could be at the front of the line for Wall's services if this scenario were to unfold.
The Heat would be an interesting fit, and signing Wall would launch them even higher on the Big Blue Nation's list of favorite NBA teams as this would pair Wall with fellow Wildcats Tyler Herro and Bam Adebayo. However, Miami's current starting point guard, Gabe Vincent, is far outplaying his rookie deal of $1.8 million and helping them go deep into the playoffs. With another year left on that contract, it might not make sense to bring Wall in — who will no doubt want his starting role — and mess with what's working.
The LA Clippers make a little more sense. Wall would certainly be an upgrade to Reggie Jackson, who the team would probably need to trade in order to make room. With a healthy Kawhi Leonard coming back alongside Paul George, that would put him on a true contender and part of a formidable Big Three.
Another interesting option would be for him to return home to the Washington Wizards. The team has no point guards to speak of and finishing what he started in D.C. alongside Bradley Beal might be extremely intriguing for both parties.
Who doesn't want to see John Wall dance again?
Regardless of how it happens, it would be great to see John Wall land with a team where he can return to true John Wall form. He will only be 32 years old this season, not young by any means, but certainly not over the hill.
While his days of the best high school mixtape ever are likely over, Wall can still be a top-tier point guard in this league.
In just 40 games with the Rockets, Wall averaged 20.6 points, 6.9 assists, and 1.1 steals per contest. These numbers are similar to his final year with the Wizards and there is no reason to think they will drastically tail off wherever he lands next. Imagine what he can do now that he's fully healthy and re-energized with other stars around him.
Hopefully, he signs with a competitor where he plays a key role and is put in a position where he is capable of thriving.
He came out at Big Blue Madness jamming to his own dance move. He destroyed the Dougie when Washington introduced him in his debut starting lineup. And it would be great for him to slide into his next home dancing again.