Wheeler, Grady, Tshiebwe all make preseason positional award watch lists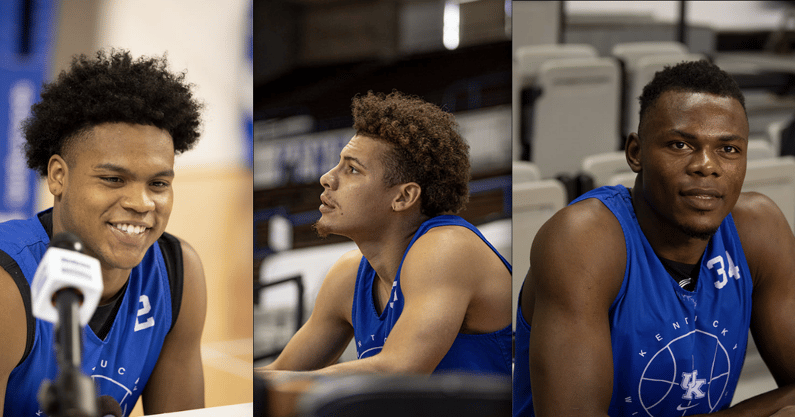 The Kentucky Basketball 2021-22 revenge tour is only a couple of weeks from officially tipping off. And once this new-look Wildcat does get the season rolling, three of them–all transfer prospects–will start the year as some of the best at their respective position.
Point guard Sahvir Wheeler, who transferred to Kentucky after two seasons at Georgia, has been tabbed as a candidate for the Bob Cousy Award; Shooting guard Kellan Grady, a graduate transfer from Davidson, was named to the Jerry West Award watch list; and center Oscar Tshiebwe, who spent 1.5 seasons at West Virginia, is up for the Kareem Abdul-Jabaar Award.
The recognitions for Wheeler and Grady were previously announced earlier this week, while Tshiebwe earned his praise on Friday.
The Bob Cousy Award goes to the nation's top point guard, while the Jerry West Award goes to the best shooting guard and the Kareem Abdul-Jabaar Award is for the top center. These three awards are also recognized alongside the Julius Erving Award (nation's top small forward) and the Karl Malone Award (nation's top power forward).
Wheeler, Grady, and Tsheibwe were also named to preseason All-SEC Teams. John Calipari sure did take advantage of the new transfer rules over the offseason…
You can vote for each player by clicking the link here.
Kentucky is one of 13 programs with at least three players named to the five award watch lists. Duke, Gonzaga, Kansas, Maryland, Memphis, Michigan, North Carolina, Oregon, Purdue, Texas, UCLA, and Villanova also had three players make a list.
Tyler Ulis is the only Kentucky Wildcat who has won the Bob Cousy Award, doing so in 2016, while Malik Monk is the lone 'Cat to take home the Jerry West Award, which he accomplished in 2017. No former Kentucky player has won the Kareem Abdul-Jabaar Award.