Where did Bob Knight's money go?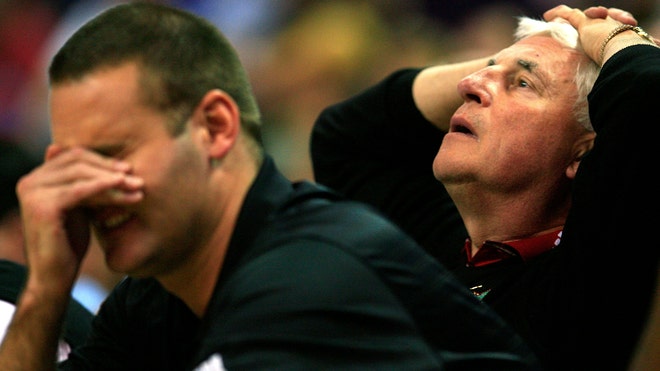 By now, you've heard through the grapevine that Bob Knight is going to be hawking all his beloved collectors-item-status-worthy belongings to make money 'for his grandkids'. Uh huh, I'm sure. From his NCAA title rings to his Olympics gold medal, priceless items will be on the market from a man some have thought to be one of the most selfish coaches in collegiate history. Seems generous. Also seems a bit desperate. I've got a sneaking suspicious that he may need the money more than he's letting on.
Let's take a look at all the ways Bob Knight may have lost his fortune
: - IU sent him an invoice for all the chairs he broke during his career. - His own son, Pat,  sued him for assault and won a large settlement. - Obama. - He had a proxy bidder
purchase Naismith's original rules of basketball at an auction
. - While living in Texas, Bobby invested a lot of money into alleged Knight-ite Glenn Beck's Goldline and
new line of blue jeans
. - Romney. - Knight set all his money on fire in a warehouse a la the Joker because...well, some men just want to see the world burn. - Whiskey prices rose across America last year. - He finally paid all of his U.S. Fish and Wildlife citations. - Bobby Knight bet his life savings on Kentucky
NOT
winning the national title last year. In the end, if this money really does go towards his grandchildren's college fund, I commend Bob Knight for being a family man over being materialistic (ok, maybe sentimal is more proper). However, I'd also like to suggest to him that
if he really wants his grandkids' college paid for, he should turn them into great basketball players and ship them off to UK, Calipari, and/or Mitchell with a scholarship
. We'd accept them, right? So where did Knight's money go? Your turn.