Where Kentucky Basketball Signees Land in Updated Rivals Recruiting Rankings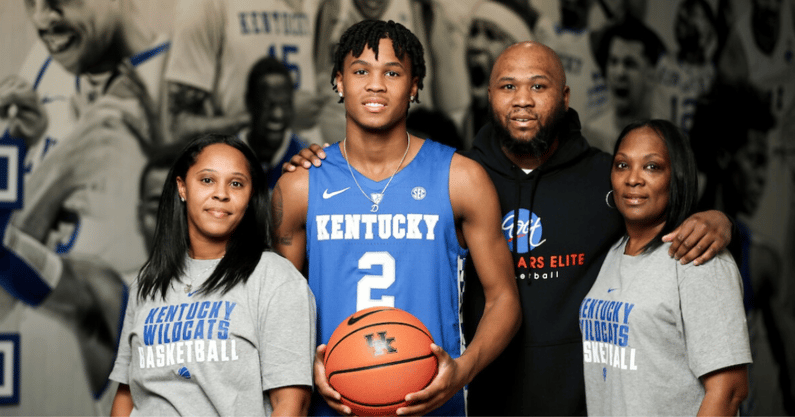 The 2023 basketball recruiting cycle has slowed to a crawl. There are still highly-ranked recruits that will find new homes during the spring signing period, but for most, the hay is in the barn. That is the case at the University of Kentucky where the Wildcats have solidified and finalized their 2023 mega-class with five Top 25 talents.
This week Rivals updated its 2023 recruiting rankings, the final update before folks get to evaluate how these players perform against one another during the all-star game circuit. Kentucky has three top five players and four in the top 10 of the 2023 recruiting class, according to Rivals. The lone outlier is Reed Sheppard, who stayed at No. 22 overall. Take a closer look at where each player lands in the new recruiting rankings.
Camden, NJ
6-foot-2, 160 Pounds
No. 3 overall, No. 2 point guard
Movement in rankings: Fell behind USC PG Isaiah Collier
Philadelphia, PA
6-foot-7, 180 pounds
No. 4 overall, No. 2 small forward
Movement in rankings: Down two spots overall, one spot at SF
Camden, NJ
7-foot, 207 pounds
No. 5 overall, No. 1 center
Movement in rankings: Up three spots from No. 8 overall
Charlotte, NC (OTE in Atlanta)
6-foot-1, 160 pounds
No. 7 overall, No. 3 point guard
Movement in rankings: Fell one spot from No. 6 overall
London, KY
6-foot-3, 175 pounds
No. 22 overall, No. 3 shooting guard
Movement in rankings: None
Kentucky once again has the top-ranked recruiting class in America, according to Rivals and the On3 Consensus, a complete and equally weighted industry-generated average that utilizes all four major recruiting media companies. The future is bright in Lexington.