Which current Kentucky players would thrive in UFC?
Over on ESPN the worldwide leader poised the following question:
What current SEC players could thrive in the SEC?
While their list is pretty solid overall, it is a bit disappointing to see the boys from Lexington get the snub. There are plenty of guys on this team you wouldn't want to face in the octagon. Guys like:
Matt Elam
[caption id="attachment_182855" align="alignnone" width="600"]
Matt Elam photo via @ACRPHOTO[/caption] Matt Elam rolled into media day today showcasing a svelte new figure. According to Kyle Tucker, Elam says he arrived on campus at 392 and is now walking around at 360. That'll mean the Big Man will have a much easier time staying on the field for long durations. With Elam's rare combination of size and athleticism he reminds me of another freak athlete and that man is none other than
former UFC Champ Brock Lesnar
. At 6'2, Lesnar is a bit shorter than Elam but similarly played Defensive Tackle when he tried to walk-on to the Minnesota Vikings in 2003. Lesnar nearly made the roster despite not having played football since his high school days. Perhaps if Elam continues to shred body fat % he too could one day transition to the world of MMA.
Landon Foster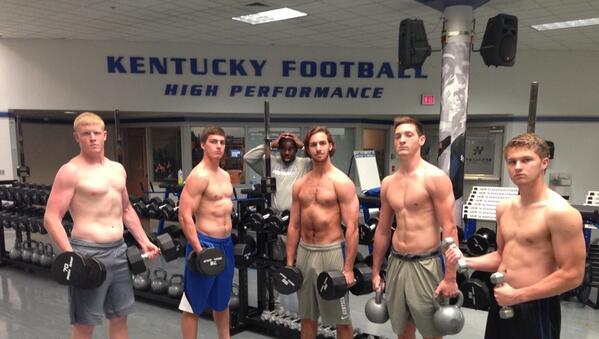 The Lord of Leg. The Boss of Boot. The King of Kick. The Prince of Punt. Call him whatever you want but you can't deny that our resident punter already has the leg strength to kick an opponent's
head clean off.
At 6'1 ,180, Foster already looks a bit like UFC fighter Rory Macdonald so SEC opponents better not run into this punter.
His left leg will send you to the hospital, his right leg will send you to the cemetery.
Honorable Mentions
Drew Barker
- At 6'3, 225 Barker is no small guy and he's only going to add muscle as he develops into the QB position. Plus he's already displayed a penchant for scraps and he has shown that he can take a punch.
Boom Williams
-Boom Williams may be one of the smallest guys on the team but that just means his combo of speed and power could be a menace in the middleweight division. Good luck catching him as he darts from one side of the ring to the other. Who would you think would have the most success inside the UFC?    
In Case You're Interested
On a more serious note, former LSU coach Dale Brown will be appearing at Scott County High School tomorrow night for the Tyler Hicks Scholarship Banquet.  The scholarship honors the memory of a friend and the son of Scott County Coach Billy Hicks who's life was cut tragically short due to an auto accident in 2012. Brown is the guest of honor and will be sure to talk some of the legendary UK/LSU games of the past two decades as well as tales of Shaq and more. You can purchase tickets online at
www.tylerhicks14memorial.com
or at the main entrance of the high school at 6 p.m.