Who is the Next First Team All-SEC Kentucky Player?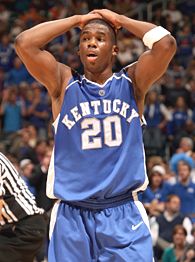 For the past few weeks we have been trudging through the Greatest UK Player Ever Tournament and focusing on all the accolades that have been garnered by UK players of the past. It truly is amazing when you go back through time and see just how many former Cats have been All-Americans and All-SEC stars through the years. But that has led me to the question,
who will be the next First Team All-SEC player at Kentucky?
On its face, this question may seem simple. Just figure out who you believe the best player is on the team and there is your answer. However, that is not the best way to approach it in my view. For the best player today may not be the best player tomorrow. Take for instance, this senior class. It is my belief that
Ramel Bradley will be the Kentucky MVP
this season. I think the combination of his scoring ability, defensive presence and role as the de facto team leader, will mean that Bradley will be looked upon as the most important player on the team. However will he make All-SEC? In my view, likely not. You have to assume that one of the two guard spots on the award sheet will go to likely All-American, Chris Lofton. That means that there will be one guard spot for the rest of the conference and it is hard for me to see Bradley as the sure-fire individual most likely to take that position. Thus as good as I think Bradley will be, I dont think First Team All-SEC in his future. So for me then,
the likely answer is Jodie Meeks.
I see Meeks building on his performance of last season this year, and becoming one of the three main scoring options on this generally perimeter-driven team. Jodie will continue to be the best shooter on the team (did you know that he is currently #1 all time in school free throw percentage?) and will likely benefit from lots of open three point looks throughout the season. Then however, Ramel and Joe are gone and at that point Ramel will shine. On a team that will likely be dominated by Meeks, Patterson and Legion, I see Jodie being the main scorer and helping the Cats win the conference in Billy Clyde's second season. At that point Jodie gets the accolades and joins Legion as an All-SEC First teamer. So what say you? Jodie, Ramel, Joe or maybe Patrick or Alex? How about a longshot like Jasper, Stevenson or Harris? Or maybe you wanna go real crazy and say Liggins, Stewart or the Big Black Member? Its up to you.....who is it gonna be.....use the comments and vote in the poll.