Who Kentucky WBB has been hosting for recruiting visits in June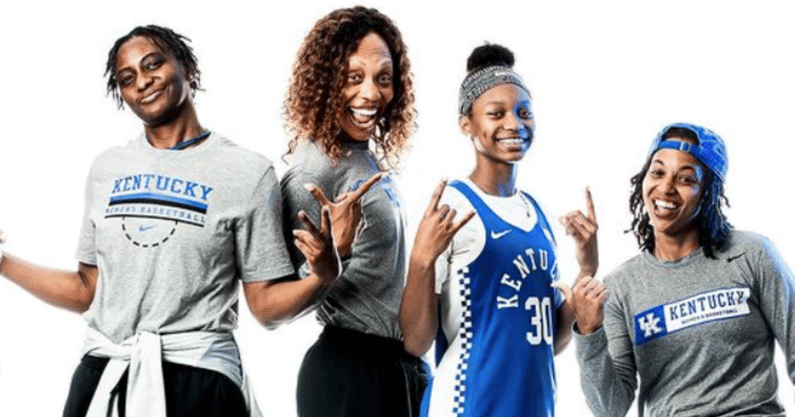 At least three highly ranked high school basketball prospects have made trips to Lexington throughout the month of June, including one of the nation's top overall rising juniors. After bringing in a six-woman recruiting class for 2022, Kentucky women's basketball head coach Kyra Elzy is now working her blue magic on the 2023 and 2024 classes.
Nationally ranked recruits Olivia McGhee, Jaloni Cambridge, and Tahj Bloom have all visited Kentucky since the middle of June.
McGhee, a 6-foot-2 guard, is a '23 four-star prospect ranked No. 42 overall by ESPN. She was in Lexington for an official visit last weekend and has been a high-priority target among the Wildcats coaching staff for over a year now. McGhee was on campus for an unofficial visit in December, too. Virginia, her home state program, appears to be the top competition right now. She visited the Cavaliers officially over the weekend and has made multiple trips there before.
Jaloni Cambridge is another familiar name to the program. Her older sister, four-star freshman Kennedy Cambridge, signed with Kentucky in the spring as a late addition out of Nashville's Ensworth High School. The Cambridge household also includes sister Jordyn (who plays basketball at Vanderbilt) and brother Devan (basketball at Auburn). But Jaloni might end up being the most talented of the family.
Checking in as a 5-foot-6 point guard, Jaloni is considered a five-star talent and the No. 2 overall prospect in the '24 class, per ESPN. Kentucky initially offered her years ago (July 2019), long before Kennedy was even on the radar. She visited UK in the middle of June where she was joined by Kennedy to help boost the experience (and the team's recruiting pitch).
Jaloni has been a high-level recruit since she was a freshman in high school. She represented Team USA in the 2021 FIBA Americas U16 Championship where she averaged 8.0 points and 3.0 rebounds per game en route to winning a gold medal. Cambridge is also a member of the 2022 USA Basketball Women's U17 National Team.
Kentucky will have plenty of competition, but with her older sister already on board, the 'Cats should have as good a shot as any to land Jaloni in the end.
Finally, Tahj Bloom was in Lexington over the weekend for an unofficial visit. The 6-foot-3 forward is considered a four-star '24 recruit and No. 30 overall in the country, per ESPN. We don't know much about Bloom at this time other than the fact that she lived in Japan for six years, according to Bobby Narang of the Chicago Tribune. She apparently moved to the Illinois area roughly three years ago at this point and has been playing basketball for about five years.
Bloom now plays her AAU ball for the prestigious Mac Irvin Fire AAU program on the Nike EYBL circuit where she's been rising up the ranks. Florida State got her on campus in the spring for an unofficial visit. She also received scholarship offers from the likes of Maryland, Syracuse, and Louisville in just eight days during the spring of 2021 before an untimely ACL injury this past January.
Kentucky and Coach Elzy don't yet have any players committed in the '23 or '24 classes, but that will most likely change this summer.