Why we wanted Amile Jefferson all along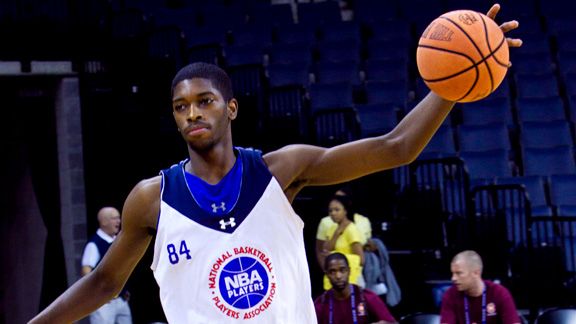 No, it's not because Anthony Bennett has spurned us. It's not because those few idiotic fans on Twitter have decided he's no good. And it's not because he couldn't have been an All-American under Calipari's direction. Aside from the already-mentioned eligibility and character issues that surrounded Anthony Bennett, there are other, more Calipari-like options, shall we say, still available. This by no means suggests Amile Jefferson will commit to Kentucky. As far as we know he's still leaning towards Duke or NC State. But what we do know, or can at least assume, is that
Jefferson offers a more dynamic game. Dynamic being a key word; often an adjective used to describe Calipari players
. Anthony Bennett is a big bruising body. He likely would have come in and been an immediate replacement for Terrence Jones, at least in terms of physical presence. At only 197 pounds, Amile Jefferson won't be that guy right away. He is more of a polish player, and finesse guy around the rim. But Calipari has a way of changing players for the better. Jefferson is a perfect wing player. When he bulks up — which he surely will — he'll have the best of both worlds. In terms of Anthony Davis, he will have a mix of guard and big-man skills.
His potential to be the ultimate combo guard/forward is out of this world
. Watching his play and reading what he coaches have to say, it is clear that he can attack the rim, and has that natural-born "will to win." It's just a matter of putting on some muscle and taking that attack-mode to another level. If anyone can make it happen, Calipari can. Need more reason to drool over this kid? Jefferson's father said after their visit to Big Blue Madness last year,
"He's a mismatch nightmare."
And that is exactly right. With his size, ability to run the floor like a gazelle, and quick first step, there aren't many players that can guard all of that. Stick a traditional forward on him and he's too fast; stick a traditional guard on him and he can post up. Mismatch nightmare sounds pretty sweet to me. http://www.youtube.com/watch?v=pJGivAmaXyQ Highlight videos will always be over dramatized, but take a look at the first step Jefferson has. Think about that. He's 6-8 and can post up. And blow by defenders like they're standing still. Anthony Bennett could have come in and been a huge boost in inside muscle. But Calipari may find Amile Jefferson pays off more in the long run. The only thing to do now is go out and land him.