Why You Shouldn't Worry About The "Mass Exodus"
Kentucky could, and likely will, lose seven of its eight best players from this past season's Final Four run. Most teams in this situation would be devastated by the roster turnover, but this is Kentucky. And what do we say at Kentucky? Rebuild. Reload. (And as of yesterday, "
We do whatever we want
.") So let's assume Karl Towns, Willie Cauley-Stein, the Harrison twins, Trey Lyles, Dakari Johnson and Devin Booker declare for the NBA Draft, ya know, just for the sake of tonight's discussion. Let 'em go. I'll help them pack up and move. Would I like to see them back? Of course. But if they're gone? No worries. Kentucky will be fine next season. Here's why...  
Tyler Ulis will be one of the best point guards in America.
Maybe
the
best point guard in college basketball. Ulis is currently the 11th-ranked PG in Chad Ford's top 100 NBA prospects and eight of Ford's top ten PGs will likely go pro, leaving only Notre Dame's Demetrius Jackson and Melo Trimble of Maryland ahead of him in the early 2016 prospect rankings. And of those three, Ulis may be the best of the bunch at the college ranks, especially once he gets the minutes and the opportunity to lead. Earlier this week, Coach Cal said he told Ulis next year's team will be built around him. With all due respect to Andrew Harrison, that's something Big Blue Nation can really get behind. Plain and simple: Ulis is a savage. He fears nothing; ask Auburn's Trayvon Reed, who Ulis did not back down from despite the 15 inches and 75 pounds Reed had on him. His court vision is second to none. His passing, ridiculous. He is a blur with the basketball. His defense drives opposing ballhandlers absolutely nuts. You can not give him an open three-pointer. He will rip out your heart and eat it in front of you. And I mean that. Be excited about sophomore Tyler Ulis.
Skal Labissiere is one of Calipari's best gets at Kentucky, though no one is really saying it.
For whatever reason, probably his bizarre background, Skal Labissiere isn't receiving the hype he deserves. That's okay. Fans will soon know all about him. Labissiere could potentially be, dare I say, a John Wall, DeMarcus Cousins or Anthony Davis caliber freshman at Kentucky. Don't believe me? Check out
DraftExpress.com's 2016 mock draft
, where he is projected to be the No. 1 overall pick. There's a good chance he moves up two spots to No. 1 in the current 2015 class rankings, too, after he dominates this week at the Nike Hoop Summit in Portland. Yesterday Scout.com's Evan Daniels tweeted, "Kentucky bound Skal Labissiere looks terrific. Shooting the ball well. Been best player during this first practice ... Hasn't been close." Some are even throwing around the Anthony Davis comparisons because of his size and athleticism. So yeah. Get excited.
Kentucky will beat Louisville.
Next year's game is in Lexington and Louisville's roster is depleted. Go ahead and put another victory for the Wildcats and an 8-1 record for Cal over Rick on the books.
No more "Why doesn't Cal play Derek Willis?"
Unless Calipari is able to land Jaylen Brown and another stud forward, Derek Willis will get his opportunity in 2015-16. Willis has been patient through his first two seasons at Kentucky, when he would've seen quality minutes at any other program in the country, and his time will come in his junior season. Now what Willis does with that time is up to him. He will still have to work. But those begging to see the Kentucky boy get some clock, next year is that year.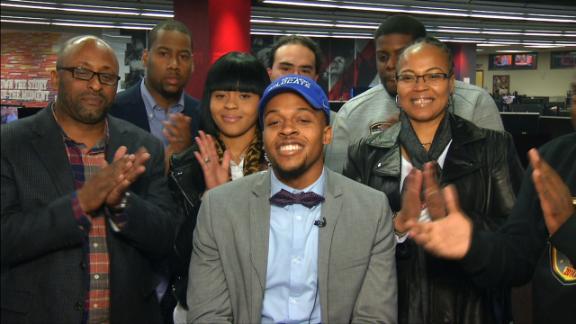 Isaiah Briscoe can play.
Let's not forget, Kentucky signed the No. 1 point guard again. Depending how things shake up, Briscoe will either play alongside Ulis or split minutes with him in the backcourt. Either way, Briscoe will come in as a guard that's ready to go with the size to bully his way to the rim, right out of the gate. "Pressure is not in my vocabulary," he warned the nation at the McDonald's All-American game last week.
Kentucky will probably beat Duke.
If Jahlil Okafor, Tyus Jones and Justise Winslow enter the NBA draft, as they're expected to do, Duke will rely on a sophomore Grayson Allen, freshman Luke Kennard, Matt Jones, Amile Jefferson and a Plumlee to carry the load. That's a good team, yes, but one that barely cracks the Top 25 to start the season. Kentucky should beat that team in the Champions Classic on November 17 in Chicago. Only an unexpected Tyus Jones return and/or the signing of Brandon Ingram will make it a fair fight.
The veteran juniors: Dominique Hawkins, Alex Poythress and Marcus Lee.
Hawkins will continue to improve his outside shot this offseason while bringing that stifling on-ball defense back for a third year. As for Poythress and Lee, it'll be another year of flying above the rim and posterizing opposing defenders for the Cats. Throw those two guys in with Labissiere then imagine Ulis lobbing it up for more of our favorite #SCTop10 plays. Dunks. Dunks. Dunks.
Calipari is about to light up the recruiting trail as it winds down.
With plenty of minutes and touches to promise to the remaining stars in the 2015 class, Calipari should have no problem reeling in a few more five-star players to finalize his roster. Who he is able to get remains to be seen, but fans can go ahead and bank on Kentucky having the No. 1 recruiting class once again with a couple more additions before signing day. Get Jaylen Brown or Malik Newman and the Cats are running it back.
You should be happy for the guys leaving. No, you should be ecstatic.
They will be missed, no doubt, but the players declaring for the NBA draft are living out their lifelong dreams and they will soon be filthy, filthy rich. As much as we hate to see them leave Lexington, Big Blue Nation should be thrilled their dreams came true.
Because at the end of the day, Kentucky is Kentucky.
And no matter who stays or who goes, at Kentucky, we do whatever we want.   190 days until Big Blue Madness...