Will Levis is embracing the South Carolina Sandstorm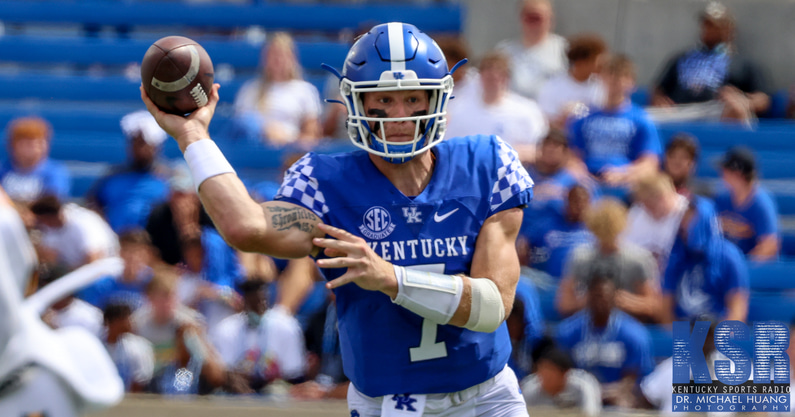 Kentucky will make its first road trip of the season this Saturday, traveling to a hostile environment at South Carolina. The Wildcats are preparing for a heavy dose of rooster crows and Sandstorm at Williams-Brice Stadium.
Since Mark Stoops arrived in Lexington, the Wildcats have pumped artificial crowd noise into practice. This week they turned up the speakers "a touch earlier than normal." Offensive coordinator Liam Coen could see the energy it injected into his offense right away.
"If you love the game and you love to play, you get up for these kind of games," said Coen. "To get on the road in a hostile environment against a great opponent, how can you not? I have no concerns about our guys getting up for this game. I think the guys will rise to the occasion and go out and play a good, sound football game."
Sandstorm on Repeat
Practice is not the only time Will Levis is hearing Sandstorm. On Monday the Kentucky quarterback shared on his Instagram story the song is "on repeat all week."
"I'm expecting that and more when we get there," he said Tuesday evening. "Obviously I've heard about all of the tales of it being such a cool atmosphere and that their fans are really passionate. We're trying to use that as fuel, just use it as motivation going into the game with some energy."
This will not be the most hostile environment Levis has experienced. In a 2019 matchup between top ten teams, Levis was called into action at Ohio State. Trailing 21-0 in the second half at the Horseshoe, he orchestrated drives that resulted in 17 unanswered points before Penn State ultimately fell short of defeating the nation's second-ranked team.
Visualizing Success
The Kentucky football team has looked great at times. Other times, particularly against Chattanooga, the Wildcats can't get out of their own way.
"I think our biggest takeaway is that we are shooting ourselves in the foot. I think that we're so close to being a really, really good team and that we haven't shown our potential in any of the three wins, but we've shown bits and pieces in each game of what we are capable of doing. It's just a matter of putting those bits and pieces together and eliminating the burdening mistakes," said Levis.
"I still think that we're a really, really good team. This past weekend we definitely didn't show all, or most sides of that, but it's definitely still within us. I'm excited to show more of that this week."
In addition to preparing for the sound from the EDM Sandstorm, Stoops has implored his players to spend 10-15 minutes each night visualizing success. Kentucky can't focus on the mistakes from the past. The Wildcats must direct their attention to playing winning football.
"We can't let our past mistakes affect our mentality for this next game," said Levis.