ESPN shines spotlight on Will Levis ahead of Top-15 game vs. Ole Miss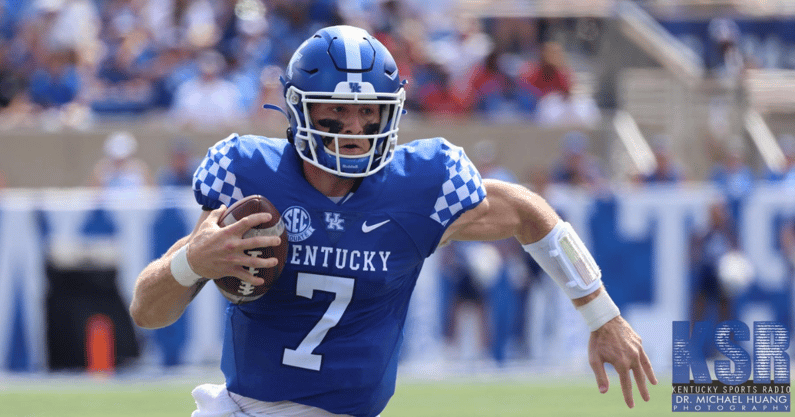 Kentucky Blue is taking over the Worldwide Leader today. We've already shared parts of Adam Rittenberg's feature on Mark Stoops building football respect at a "basketball school." ESPN's Chris Low also dropped a similarly in-depth piece on Kentucky quarterback Will Levis this morning. Levis features are a dime a dozen these days, but this one has some notable quotes on what makes him "one of the more intriguing quarterback prospects in the class" according to one NFL personnel director. Yesterday, ESPN's Todd McShay tweeted that Levis is now firmly in the top three quarterbacks along with Alabama's Bryce Young and Ohio State's CJ Stroud.
Offensive coordinator Rich Scangarello knows a thing or two about NFL quarterbacks. He told Low he believes Levis will be the first overall pick in the 2023 NFL Draft.
"Will is as talented as anyone I've evaluated the last five years. The only two guys I would compare him to, where you could see it clearly, would be Joe Burrow and Josh Allen," said Scangarello, who spent the previous five seasons in the NFL and was the Denver Broncos' offensive coordinator in 2019.

"I think he will be the first overall pick in the draft."

ESPN
Scangarello said that during the offseason, he and Levis worked on his footwork, specifically receiving the snap in the shotgun with his left foot forward instead of right foot, an adjustment both Burrow and Matt Ryan made to great success. Through four games, Levis ranks fourth in the SEC and 17th nationally in passing yards per game (296.25) and is tied for second nationally with seven passes of 40 or more yards.
"They were like, 'Nah, that kid can't play.'"
Despite playing behind a rebuilding offensive line and without Kentucky's star running back Chris Rodriguez, Levis' NFL stock continues to soar, which is incredible for a player who didn't draw too much attention when he entered the transfer portal in 2021. He shared this anecdote with Low that speaks to how far he's come and how far he is driven to go.
And yet, Levis remains fueled by those who doubt him. This summer, he was talking to a Pac-12 assistant coach who told him there was early interest in bringing him in as a transfer from Penn State.

"They were looking for a quarterback," Levis said. "I won't say which school it was, but they were like, 'Nah, that kid can't play.' My reaction was, 'Man, that's awesome,' because I couldn't wait to get out and prove them and everybody else wrong."

ESPN
We're not going to have Levis for much longer, so let's enjoy him — and national features like this — while we can. For more from Levis, Scangarello, Mark Stoops, anonymous NFL scouts, and even Tim Couch, head on over to ESPN. Then watch Levis talk to reporters after practice last night.