Will Levis on Kentucky's run-heavy offense vs. Missouri, Top 25 snub, banana mania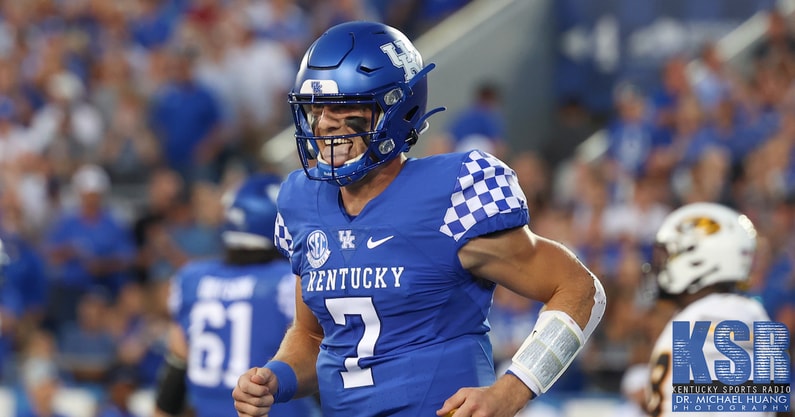 In the first two games, Kentucky showed two very different sides of its offense. Against ULM, the Cats threw for over 400 yards and ran for 145. Against Missouri, they ran for 340 yards and only passed for 179. During an appearance on SEC This Morning, quarterback Will Levis said he was totally fine with the Cats' run-heavy offense vs. the Tigers even though it meant fewer yards for him.
"We definitely went in with a few run concepts we were really, really confident in and that definitely worked for us," Levis told Peter Burns and Chris Doering. "Once those things really did start working, we were averaging five, six, seven yards a carry it seemed like every time we ran the ball, so it was kind of like, why go away from it if it's working?
"I'm just able to operate and do whatever was asked of me as the quarterback and if it's running the ball, so be it. We had something like 350 yards rushing so we didn't really need to pass the ball. And when we did pass the ball, I felt like we were able to move the chains as needed."
Levis: Wan'Dale Robinson "leads by example"
Levis' favorite target when the Cats need to move the chains is quickly becoming Wan'Dale Robinson. The 33-yard completion to Robinson on 3rd and 12 late in the fourth quarter was huge. Even though Matt Ruffolo's field goal attempt was blocked, the drive ate over six minutes off the clock. Levis had plenty of praise for Robinson this morning.
"He's awesome. He's a really, really nice dude at the end of the day, a humble dude. a guy who's going to go out there and work. He leads by example. He's not the most vocal leader but he doesn't need to be. He goes out there and works really hard."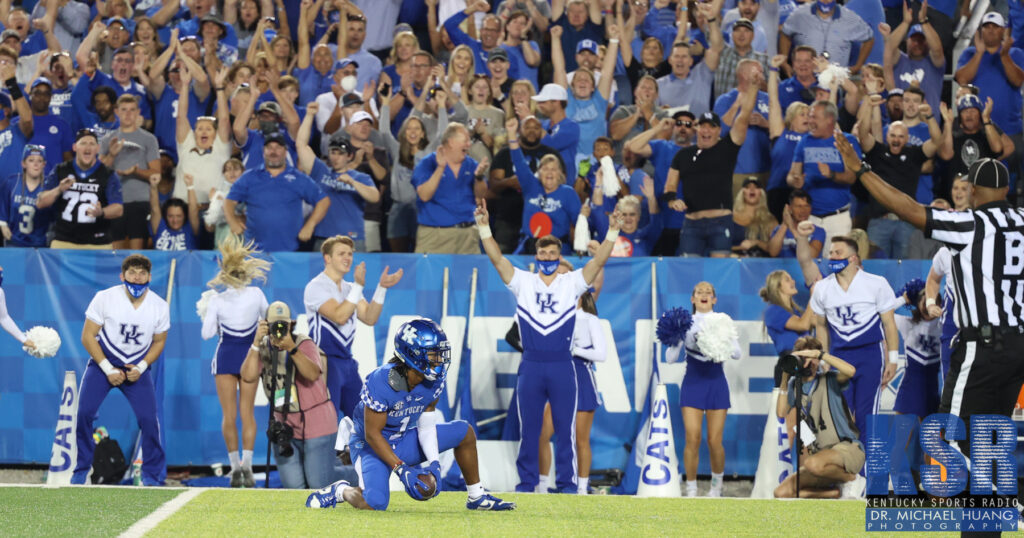 Another trait Robinson and Levis have shown in their first two games as Wildcats is toughness. In the season opener, Robinson got yards after contact multiple times, once fighting off defenders to make it into the end zone. On Saturday vs. Missouri, the 5'11" 185 lbs. junior had a nasty collision with Missouri's Jalani Williams but popped up after the play was reviewed for targeting and motioned to the crowd to get loud. Levis said that energy is contagious.
"By doing what he does on the field, his size he's obviously not the biggest dude but he can take those hits and get those extra yards even after contact, which isn't very common with a guy his size. So it's really cool to see that and he gets guys fired up and makes electric plays and is a great guy to have on our team."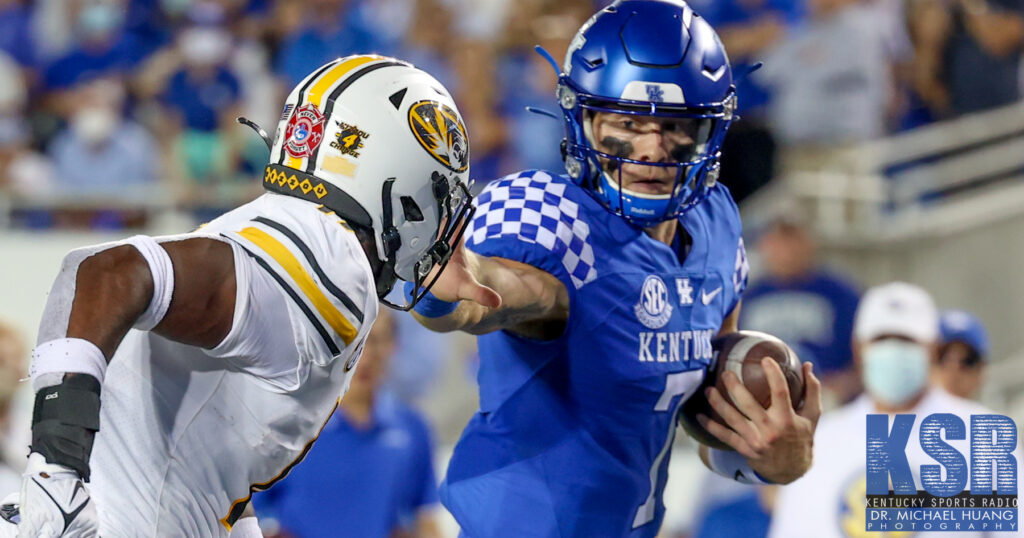 Levis also embraces contact
At 6'3″, 232 lbs, Levis is a wee bit bigger than Robinson. He told Burns and Doering he enjoys being able to use his size and feet to scramble, but only when the occasion calls for it.
"I definitely embrace contact a little more than some other quarterbacks might. I'm comfortable with my size and durability. Being able to take a couple of hits here and there. I do think I just have to be a little more careful picking and choosing when to take those hits. Something I'm still working on and trying to get better at. I do know it's a strength of mine just with my size and trying to use my physicality and my athleticism to my advantage."
Clean up mistakes, Move up the ranks
Kentucky was noticeably missing from the Coaches and AP Top 25 this week. On Twitter, Burns wrote that Kentucky not being ranked is "an absolute joke." This morning, he asked Levis what he thought of the snub. Like a pro, Levis didn't take the bait, pointing out the errors the Cats made vs. Missouri as proof there is room to grow.
"I don't think it matters right now," Levis said of the rankings. "Obviously at the end of the day it really only matters what your rank is at the end of the season. I think we've got to keep playing ball, keep playing well. I think that if we would have capitalized on some or not made mistakes that we did in the game, we had a few turnovers that were very avoidable. Just some things we need to clean up on, all three sides of the ball, offense, defense, special teams, that we know we can get better at.
"I personally think the game was a lot closer than it should have been. Obviously, we got the win that we needed to but that 14-point swing at the end of the first half was tough with the turnover and them going down and scoring so I think that if we clean up on the turnovers and make it clear we can be a disciplined fundamental football team then we should show up in the rankings the next couple weeks assuming we take care of business."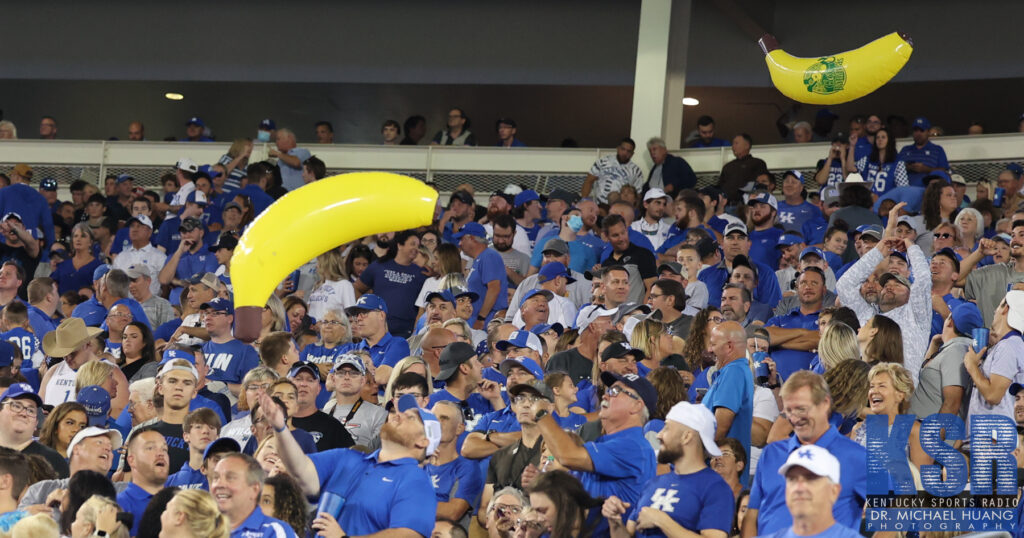 No banana fatigue yet
By now, we've all seen the TikTok of Levis eating an unpeeled banana a million times. Of course, he was asked about it this morning. Levis claims he's willing to ride the meme as long as need be (aka, when Chiquita comes calling).
"No, I'll talk about it as much as people want. I think it's definitely really funny and it's something I didn't really think about much at first but it's picked up traction here in the last few weeks and I'll ride it as long as people want to."
Over/under on how many games we'll hear about the banana the rest of the season? I'm going three.