Will Levis at Kentucky Pro Day: Highlights, Immediate Reactions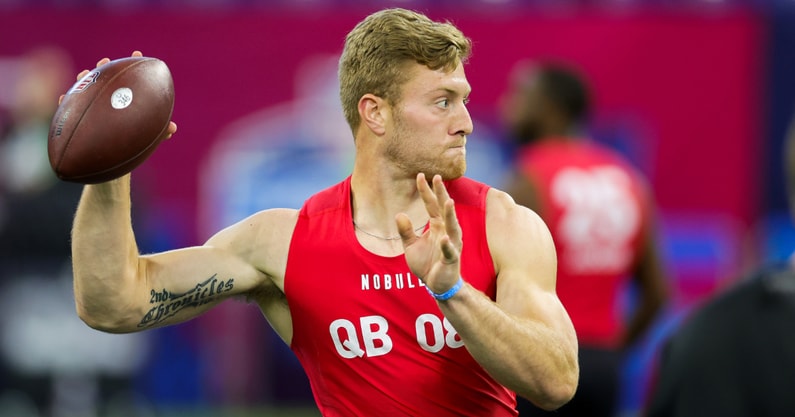 Will Levis just wrapped up his workout at Kentucky Pro Day, and so far, the reviews are good. Pundits will weigh in on Levis' performance all day, but let's start with the SEC Network, which aired the workout live.
Former Vanderbilt quarterback Jordan Rodgers, who used to put together pro day workouts for quarterbacks before joining the SEC Network, was in Lexington to see the workout firsthand. Midway through, he gave Levis an A- or B+ for missing just a few intermediate throws, but overall, liked what he saw from Kentucky's star.
"I think it was really impressive. You know, completely different than a Bryce Young pro day. Bryce Young was boring in the best way. I think at times this was extremely dynamic and impressive. A few misses. I think we expected a few of those and every quarterback is gonna miss one or two but Will Levis needed to come here, he needed to prove and show the velocity and pinpoint accuracy on the perimeter throws, which he did. He needed to show that he can take some off the ball, hit those touch balls, those level two balls, the over routes, the corner routes where he takes a little bit off it and he's accurate. He did that.
"He also missed a few but I don't think it was, 'Oh, he can't do that.' He is absolutely capable of it. So it's a very good performance for Will Levis. I think he showed what he needed to today."
ESPN NFL Draft analyst Jordan Reid agreed.
"Yeah, I really liked what I saw from Will Levis today. And the biggest thing is that could he clean up the accuracy questions that we had about him. We saw him make some really good touch throws down the field and also he showed some accuracy in the short intermediate and also the deeper areas of the field."
"I thought Will did exactly what we expected him to do," Roman Harper added. "He was great, dynamic, really, like I said, we walked away saying, 'Wow' some."
We'll have a complete highlight package later, but here are some clips from social media to tide you over. One of his deep throws actually hit the roof of the Nutter Field House.