Will Levis earns respect for lowering shoulder against Missouri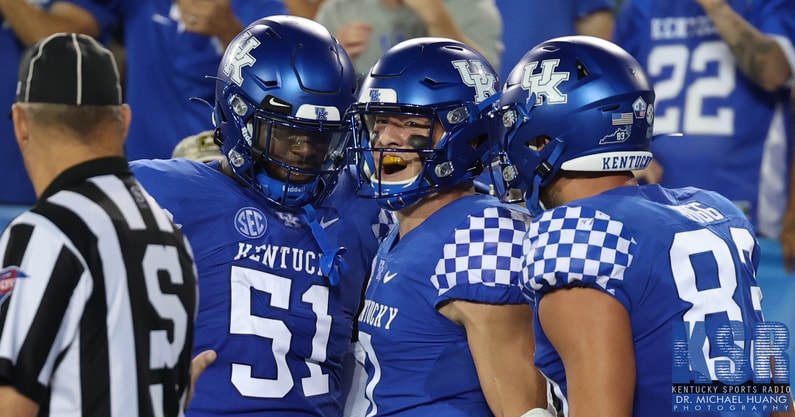 When Kentucky landed quarterback Will Levis from the transfer portal in the offseason, there were some questions about how he would fit in Liam Coen's offense. There were some accuracy concerns, but the tape showed a big arm.
However, no one questioned his rushing ability after being used as a glorified wildcat quarterback at Penn State for offensive coordinators Ricky Rahne and Kirk Ciarrocca.
In three seasons, Will Levis would carry the ball 148 times for seven touchdowns. Quite often, the former three-star recruit was asked to pick up some tough yards for the Nittany Lions. After only taking off for one scramble against ULM, Levis showed that rushing ability against Missouri.
The 6-foot-3 quarterback finished the game with 36 non-sack yards on nine rush attempts with a success rate of 55.56 percent. The redshirt junior had some timely scrambles to pick up first downs and extend drives. None were bigger than his physical run on third and six in the second quarter.
After bowling over Mizzou linebacker Blaze Alldredge, Kroger Field roared as Will Levis showed some nastiness to his game. That conversion has caught the attention of his teammates.
"Lower that head! Woo, that turned me up right there," proclaimed redshirt junior Kavosiey Smoke on Tuesday evening. "That turned me up, I love to see that. Because we didn't have no quarterback that gonna 'Ah!' just bring it to you like a running back.
"Will gonna bring it. Will got heart — he gotta lot of heart. He runs like a running back, so linebackers, you gotta be ready because he run like a running back."
Slowly, but surely, the new QB1 in Lexington is beginning to earn the respect and love for his teammates. Laying it all on the line can help a newcomer that just arrived over the summer land a leadership role faster. In the game of football, your quarterback has to be a leader of your team.
"He played really hard, he played tough, and guys are starting to rally around him even more," said offensive coordinator Liam Coen.
A leader is beginning to develop within the Kentucky football program as the Wildcats appear to be all in on banana ball with Will Levis leading the way. The transfer has made big plays through the air — 12.41 yards per attempt, 196.3 QB rating — but he can also lower his shoulder to get some tough yards for the offense.
The toughness and effort plays from Levis will make the players around the new quarterback play even harder for their guy behind center.
Things are slowly beginning to come together for the 2021 Kentucky football team.