Tennessee defensive coordinator very familiar with Kentucky's Will Levis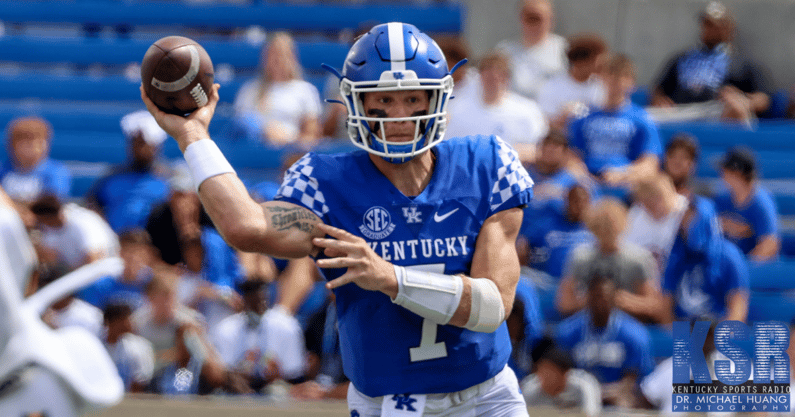 Tennessee has a slight leg up in preparing for Will Levis this week. The Volunteers' defensive coordinator Tim Banks was the co-defensive coordinator and safeties coach at Penn State from 2016 to 2020 while Will Levis was still with the Nittany Lions. As you might expect, Banks was asked about Kentucky's quarterback during this week's media opportunities.
"Levis is a tremendous young man, really enjoyed my time around him," Banks said, via UTSports.com. "Tremendous athlete, big, can run, super-strong arm."
Over three seasons at Penn State, Levis appeared in 15 games, completing 61-102 passes (59.8%) for 644 yards and three touchdowns and two interceptions. He also rushed for 473 yards and three touchdowns. Through eight games at Kentucky, Levis is 136-205 (66.3%) for 1,476 yards, 14 touchdowns, and 9 interceptions. He also has 184 rushing yards and three scores on the ground.
"He seems like he's a lot more comfortable, in terms of throwing the ball," Banks said. "He's always had a strong arm, but he seems to show more poise. I think that just comes with maturity in the more reps he's gotten, but I've also thought he had a chance to be a really good player, an elite player. He's obviously done a great job at Kentucky this season and helped those guys win a bunch of games."
"Levis has played really well for those guys"
As for the rest of the Kentucky offense, Banks used a word we've heard all season: physical.
"They're very physical. They do a really good job of creating leverage and opportunities up front with their offensive line. Those guys are experienced. They're big. The backs run extremely hard. The wideouts are long, and they have one that is particularly explosive."
(He's talking about Wan'Dale Robinson.)
"They do a nice job, they're not probably the wide-open spread team that we've seen out of some of the teams, but they take their shots. They push the ball down the field, and obviously, (Will) Levis has played really well for those guys. We'll have our hands full, but I know our guys are excited about the challenge and definitely looking forward to it."
Hopefully, Banks and Levis can have a nice moment on the field together before the Cats send the Vols home with another loss.