Will Levis, Liam Coen marriage at Kentucky is only going to improve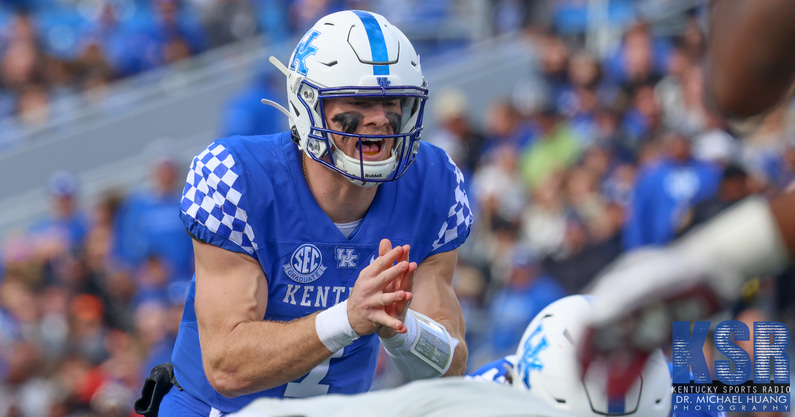 One year ago, Los Angeles Rams assistant coach Liam Coen was hired by Mark Stoops to be the next offensive coordinator at Kentucky. Expectations were high for the NFL staffer, but play-callers are only as good as their quarterback.
After assessing the situation on the current roster, Coen decided that the Wildcats would need help from the transfer market. Penn State quarterback Will Levis soon became that guy for Coen and Kentucky.
"I remembered him from high school, and I remembered what he looked like," Coen told KSR on the 11 Personnel podcast. "Stature wise, size and then when that video came out of him throwing the football in that indoor facility in Massachusetts — where I know where that is. I'm like 'there's not a lot of guys that throw the football like this in the country'.
Of course, everyone knows what video the 36-year-old offensive coordinator is talking about.
Despite the raw talent and some limited production on tape from his time in the Big Ten, Kentucky still had to play things slow with Levis. Coen — who was taking over a new job with expectations — knew he just could not hand the new addition the starting gig on day one.
"We put him with the threes for like the first six days of training camp or whatever it was," said Coen. "And to be honest with you, it wasn't even close after a day."
After a few days in camp, everyone knew who should be the guy at QB1 for Kentucky. Players were wanting to get him with the ones and very soon he took a leadership position with the team.
"He carries himself the right way," Coen told KSR. "I knew it was going to play out this way the whole time. We wanted it the right way and have the players be the ones that were like 'Coach, let's go. When are we going to stop playing games, get him up here'.
Once Levis grabbed the job, the redshirt junior had a masterful first performance where the 6-3 quarterback tossed for 367 yards and four touchdowns in a season-opening romp over ULM. That was a sign of things to come.
"As the season got going, he got better and better," Coen said about Levis. "There were a couple of hiccups along the way but I think there are a lot of things to work off of this season. Specifically, us ending the year that way on offense I feel like just gives us some momentum. Specifically at the quarterback position.
Kentucky's 2022 building block
Kentucky will have a ton to replace on offense. Josh Ali and Wan'Dale Robinson's combined 145 receptions on 205 targets are no longer with the offense. Both bookend tackles have moved on to the NFL. Luke Fortner leaves huge shoes to fill at center.
Yet, the Wildcats get back Chris Rodriguez Jr. and will have Will Levis for year two in Liam Coen's system. It's hard to characterize just how big that is for the program.
"It's like signing a big recruit," said Coen. "To get him back and have him be back is huge. Really just our offense what was nice for me to see kind of towards bowl prep — going into it, things like that — was you finally saw like we were just calling plays. It wasn't scripted we were just calling plays a lot in bowl prep practices, and the kids just heard it, lined up, no issues, executed nuances of things. You could start to see the system started to click for some guys.
That could be a scary thing for SEC's defense in 2022. Will Levis finished the year with 2,812 passing yards with 24 touchdowns and an eight yards per attempt average on 27.2 throws per game. Meanwhile, the big quarterback also chipped in 514 non-sack rushing yards on an absurd 65.9 percent success rate.
The Madison (Conn.) Xavier product has a chance to turn into one of the best quarterbacks in the SEC and Kentucky's first true NFL prospect behind center since Andre Woodson. The Wildcats know what they have at quarterback and that will be huge for the team in 2022.
"To have him, the chemistry that he gives us and brings and the leadership and the knowledge of the system — it's huge. Especially with the departure of Fortner and some of those guys upfront from a mental standpoint," said Coen. "Will's going to need to take the next step from a mental standpoint, but it's huge."
"It's really big just from the offseason workouts for the guys that are going to setup the throwing sessions. These things last year I had to say that Joey [Gatewood], Beau [Allen], and everybody in fairness this is on you guys to handle. Like, I can't be a part of it because I can't organize throwing sessions as a coach. We had to facilitate how you lead essentially…you need to be the nucleus. Whether it's watching film, whether it's socially, whether it's football, whatever it is. Well now, the guy that everybody looks to is back. And to hold that all together is huge — it's only going to help his growth and maturation process throughout this to be more comfortable."
"He should be calling this offense when it comes training camp time naturally, very easy. He should be able to call a two-minute drill on his own. He should be able to call some plays and feel comfortable."
Kentucky could once again have a shot at a big season in 2022 and having Will Levis is a big reason why. If the redshirt senior takes a leap, the Wildcats could become scary good on offense if just a few things come together.
"The more he can understand the why — the ins and outs of the system — the better off we'll be," said Coen.