Will Levis set a Stoops Era record in win over Northern Illinois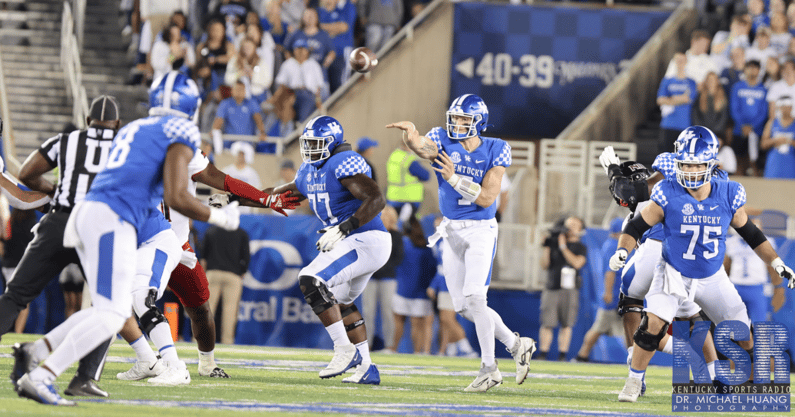 Despite another shaky performance by his offensive line, Will Levis set a Mark Stoops-era record in Kentucky's 31-23 win over Northern Illinois. Levis was 18-26 for 303 yards, four touchdowns, and zero interceptions. It was his six 300+ yard game at Kentucky, which moves him past Patrick Towles under Stoops and is the fourth most in school history. Through four games, Levis is 79-117 for 1,185 yards, 10 touchdowns, and four interceptions. He's averaging 296.3 passing yards per game with a 67.5% completion rate.
"Will Levis played an extremely good game once again," Stoops said after the game. "We improved in certain areas with the protection. They were bringing a lot of pressures and we made them pay for it with pressures. We got him protected and we hit the ball down the field and created some explosive plays. That was good to see."
With Kentucky's running game still struggling, the passing game shined. The Cats had six "big" passing plays, or gains of 15+ yards. Three of those were 40+ yard touchdowns: a 69-yard catch-and-run by Tayvion Robinson, a 70-yard catch-and-sprint by Barion Brown, and a 40-yard throw to Robinson to seal the victory. Levis is the first Kentucky quarterback with at least three passing touchdowns of 40 or more yards in the same game since Drew Barker against Southern Mississippi in 2016.
"You've got to be who you are and right now we have a very talented quarterback and we have some explosive wide receivers so we're creating some big plays," Stoops said. "Yes, we want to be a little bit more consistent with the run game. See, everybody appreciates the run game now. Five years ago, they didn't appreciate shit. I'm joking, I'm joking! Everybody relax."
Our man's got jokes.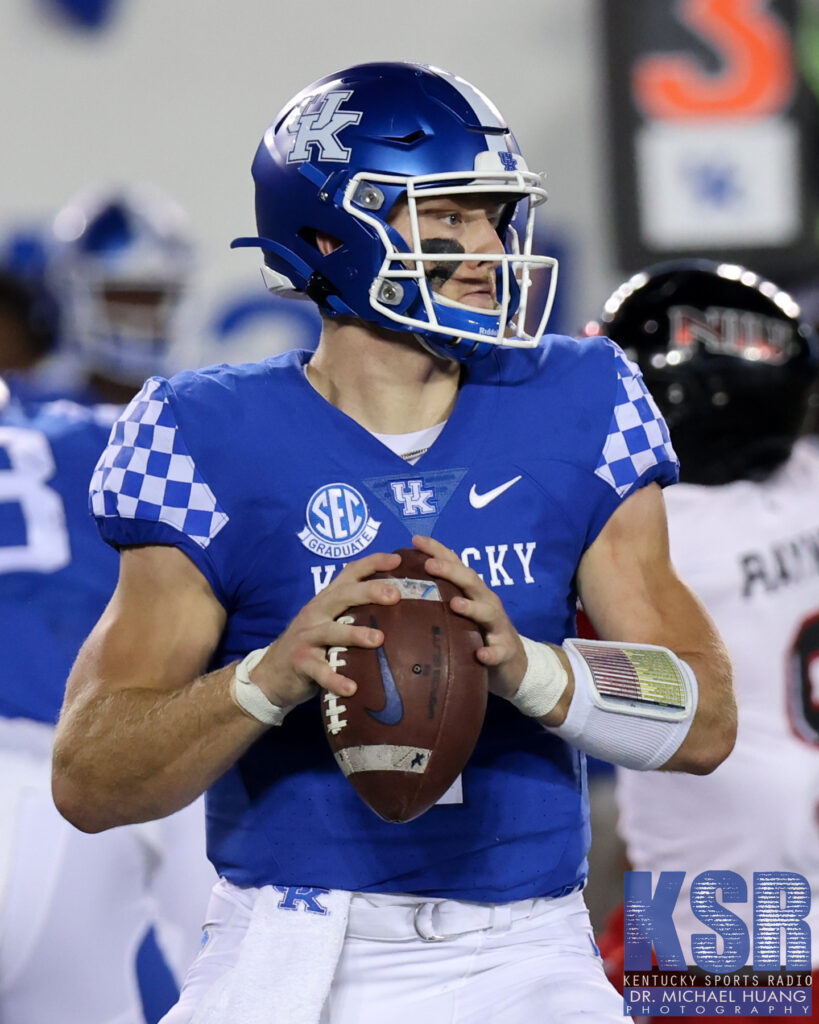 Two close misses, one good, one bad
If there's been a knock on Levis this season, it's turnovers. Through three games, he had four interceptions. Tonight, he had zero…thanks to Northern Illinois' CJ Brown, who dropped what would have been a pick in the third quarter.
"Oh my gosh, yeah. That was the one decision that if I were to take back, even though it wasn't an interception. Going to the boundary to a hot throw and then having that D-end back up in the area I wanted to throw. I talked to Coach afterward and he said, 'Hey, if that happens, you don't want to come late back to that seam. Just throw it over that guy's head in the boundary and live to see another day.'"
Another near miss came at the start of the fourth quarter when Levis launched a 40-yard pass to Dane Key that would have been a touchdown. Sadly, Key didn't pull it in, but Levis connected with Tayvion Robinson a few plays later to put the Cats up 31-14.
"Oh my gosh, that was the best throw I've ever had in my entire life," Levis said of the throw to Key. "I can't wait to watch that on film. I'm going to be so mad at Dane for dropping that– or I don't know how it happened. I heard the roar of the crowd and I was almost ready to go crazy. That was insane. But hey, it happens."
Levis won't be the only one reminding Dane about that play this week. Donte and Ryan Lemond probably having him doing drills in the backyard right now.