Will Levis moved up Todd McShay's Top 32 NFL Prospects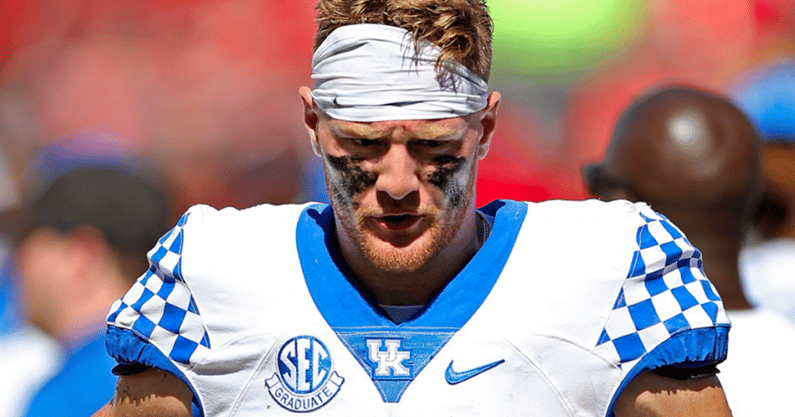 NFL draft analyst Todd McShay was down in Oxford, Mississippi last Saturday as the sideline reporter for the television broadcast of Kentucky Football's game at Ole Miss. McShay's weekly ESPN assignment allowed him a firsthand look at Kentucky quarterback Will Levis, who McShay already considered one of his three best pro QB prospects after an up-close look in Week 2 when Kentucky played at Florida.
Then just last week, McShay tweeted that his "clear-cut top-3 QBs" in the 2023 draft class are CJ Stroud, Bryce Young, and Levis.
One step further, on Friday he told Paul Finebaum he sees No. 1 overall pick potential in Levis based on conversations he has had around the NFL.
So after those comments and seeing McShay fawn all over Levis during Saturday's game, it should come as no surprise that Levis is among the best players on McShay's new draft board, even after what happened Saturday. Released earlier today once McShay unpacked from Oxford, he named his new 32 best NFL prospects and Levis ranked at No. 7 overall, the third-best QB behind Stroud (3rd) and Young (4th).
McShay had Levis at No. 21 in his preseason prospect rankings.
Other ESPN opinions
Also on the Worldwide Leader's website today, McShay and his three fellow ESPN draft gurus — Mel Kiper Jr., Jordan Reid, and Matt Miller — each named their top-five NFL draft prospects at every position.
At quarterback, Levis is second on Kiper's list ahead of Young, but the website notes Kiper hasn't updated his list since September. (Get with it, Mel.) Matt Miller agrees with McShay's top three of Stroud, Young, and then Levis, but Levis is behind Anthony Richardson at fourth on Jordan Reid's list. (Reid must still be catching up on his Week 2 games.)
Stoops wouldn't trade Levis for any of them
Looking back on Kentucky's loss at Ole Miss and Levis' costly turnovers in that game, Mark Stoops put his full support behind his quarterback during his Monday press conference.
"I wouldn't trade him for anybody," Stoops said. "I just love his competitive nature, I love his ability, I love the way he is playing… You know, he did some amazing things to put us in position there."
Read more on what Stoops told Levis after the game here.