Will Levis Can Regain NFL Draft Momentum Against Georgia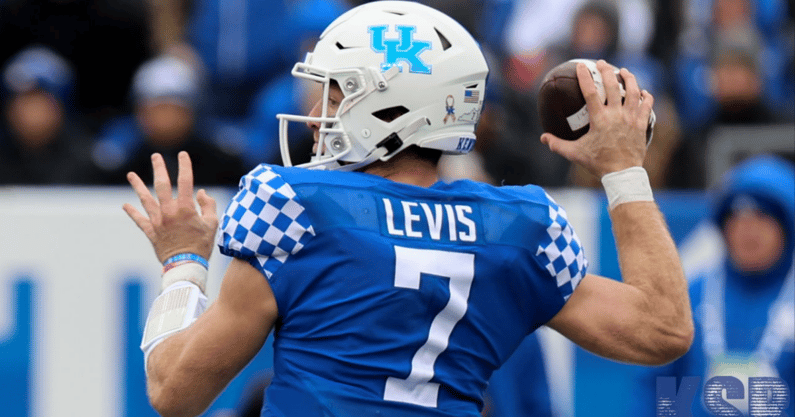 Some might think the 2022 Kentucky football season ended against Vanderbilt. Will Levis still has plenty to play for, his future.
The Kentucky quarterback has not had the season I'm sure he envisioned over the summer, however, he still has an opportunity to be the first quarterback with his name called in the 2023 NFL Draft. Most NFL scouts learned about Levis when scouting Georgia's 17 NFL players on last year's National Championship defense. He was one of only two players to throw for two touchdown passes or more against Georgia last fall. Now he has another chance to prove he's more than just a high-ceiling prospect with a bunch of desirable traits.
"Will Levis show us something against the vaunted Georgia defense to justify a top-10 ranking? He has no shortage of talent, but his 16-to-9 touchdown-to-interception ratio this season simply isn't good enough," said ESPN's Matt Miller.
"Excuses about scheme or lack of weapons aside, Levis needs to show us something in this one. No, he doesn't have to lead the Wildcats to a massive upset win, but he does have to step up to the situation and lead his team with efficient play — which we've rarely seen this season. It's a huge opportunity to prove he belongs in the top QB conversation. On the season, Levis has thrown four touchdowns and five interceptions against ranked teams, but he needs to turn that around in Week 12."
ESPN's Jordan Reid currently ranks Will Levis as the No. 3 QB in next year's Draft. He wants to see how the Kentucky passer responds to adversity under the bright spotlight.
"This is easily the toughest test of the year for Levis, who has been inconsistent through nine games," said Reid. "The 6-foot-3 senior has the physical traits that scouts covet — including a big arm — but he hasn't been able to put it all together against a quality opponent yet this season. And after the surprising loss to Vanderbilt, scouts will want to see how he bounces back from adversity." 
Will Levis and the Lions: A Perfect Match
This week Levis was invited to participate in this year's Senior Bowl, an excellent opportunity to prove he's worth the top draft capital. Over at NFL.com, Chad Reuter serves as a matchmaker, lining up Senior Bowl participants with possible future NFL homes. The Detroit Lions will be looking for a quarterback and Levis has just what Dan Campbell is looking for.
"This is a perfect marriage of two competitors: Levis and Detroit head coach Dan Campbell. The Lions could pick up the QB with one of their two first-round picks, as they received the Rams' Thursday night selection in the Matthew Stafford trade," says Reuter.
"Levis has a plus arm, hits targets all over the field and throws with touch. He's as tough as they come, playing through various injuries and fighting for every yard when on the run. His competitiveness also hurts his game, though, when forcing throws into tight windows and taking sacks while waiting for deep targets to get open. Still, it's easy to see Campbell and general manager Brad Holmes preventing this raw talent from slipping beyond the top 15 selections."
There are already two former Wildcats in Detroit, Josh Paschal and Logan Stenberg. The franchise has a disastrous history, but Levis could be a Motor City hero if he is able to turn it around.
Former Front Office Guy Would Take Levis No. 1
"Will Levis is the best quarterback in the 2023 NFL Draft" is not a new hot take. It was at its spiciest last spring. For some, his inconsistent, sack-laden senior season has made it an even hotter take. One former front office executive, T.J. McCreight, actually views it as a positive. He explained why for the 33rd Team.
"I did an impromptu poll with four NFL scouts I trust, and three of them told me he was the best quarterback in the draft. One NFC scout told me, 'This [season] is an audition for him to go to a poor NFL team. He proved he can take a beating and keep getting up.' Added another NFC scout: 'It is a miracle that he keeps playing every week after all of the hits he takes. He is more banged up than people think — much more.'"
Levis' ability to weather the storm this season drew comparisons to Ben Roethlisberger. Of all the difficult days he's had under center for the Wildcats, tomorrow will be the toughest. The NFL world will be watching to see how Will Levis reacts.