Will Levis now No. 5 in Mel Kiper's latest mock draft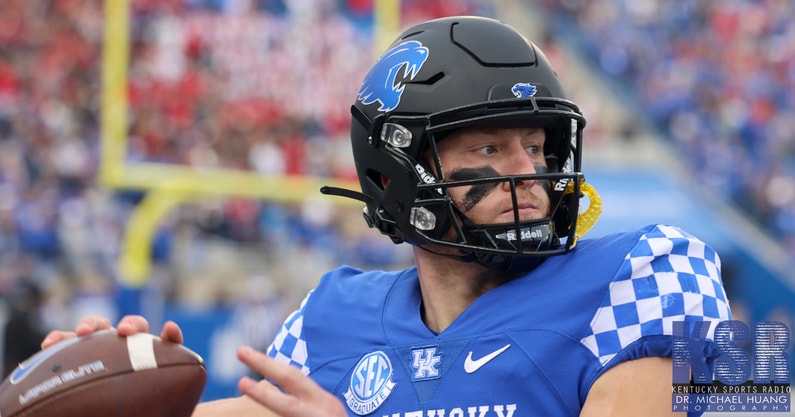 ESPN's Mel Kiper has had a change of heart regarding Kentucky quarterback Will Levis' draft status. Just last week, the draft analyst was convinced Levis would wind up coming off the board first among players at his position — no matter the hype surrounding Alabama's Bryce Young.
"I think this is what's gonna happen. The old guard, which I'm part of, is (gonna lean) Will Levis. I've said that from back in September. I'm (with) Will Levis," Kiper said on  'First Draft' with Todd McShay and Field Yates. "The analytics, the young guys, and all that are gonna be on Bryce Young. So I'm just gonna wait. I'm waiting this out. There's no rush to judgment here from me."
That wait would not last long and a rush to judgment is here.
Less than a week later, Levis isn't the No. 1 quarterback on his official 2023 NFL mock draft. He isn't even No. 2. Out of three passing talents projected to be selected in the first five picks, the Kentucky standout is third, coming in at No. 5 overall. Kiper projects the Seattle Seahawks to take him, stepping in as the franchise's long-term answer at quarterback.
Kiper says Levis' tape won't be the prettiest upon review by NFL teams, but they'll see throws that "no other passer in this class can make." For that reason, he's a lock to be selected inside the top 10.
5. Seattle Seahawks (via DEN)

Will Levis, QB, Kentucky

Here we go, the third quarterback in the top five picks. Levis is going to be polarizing for the next few months. Turn on his tape, and you're going to see some poor interceptions and questionable decisions. But you're also going to see rockets that should have been caught and tight-window throws that no other passer in this class can make. There will be a general manager in the top 10 who sees Levis' positives over the negatives. He also is ahead of the curve in learning a pro-style offense, because that's what he played in for the Wildcats.

ESPN
It's not even Young coming off the board first among quarterbacks — he's second at the position and No. 4 overall. Instead, it's Ohio State's C.J. Stroud now earning No. 1 honors at quarterback, good for No. 2 overall.
Check out Kiper's updated first-round projections:
Jalen Carter, DT, Georgia – Bears
C.J. Stroud, QB, Ohio State – Texans
Will Anderson Jr., DE/OLB, Alabama – Cardinals
Bryce Young, QB, Alabama – Colts
Will Levis, QB, Kentucky – Seahawks
Tyree Wilson, DE, Texas Tech – Lions
Peter Skoronski, OT, Northwestern – Raiders
Myles Murphy, DE, Clemson – Falcons
Anthony Richardson, QB, Florida – Panthers
Calijah Kancey, DT, Pitt – Eagles
Paris Johnson Jr., OT, Ohio State – Titans
Lukas Van Ness, DL, Iowa – Texans
Jaxon Smith-Njigba, WR, Ohio State – Jets
Devon Witherspoon, CB, Illinois – Patriots
Michael Mayer, TE, Notre Dame – Packers
Broderick Jones, OT, Georgia – Commanders
Joey Porter Jr., CB, Penn State – Steelers
Christian Gonzalez, CB, Oregon – Lions
Keion White, DL, Georgia Tech – Buccaneers
Byron Young, DE/LB, Tennessee – Seahawks
Tuli Tuipulotu, DT, USC – Chargers
Quentin Johnston, WR, TCU – Ravens
Emmanuel Forbes, CB, Mississippi State – Vikings
Deonte Banks, CB, Maryland – Jaguars
Jordan Addison, WR, USC – Giants
Bijan Robinson, RB, Texas – Cowboys
Derick Hall, DE/OLB, Auburn – Bills
Dalton Kincaid, TE, Utah – Bengals
Isaiah Foskey, DE/OLB, Notre Dame – Broncos
Brian Branch, S, Alabama – Eagles
Zay Flowers, WR, Boston College – Chiefs
To Kiper's credit, he does still have Levis ranked No. 3 overall and first among quarterbacks in his updated 2023 NFL draft rankings, a listing of his favorite prospects in the class. So while his latest intel suggests the Kentucky star isn't currently at the top of his position group in the eyes of the league, he still is for Kiper personally.
Levis' stats don't blow you away, but he didn't have a great supporting cast of playmakers around him. He had 19 touchdown passes and 10 interceptions on the season, and his 60.9 QBR ranked 59th in the country. But when I went through all his starts at Kentucky earlier this year, I was really impressed with his game. Levis has a rocket launcher for an arm and makes some "wow" throws. That has gotten the Penn State transfer into trouble at times, but it's clear watching him that he believes he can fit the ball into any window. My comparison for him is Matthew Stafford.

Levis played in a pro-style offense at Kentucky, and he's not going to need much time to adjust to the NFL. He can maneuver the pocket and throw on the run. Many of his turnovers came when he tried to use his arm to force throws, and he's going to be punished for mistakes at the next level. Levis is the real deal, though, and there are lots of fans of him in the NFL.

ESPN
We'll find out more when the NFL Combine starts in February, followed by the draft in April.