Will Levis is a Psycho that Throws the Football Too Hard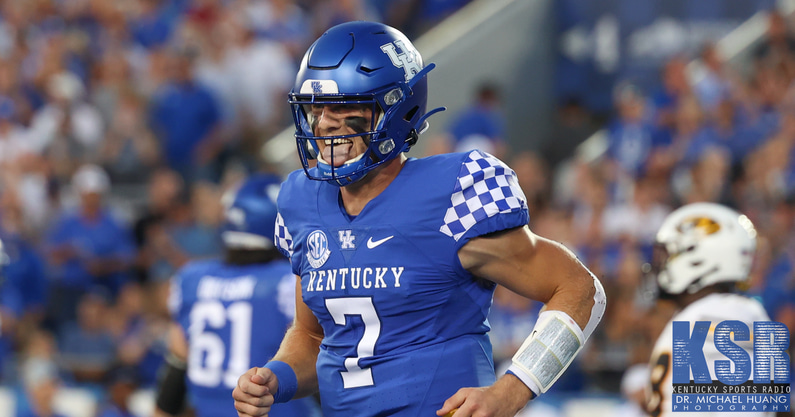 Kentucky has the right kind of crazy playing quarterback. Will Levis has led the Wildcats to consecutive wins to start the season by making big plays with his big arm. In fact, Levis' biggest problem so far is that he throws the ball too hard.
Kentucky's QB1 leads the SEC in long passing plays, throwing six balls 20+ yards and completing three passes of 50 yards or more. Saturday night against Missouri he showed the BBN why Penn State used him as a running option, bowling over Blaze Allredge to get a first down and sprinting into the end zone for a score.
As Liam Coen watched the replay of Levis' rushing touchdown, one thing came to mind. "He's psycho," said Kentucky's offensive coordinator. "He's nuts in a lot of ways, which is great because that's what you want out of your quarterback. You want that guy to be the guy everybody looks to and brings energy and juice every single day."
In addition to his rushing touchdown, Levis has thrown five touchdowns and picked up 564 yards through the air in two football games, completing just over 63% of his passes. Coen loves what he sees so far.
"Really good," Coen said. "What we asked him to do, he made great decisions. He threw the pick on the same play as the first game of the year. Same play, but it was a different look. We were trying to give Smoke a one-on-one opportunity. They did a great job of masking man coverage and playing zone, so it spooked him on the coverage read. He comes down to Izayah, he's late, he tries to rip it and it's behind. Just multiple things there but I thought he did a really good job of running the whole operation.
"We probably have about five or six audibles in the game plan and he handled all those great. I think you guys saw his ability to run the football also gave us some yards. He had like 40 yards rushing, which added to all those rushing yards we had. I was pleased with him. He played really hard, he played tough and I think the guys are starting to rally around him even more."
One Area for Levis to Improve
Levis' big arm has him atop SEC statistical categories, but it's also gotten him into trouble. His two interceptions were tipped passes that had too much mustard on them. Coen is trying to slow Levis down without completely shackling Kentucky's gunslinger.
"When you have a live arm it's difficult to decelerate your arm. It's just not something you ever really want to teach a kid to do, but it's something for him that maybe if you just take a deep breath on some of those throws to relax. As opposed to getting tense and trying to rip it."
Coen added: "When your arm is so live, sometimes you've gotta slow it down a little bit and that's hard to tell any thrower of the football to slow your motion down because it's just not natural to do. It's more so continuing to get those reps of the throws that he's missed. It's those kind of short, intermediate in-breakers that we need to continue to work on. We worked on them a ton today. Just try to get him to think a little more head height with that soft ball there as opposed to a rip-it throw. He'll get it. He'll be all right."
Levis has received rave reviews so far from analysts, teammates, coaches and fans. He may be a psycho, but that's exactly what the Kentucky football program needs.