Will Levis talks new NIL partnership with Dr. Pepper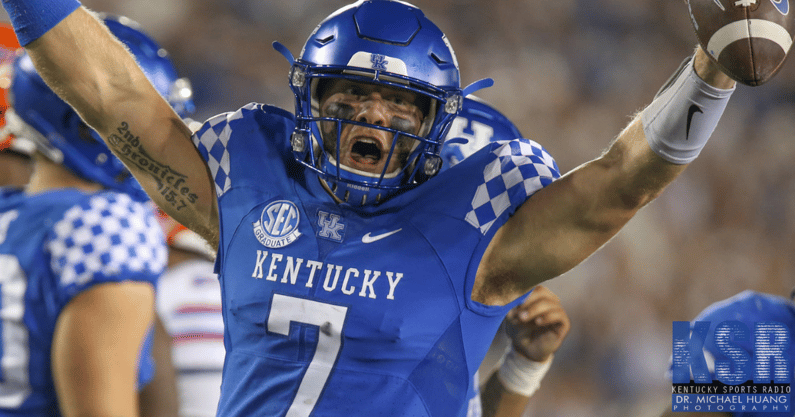 Every year for over a decade now, a lucky group of college students toss footballs into a cutout hole of a giant soda can with a chance to win $100,000 on the line. It's an event where chest passes are encouraged and speed is the name of the game.
The Dr. Pepper Tuition Giveaway has been a staple of college football conference championships since 2008. But in the new name, image, and likeness (NIL) era, the rules have been altered in 2021; for the better. To help take advantage of the opportunities NIL can provide, Dr. Pepper went out and teamed up with several top quarterbacks from across the country. Their job has been to coach up the 15 student finalists as the latter prepare for their chance at the $100,000 grand prize.
One of those quarterbacks is Kentucky Wildcats junior gunslinger Will Levis.
"It's great to be a part of it. It's not something that I thought I would be a part of and I was definitely surprised went they reached out to me at first but I'm so glad they thought about me," Levis told KSR in a one-on-one interview. "And being a quarterback and being the right personality they were looking for for this kind of thing, I think I'm great for it and hopefully I can just help these kids with this experience as much as possible."
Levis joins some impressive company as part of Dr. Pepper's new initiative, too. Fellow quarterbacks Anthony Brown (Oregon), Desmond Ridder (Cincinnati), Sean Clifford (Penn State), and J.J. McCarthy (Michigan) have also partnered with Dr. Pepper. Not a bad list of names to be mentioned in the same breath with.
"It feels great," Levis said of partnering with Dr. Pepper. "It means that they believe in me as a quarterback. And not only as a quarterback but as a person. They see that I have the ability to represent them in a positive way and I definitely feel like I'm able to do that as well."
In total, Dr. Pepper has already awarded $12 million in tuition support through the giveaway. This year, the company plans to hand out another $650,000 across the Power 5 conference championship games this December.
"It's a great way to give back. These kids work really, really hard," Levis added. "They were all selected for their own reasons and it was great to meet them and see and hear what their goals were for their futures."
To get selected as a participant in the event, students were asked to get creative and make a TikTok explaining how the money would help them change the world. Only 15 made the final cut. For most, it's a life-changing amount of money that can lead to an easier way of life.
"It can do a lot," Levis said. "Going through the process of meeting them I went through and asked them about what they wanted to do with the prize money if they were to win it. Obviously, a lot of them are going to use it to help pay off their student loans and stuff like that but a lot of them even talked about taking it a step further and using it for their own giving back efforts through charities or other things. These kids are awesome kids, they were all chosen for a reason, and they got their hearts in the right place and that's what it's all about."
As for tips he provided the students, Levis says he's all-in on the chest pass. That method, as opposed to the traditional, overhanded way of throwing a football, has proved successful over the years. The goal of the competition is to get as many footballs into the giant Dr. Pepper can as possible during the set amount of time.
"I went back and I watched the film. I went back and looked at the analytics of everything with the past winners," Levis joked. "Not really but I think that the general consensus is that the chest pass is probably the easiest and the most efficient. Best way to get the balls out there and get as many in there as possible. I think it's definitely the best approach."
We'll have to wait and see if Levis' advice winds up paying off. When it comes time, he'll probably watch the events with a Dr. Pepper in hand. While college athletes tend to stray away from sugary drinks, Dr. Pepper is one of the few he enjoys.
"I am!" Levis said when asked if he likes to crack open a cold Dr. Pepper. "I'm not a huge soda fan at all but I will say that if I am going to drink soda, Dr. Pepper is definitely up there. I like ginger ale too. But I do like Dr. Pepper."