Will Levis Throws his Citrus Bowl Ring on Marty & McGee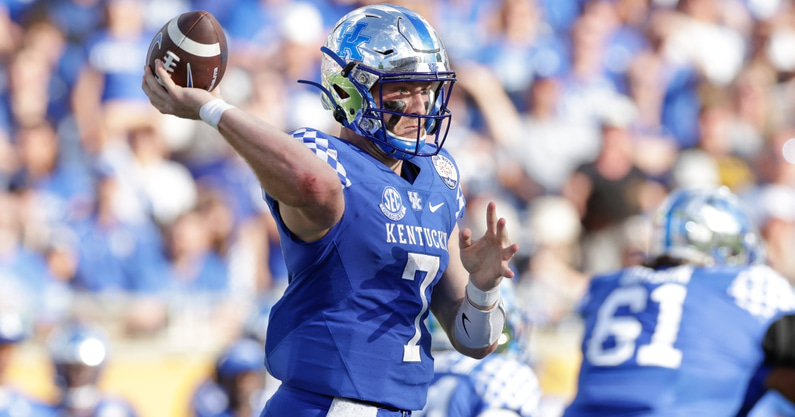 Will Levis was a popular person at SEC Media Days. While making his rounds through various interviews, the Kentucky quarterback made a pitstop with Marty & McGee.
The SEC Network's dynamic duo likes to crack jokes, but they did not shy away from the tough questions. After a 10-win season in 2021, Levis was asked "What's the next step?" The Kentucky quarterback did not pump the brakes on lofty expectations.
"A great season. We did something that hasn't been done a lot in our program's history, which is to get to that 10-win mark. But I mean, that's two times in the past four years," said Will Levis.
"We're trying to take it to that next level. We think of ourselves as a great program now and it's time to be elite. We want to be in the SEC Championship. That's our goal, win the SEC Championship, be back here in Atlanta in December."
Will Levis received plenty of preseason attention from pundits. He wants to be the best he can be, but it's all for the team.
"My ceiling and my potential is to be the best quarterback that's ever walked this Earth. That's always been my goal and that's always been what I've strived to be. I just try to operate each day to work towards that goal and that's to bring championships to the team I'm a part of. I know that if everything that I'm doing is in line with what the team's ultimate goal is, all the personal accolades and all of the attention, stuff that comes with it, will fall into place. That's why I'm not really worried about what people are talking about me or not focused at all about the next level or what that process looks like. I'm just trying to win ball games and let all that handle itself."
The Kentucky gunslinger got fired up while discussing his dreams. The charismatic quarterback launched his ring across the room in the middle of the conversation.
You can listen to Marty & McGee every Saturday morning from 7-10 am ET. Freddie Maggard's favorite show is simulcast on SEC Network. I have a hunch the rest of the conversation with Will Levis will air tomorrow morning.