Will Levis in Top 5 of Mel Kiper's new NFL Draft Big Board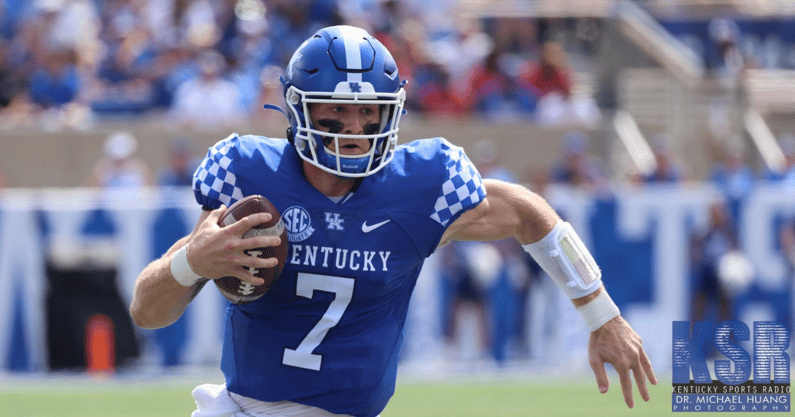 We're three games into the season and Will Levis' NFL Draft stock remains high; in fact, it's soaring. Mel Kiper Jr. updated his NFL Draft Big Board on ESPN today and Levis is No. 4, up from No. 22 over the summer. Levis is now No. 2 among quarterbacks behind Ohio State's C.J. Stroud and ahead of Alabama's Bryce Young. That's despite throwing four interceptions. After reviewing the tape, Kiper believes Levis is the "real deal" in the mold of Matthew Stafford.
I recently went through all of Levis' throws in 16 starts at Kentucky, and I was extremely impressed. He has a rocket launcher for an arm; the Penn State transfer makes some "wow" throws. That has gotten him into trouble at times — he has four picks in three games this season — but it's clear watching him that he believes he can fit the ball into any window. My comp is Matthew Stafford. Levis plays in a pro-style offense at Kentucky, and he's not going to need much time to adjust to the NFL. He doesn't have a great supporting cast of playmakers around him, but he makes it work. He can maneuver the pocket and throw on the run. He's the real deal, and he's going to battle to be the top signal-caller in this class, though I want to see him clean up the mistakes and limit his turnovers.

Mel Kiper Jr., ESPN
So far this year, Levis is 61-91 (67%) for 882 yards, six touchdowns, and the aforementioned four picks. Levis' turnovers are the biggest talking point when it comes to his draft stock, with ESPN's Matt Miller opining earlier this week that his "risk-taking mentality" could prevent him from becoming a franchise quarterback. On Monday, Mark Stoops said not all of Levis' turnovers are his fault, calling out his surrounding cast for not doing their part.
"It is not just him and I am not bailing him out, but on the interceptions and some of that, we need to play better around him," Stoops said. "Some guys need to step up and play more precisely. I think him holding the young wideouts accountable, all the little things and continue to grow."
In his opening statement, Stoops praised Levis for some big-time throws vs. Youngstown State. The dart down the middle to Tayvion Robinson in the third quarter comes to mind.
"Honestly, he made some amazing throws again on Saturday. The talent just jumps out at you. When he gets moved off his spot and still has the awareness and the arm talent and just the way he throws some of them. Just a really, really talented thrower. Made some amazing plays that kind of go unnoticed in a game like that."
A look inside Levis' rise to fame
It's wild to think that just over a year ago, Levis was relatively unknown in the college football landscape. Now, he's in the top five of arguably the most well-respected NFL Draft writer's prospect rankings and raking in a ridiculous amount of NIL money. Kyle Tucker has a great feature on Levis' rise to fame this morning that I encourage you to check out if you're subscribed to The Athletic. It features quotes from Levis and his family about the crazy ride they've been on over the past year and what lies ahead.
Expectations for Kentucky Football, and in turn, Levis, continue to rise. The talent is clearly there, but being able to shoulder that load is another promising sign he'll make it at the next level.