Will Levis, Wan'Dale Robinson are Third Down Difference-Makers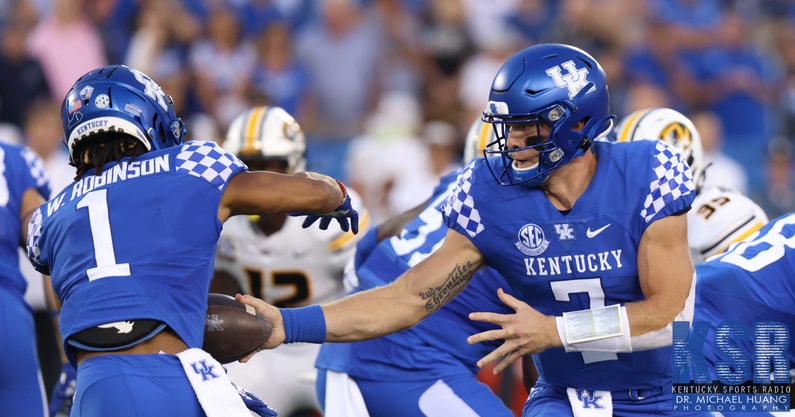 Former Big Ten opponents are now explosive SEC teammates. Through just two weeks of the 2021 season, Will Levis and Wan'Dale Robinson have created as many 50+ yard plays as the Wildcats did in the entire 2020 season. The transfer portal connection's big play ability makes the most significant difference on third down.
"We have that chemistry right now. We just gotta continue to make it better throughout the season," Will Levis said on this week's edition of Pin it Deep. "There's just a lot of things we can get better at, but it's great to still see us in these games connect."
Third Down Improvement by the Numbers
The Wildcats were one of the SEC's worst offenses on third down in 2020, converting just 36.6% of their attempts. It's easy to understand why. If you get behind the chains in obvious passing situations and can't pass, you're up a creek without a paddle.
It's a small sample size, but through two weeks of the season UK is the best third down team in the SEC, converting 14-of-23 attempts (60.87%). Against ULM, Kentucky completed 7-of-8 passes on third down for 136 yards. The numbers against Mizzou were even more impressive.
The Wildcats were forced into third down 12 times with an average of 7.1 yards to gain a first down. Kentucky converted seven of the 12 attempts, three through the air. Levis was not sacked and averaged 10.2 yards per attempt. The Wildcats converted two third downs of 10+ yards, virtually unheard of a year ago.
Play of the Game
Leading Missouri by a touchdown with just over six minutes to play, Levis was sacked on a second down, forcing a third and 12. In previous years this was a Kentucky drive's death sentence; not with Will and Wan'Dale.
The Wildcats split out five receivers wide against man coverage. Wan'Dale made one move and got a step on his defender. Levis dropped the go-ball right into Robinson's hands for a 33-yard gain, the quarterback's favorite throw of the night.
Take another look at the beautiful third down pass.
"He's fast, he runs good routes, he sets his angles and I trust him with the ball," Levis said. "His awareness of possession catching, kind of like in Madden, just catching it and getting down, securing the catch. He's got a really good feel for things."
Robinson's feel of the game was so good that he slid inbounds to keep the clock running. Kentucky chewed up five more minutes of clock before Missouri got the ball back, completely changing Eli Drinkwitz's strategy to score an equalizing touchdown.
The Missing Piece?
Recent preseasons have been dominated by asking the question, "can Kentucky get more explosive?" Creating big plays is without a doubt important, but one thing we overlooked is how it practically provides in-game benefits. With the addition of Levis and Robinson, Kentucky can now throw its way out of trouble in obvious third down passing situations.
If they cannot connect beyond the sticks, Robinson can make a man miss or run over him to get the first down. "He's a tough son of a gun." Levis is also one tough dude. If he can't get it to his wide receiver, he'll tuck it on third and seven, lower his shoulder and blow up the SEC's leading tackler.