Willie Cauley-Stein's Monday Night News and Views
Monday was a big day for Willie Cauley-Stein. The big man 
became the University of Kentucky's
25th consensus First Team All-American
after the Associated Press and National Association of Basketball Coaches selected him as a first-teamer. He had previously been named to the Sporting News and USBWA first teams, completing the sweep of the NCAA-recognized All-America teams. With the AP nod, Cauley-Stein became the first AP First Team All-American to average less than 10 points per game, a true testament to his defensive prowess and ability to affect games. So give it up for Willie Cauley-Stein and his defense in the comments section tonight. He's had an incredible season and it's not done yet. Oh, and shout-out to Karl Towns, too. The AP named him Second Team All-American today.
*****
John Calipari raved about Wisconsin's offense.
During the Final Four teleconference Monday morning, John Calipari said Wisconsin's offense may be better than the one he last saw in Notre Dame. "They're outstanding," Cal said of the Badgers. "We just played a great offensive team in Notre Dame. This team rivals and maybe surpasses because they can iso you in the post. They shoot the three the same as Notre Dame does. They have that one guy that's a big guy, not a guard, and their guards are good, too, in Frank who can go get his own. But Dekker has proved he can do the same. They're really good there."
He also wonders how Big Blue Nation always finds its way in.
When asked about the power of BBN, Cal said, "You walk into our arena at home, the upper deck in the corners are filled 40 minutes before the game. What, are you crazy? Why are you here right now? The radio show has 8,000 or 9,000 people that stay after. Our radio show would rank in the top 30 in attendance of games. The other thing is you go on the road, they're chanting. You're like, Oh, my gosh, they've taken over the arena. Like they do that. I don't know how they get tickets. They know not to wear blue when they're trying to get tickets. They have to wear red, orange, another color. People don't want to sell them their tickets. They figure out ways of getting in. They don't tell, because it's a secret. They don't tell anybody. No one knows. How in the world are they getting these tickets?"
Someone will make $1,000,000 if Michigan State wins the title.
A $20,000 bet was placed on Michigan State to win the champion at 50/1 odds back in December. The overly confident bettor/Spartan fan will collect $1,020,000,000 if State can pull it off in Indianapolis this weekend.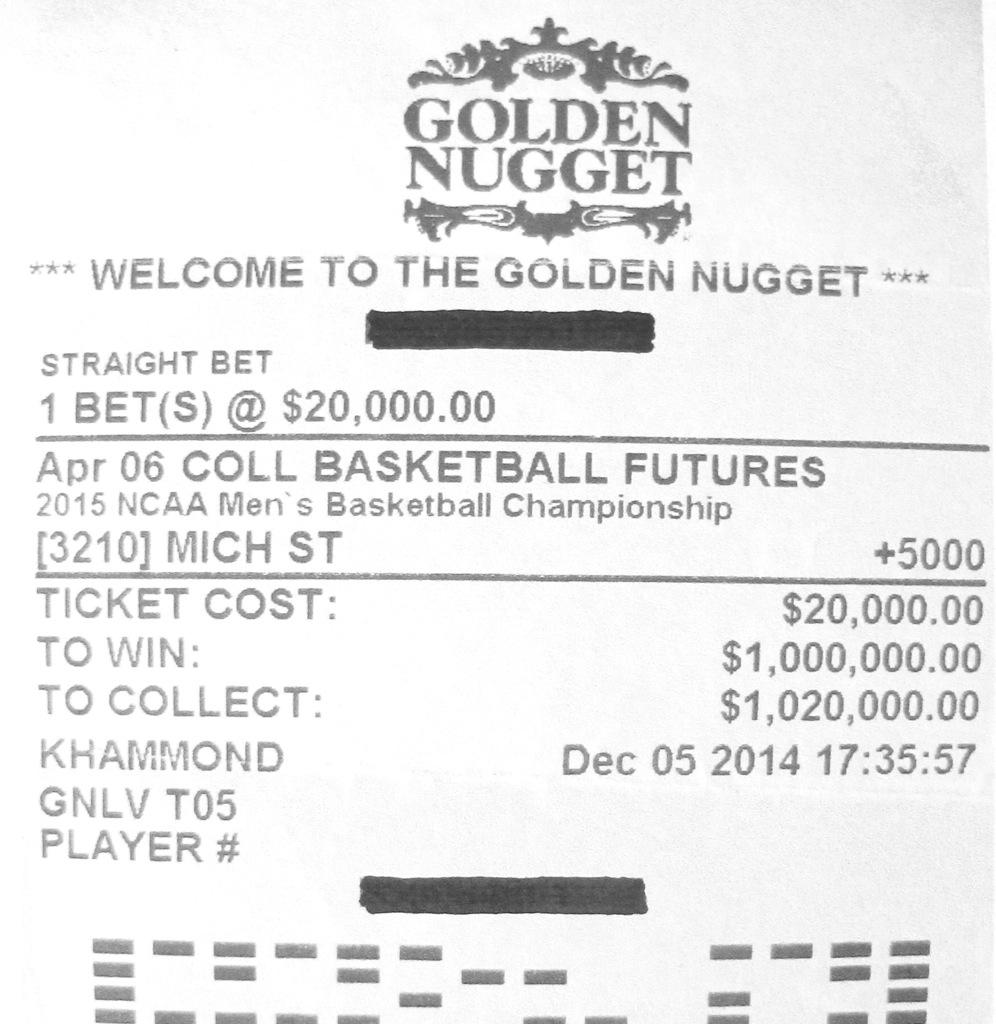 Who makes such a ludicrous bet, you ask? Derek Stevens, the owner of the D Casino on Fremont Street. The D stands for Detroit, Stevens' hometown. (Detroit is in Michigan.)
The '15 Michigan State and '14 UConn similarities are really crazy.
In case you missed it,
check this out
. The records and tournament runs, okay, freaky; but nearly identical points per game and identical points allowed? CRAZY.
Louisville will be terrible next season, like, really, really terrible.
Rick Pitino confirmed the departures of Montrezl Harrell and Terry Rozier to the NBA on Monday, shortly before news broke that Anton Gill will leave the program for somewhere else. Throw in Wayne Blackshear's graduation and that's Pitino's three leading scorers and one young hopeful gone from the roster next season. Serious question: Should Rick retire? I'm not sure he has enough life in him to rebuild and that record against Calipari will only get worse. Maybe it's time to give it up.
The New York Knicks like big butts and they cannot lie.
From the New York Post, Phil Jackson may pass on Karl Towns if the Knicks are awarded the first pick because Towns' butt isn't big enough. "They need a center with a big butt to hold space,'' Charley Rosen, Jackson's good friend, told The Post. "They didn't have anybody like that. It takes away a major portion of what you can do with the triangle because then it really becomes just a perimeter offense.'' Rosen believes the Knicks should go after Greg Monroe in free agency for its low-post presence. "Towns is not a big enough body," Rosen continued. "He'd never get that position in the NBA. He doesn't have enough power or core strength. He wouldn't be able to set up one dribble away from the basket. He's not a kind of center you need in the triangle. He's not physically that type of center, but he's athletic and does other things. Look how far out (Lou) Amundson, (Jason) Smith and (Andrea) Bargnani get pushed out when they post up, well out of the box.'' Read more about Towns' butt, or lack thereof,
here
. Writing that made me feel uncomfortable.
Tennessee will hire Rick Barnes, formerly of Texas and first weekend exits of the NCAA Tournament.
Barnes caught a lot of heat for underachieving with talented rosters at Texas, but it's a pretty good get for Tennessee. There's not much better out there for the Vols right now with Texas and Alabama going after Shaka Flocka Smart and Gregg Marshall. Maybe Barnes can rejuvenate a program that is in desperate need of a boost.
Mark Pope gets first head coaching job.
The former Wildcat became the head coach of Utah Valley State on Monday. Pope spent the last four season on the BYU bench after brief gigs with Wake Forest and Georgia following an NBA career that included stops in Indiana, Milwaukee and Denver. At Kentucky, Pope was a member of the 1996 championship team.
UK signees and targets didn't do so well in the Powerade Jam Fest.
Isaiah Briscoe and UK targets Brandon Ingram, Malik Newman and Stephen Zimmerman failed to escape the first round of the three-point contest, while Zimmerman lost to Florida State's Dwayne Bacon in the dunk contest and Briscoe came up shy in the skills challenge. The McDonald's All-American game will be televised Wednesday night at 9:00 pm on ESPN.
The Final Four is almost here.
CAN YOU FEEL IT? More to come throughout the week as we count down till Indianapolis. KSR will be in Indy bright and early Thursday morning for complete coverage of the scene. Let's. Go.