With a Kentucky offer in hand, Travis Perry is looking to put Lyon County on the map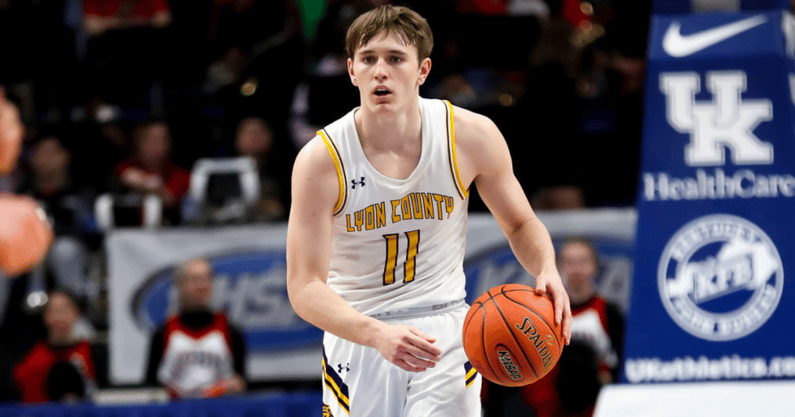 Even for lifelong Kentuckians, the small town of Eddyville isn't one a lot of them are familiar with. Settled in the western corner of the state roughly 30 miles east of Paducah, Eddyville houses around 3,000 people. It sits in the heart of Lyon County, which is just as unrecognized by those in the rest of the state.
But in the coming months, you're going to hear a lot more of Eddyville and Lyon County — that is, if you haven't already been paying close attention.
Travis Perry became a household name among Kentucky high school basketball fanatics in 2021-22 thanks to his undeniable ability to put the basketball in the rim. He's racked up over 3,000 points before his junior season and is on pace to break the state's all-time scoring record by passing the legendary Kelly "King" Coleman. The 6-foot-1 guard received a handful of Division I offers as a sophomore, but his stock has only recently exploded since the month of June.
And oh yeah, he plays for the Lyon County Lyons.
Perry's popularity reached a tipping point a couple of weeks ago in Shelbyville, KY. Playing in the Titans-Rockets Shootout, the recently ranked four-star '24 point guard put on a scoring clinic in front of a slew of college coaches, including the home state Kentucky Wildcats and head coach John Calipari. A 36-point showing on a seriously injured ankle against Cathedral's (IN) five-star '23 center Xavier Booker drew the eyes of everyone in attendance, Calipari included.
Kentucky quickly brought the in-state product on campus the following weekend, where he left Lexington with a scholarship in hand. Perry now holds offers from the likes of Michigan, Ohio State, Wake Forest, Missouri, Ole Miss, Cincinnati, Iowa, Nebraska, and Purdue, along with the 'Cats. Hearing from Kentucky was — as it is for most kids growing up in his position — like a dream.
"To be honest, not really," Perry told KSR last week on whether or not he thought he'd ever earn a Kentucky offer. "For a lot of people in Kentucky — people all over the country, Kentucky is that dream school. I really didn't think that they would ever reach out. I thought that they would watch me, I played pretty good, but I really didn't think they would ever reach out honestly."
In order to turn dreams into reality, there is still plenty of work to be done. Perry is about to enter his junior year at Lyon County, where he'll once again play alongside two of his closest childhood friends: Jack Reddick and Brady Shoulders, fellow rising juniors who have been playing basketball with Perry since before the second grade. For those wondering: yes, the chemistry translates onto the hardwood.
Those three will make up one of the state's top-scoring trios this coming season where all of the focus will be on making a return trip to Rupp Arena. Lyon County made it to the second round of the 2022 UK HealthCare Boys' Sweet 16 earlier this year before bowing out to highly-ranked Covington Catholic. Perry averaged 27.5 points per game that season but was limited to 21 points on 16 total attempts in the final game of his sophomore campaign.
He'll have his shot at redemption this fall, but with some added weight on his back. Perry is a big-name recruit now — one with the prestigious Kentucky offer — who will immediately hear about all his flaws from opposing crowds and fans wherever he goes. But all that noise should go away when he steps on the floor and his focus locks in.
Perry will be representing Lyon County, and he takes plenty of pride in that fact.
"It's definitely awesome," Perry said. "Walking around with Lyon County on your chest, a lot of people from all over the state up until the past few years had no clue where Lyon County was, who was there. But we're kinda putting Lyon County on the map, giving them a good name. I feel like we're going out and giving good experiences for everybody who's watching us.
"I've had a ton of coaches tell me they love the way we play, how hard we play, we're playing basketball the right way, and that's the main thing. Going out there and playing the right way, putting on so when people are talking about Lyon County basketball, they're talking about playing the game the right way, have five guys that share the ball, play unselfishly, play hard every play, and just play the game the right way. That's the main thing for us. We're representing Lyon County."
Winning takes sacrifice though, which luckily for Lyon County, has been preached into this team's mindset over the years, specifically into Perry's. He didn't get to this position by being selfish, even if he is scoring buckets upon buckets of points.
"Really just being the best teammate and best player I can be," Perry said about the approach for his junior year. "I saw something today that why Steph Curry is so great is because of what he can do for other people. So that's really the mindset I'm trying to take into the season, being the guy that makes other people look good, that makes the good come out in them.
"We got a lot of great players on our team and they definitely deserve opportunities to play basketball at the next level, so my goal is to help us strive as a team and make the other people on my team look good. Not worried about my stats or what I can do to look good."
It doesn't take long for the eyes to focus on you once Kentucky gets involved.