Women's clinic set for October 23 in Rupp Arena
[caption id="" align="alignnone" width="1000"]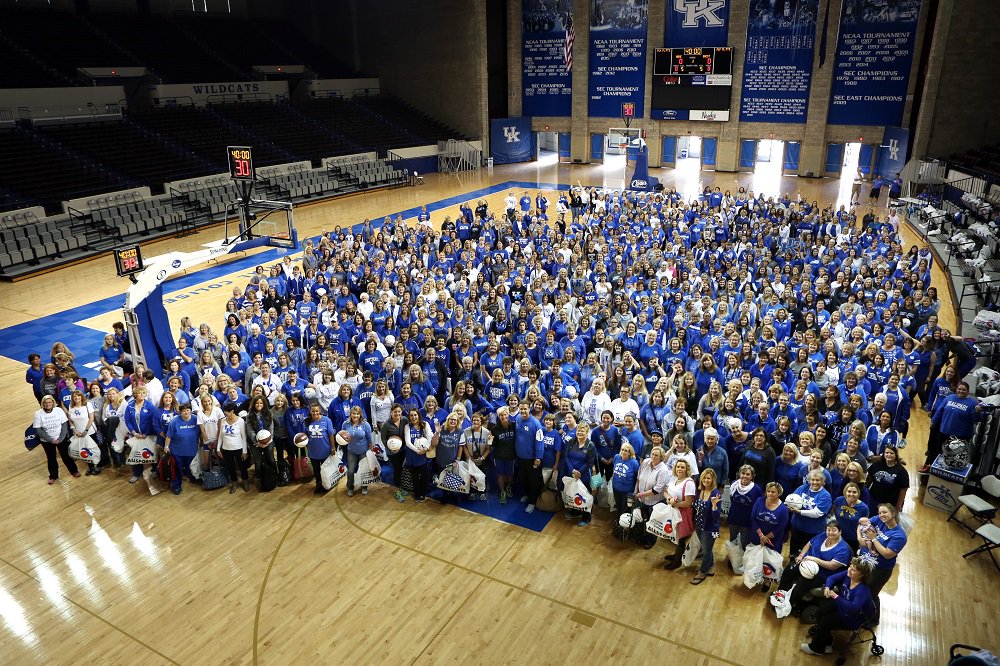 @KentuckyMBB
[/caption] The eighth annual John Calipari Women's Clinic has been
set for Sunday, October 23
. And this year, it's
being held in the newly-renovated Rupp Arena
. Here are the details from the release:
The clinic is designed for women with all levels of basketball knowledge and experience and offers an exclusive inside look at the University of Kentucky men's basketball program. The cost will remain unchanged at $100. For the first time ever, each participant will be guaranteed a small group (10 people) picture with the entire Kentucky men's basketball team. Participants will be able to download their picture for digital or print use after the clinic. To minimize waiting time for fellow clinic participants, attendees will be limited to three basketballs for purchase from the camp store. Due to time constraints, the only items that will be guaranteed to be signed by UK personnel are the camp store balls, which will be on sale at a discounted rate this year at the on-site camp store. Clinic attendees will be allowed to bring one additional item to be signed by Coach Calipari only during registration from 11 a.m. to 1 p.m. Check-in for the Women's Clinic will be from 11 a.m. to 1 p.m. on Oct. 23 at the media/security entrance on the west side of Rupp Arena. Participants can access the entrance through the Manchester Street parking lot. Parking is free and will be available in the lot located adjacent to Manchester Street and the west side of Rupp Arena. Attendees must park in a legal parking spot. Registration is available online. Interested participants are encouraged to sign up as soon as possible due to limited spots available. The past five clinics have been sold out. Throughout the designated check-in time, attendees can enjoy refreshments and a self-guided tour of Rupp Arena. Men's basketball staff members will be stationed throughout the facility for directions and questions. Following check-in, the women's clinic will begin at 1 p.m. with the introduction of the 2016-17 UK men's basketball team. Also included are scheduled presentations by staff and players on the inner workings of the program, as well as a Q & A with Calipari, UK coaches and staff members. The event will feature a camp store with Kentucky basketball items available for purchase. Please note that the camp store can only accept cash or checks as a form of payment. No credit/debit cards will be accepted.
Sorry fellas, but the clinic is open to WOMEN ONLY. I know you've been dying to wear that wig from Halloween three years ago, but you cannot sneak in as Jawanna Mann.   For even more details,
check it all out on UKAthletics.com
.