Xavier Booker receiving "a lot of interest" from Kentucky, hoping to visit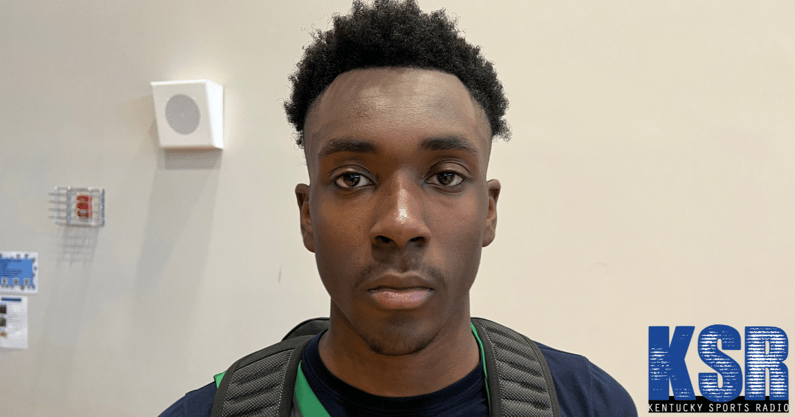 Five-star forward Xavier Booker is among the fastest stock-rising prospects in 2023, leaping over 50 spots into the top 10 of the latest On3 player rankings.
His rise has resulted in offers and interest from numerous high-major programs, including consistent contact from the Kentucky coaching staff.
"They're showing me a lot of interest so far," the 6-foot-10 forward told KSR last week at the NBPA Top 100 Camp in Orlando. "Coach (Orlando) Antigua, he was at my game (last) weekend at my high school. Coach (John) Calipari, I've been talking with him frequently. We definitely have a good relationship and I'm looking forward to keep building it."
Booker, a native of Indianapolis, previously told KSR that a visit to Kentucky was on the table. He doubled down on that possibility in Orlando, saying he hoped to make a trip to Lexington in the near future.
Other programs, though, have dates either set up or in the works with the five-star forward.
"I have a date set with Ohio State," Booker told On3." I'll visit there on September 3. That is the only date I have set. I am setting up dates with Auburn, Duke, Oregon, and Gonzaga."
What does he like about each of the other five schools receiving visits? He broke down each program with On3.
Ohio State: "I have a great relationship with the coaches. I love their playing style."
Auburn: "They compare me to Jabari Smith and what he did. We both shoot the ball. I can see that comparison.
Duke: "They have a new coach with Jon Scheyer. I look forward to building that relationship with him."
Oregon: "I like the program and their playing style. I have a good relationship with the coaches."
Gonzaga: "They compare me to Chet Holmgren; I see that. I like what they do with bigs, and they let them bring the ball up the floor."
It's not the Wildcats, Buckeyes, Tigers, Blue Devils, Ducks or Bulldogs, though, who have built the best relationship with Booker. That goes to the Michigan State coaching staff, led by Tom Izzo.
"So far, Tom Izzo at Michigan State," Booker said. "Really, ever since I visited for the first he kept it real with me. He's told me things about the campus and the program. But he also keeps it real with me, like telling me what I need to work on, like coming to my games and giving me feedback afterward."