YAHTZEE x 2: Davis twins from Pittsburgh will transfer to Kentucky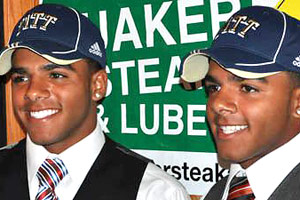 Two twins from Pittsburgh, Demitrious and Chris Davis will transfer to Kentucky.
They both confirmed the information via Twitter. Both are wide receivers and both will come to Kentucky as walk-ons. As we learned earlier today, the wide receiver corps heading into this season is very thin right now. Neal Brown even mentioned that Kentucky might have tryouts (h/t John Clay). The Davis twins will likely help fill that void. The two were also considering Louisville and Indiana when they decided to make the move from Pitt. Demitrious and Chris are originally from Austintown, Ohio.
Demitrious was the nation's #32 athlete and Chris was #33 in the class of 2012. Not too bad.