Can't Make The Club In The Tub
On Tuesday Eddie Gran discussed the minor injury status of running back Mikel Horton by quoting the old football adage, "Can't make the club in the tub." He then expanded by saying the it would not be a smart move for any running back to miss practice time. Telling and new. Please note that Gran was not suggesting that players should practice with a serious injury.
The running back position is a mere microcosm of the Kentucky offense. Across the field competition has increased intensity. The addition of depth is being used to decrease complacency.  I like this no-nonsense approach. Gran has said all the right things that the BBN craved in fall camp. Game-day will show if actuality will meet intent.
More camp observations:
-- The offense successfully moved the chains during last Saturday's scrimmage by converting 4/5 on fourth down plays. But, it was unsuccessful on third down conversions of which Gran emphasized that his unit would continue working until results are improved. UK converted 37.43% of its third downs in 2015. Strangely, last year the Cats finished 2nd in the SEC by converting 68.42% on fourth down.
-- Receivers are being praised for improved efficiency and production. That's great and all but comments about Dorian Baker's increased effort are more prevailing. Lamar Thomas' group is talented. Questions at receiver have never been talented related but more so referencing heart and effort. This is early camp talk now, but those issues seem to be in the process of being addressed and best case scenario; resolved.
[caption id="attachment_204785" align="alignnone" width="1310"]
Mark Zerof | USA Today
[/caption]
-- Adrian Middleton is solidifying a starting position at defensive tackle. This is what should be happening. Middleton is now a redshirt sophomore and this is his 3rd training camp. The encouraging news from Jimmy Brumbaugh's group is that Tymere Dubose is developing and the freshmen are competing for playing time. Dubose may have the most NFL ready skill set on the defensive front. He simply has to put it all together. Mark Stoops talked about Alvonte Bell and Kengera Daniel needing to step up in passing situations. This tells me that a variant in sub-packages, blitzes, and fronts will be used in certain passing situations to enhance pass rush effectiveness. Stoops is a 3-4 coach, but is certainly not married to the concept if adaptions are required.
-- Drew Barker is in total command of the offense. Both coaches and players have bragged about the sophomore.  With an adequate armament of surrounding skill players; I still say that Barker merely has to be good, not great for UK to go bowling. Backups Stephen Johnson and Gunnar Hoak have also drawn positive reviews. Johnson needs to advance accuracy and offensive command. Johnson's fluid ability to scramble is an unteachable yet dangerous trait. Gunnar Hoak has been steady. Hinshaw has repeatedly mentioned the rookie's advanced pocket presence and mechanics. Hoak's going to be a good one folks.
-- Vince Marrow is best known for his recruiting prowess. He's also the tight end's coach and by all accounts his position group has played at an extremely high level. CJ Condrad, Greg Hart, and Justin Rigg make up a formidable pass catching trio that will also be called upon for line-of-scrimmage blocking. The threat of a TE in the passing game will open up outside receivers and finally push linebackers outside normal pass lane responsibilities. Having capable TE's will also open up rushing lanes by preventing opposing defenses from stacking the box in order to stuff the run.
[caption id="" align="alignnone" width="1200"]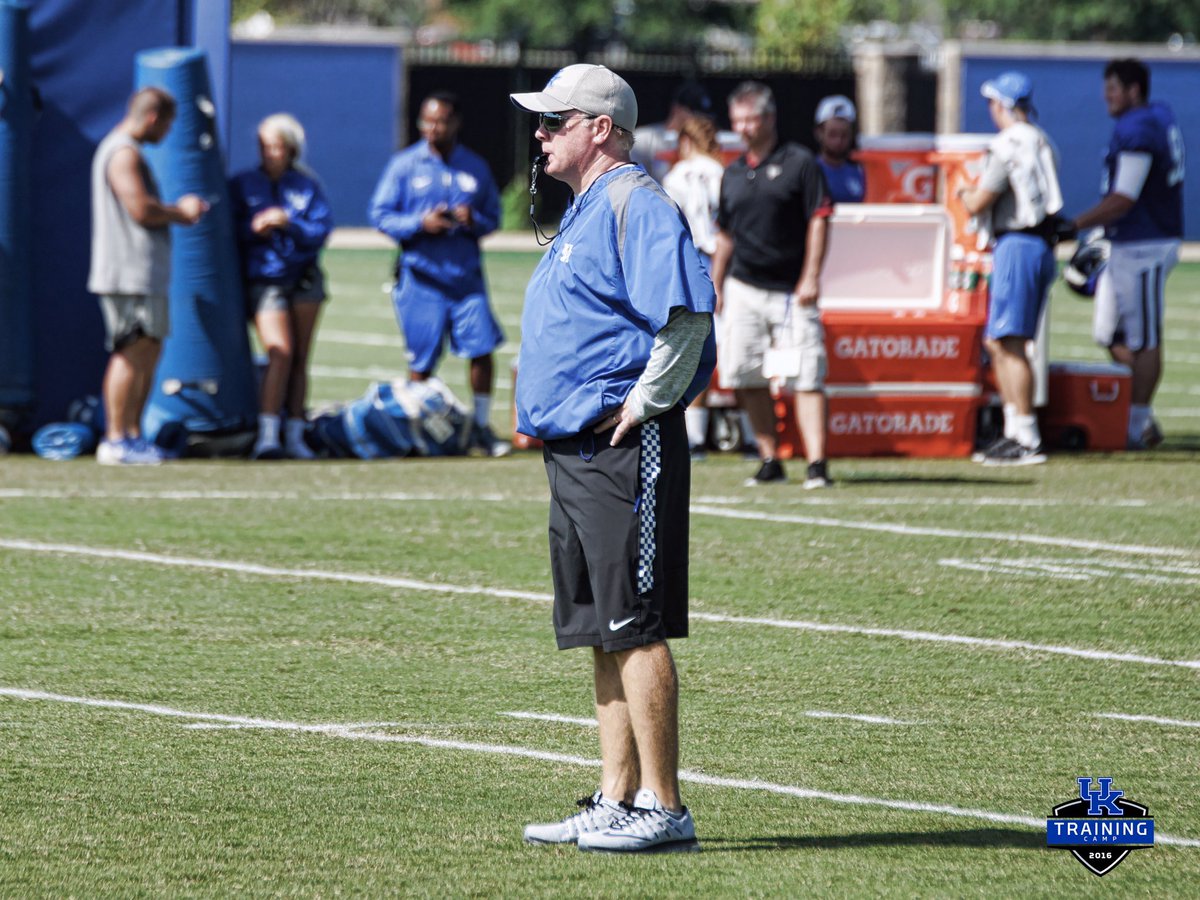 @UKStoopsTroops
[/caption]
WHAT'S NEXT?
-- Legs are beginning to tire as offseason conditioning is being tested on a daily basis. August's most important practice is coming up this weekend. Saturday's scrimmage could define the 2016 Kentucky Wildcats. A game environment will be simulated inside Commonwealth Stadium. Plays will be called from the sideline as coaches finalize one of their last live rehearsals. The scout team and starting lineup will be established as a result of the scrimmage. Afterwards Southern Miss will become priority number one.
-- Transfers may not be complete. In today's "play me now" mentality, post-camp attrition is common across the country. If this occurs at UK, then it can only be taken as a positive. Players voluntarily leaving the program have based their decision on the depth chart and playing time. Being recruited over is a part of building a football program as well as an upward surge of strong recruiting classes. 
-- A portion of the BBN is in a holding pattern while showing caution to optimism. Understandable. My job is not to motivate nor persuade the fan base. KSR instructed me to report my opinion and provide former player insight to the Kentucky Football program and the Southeastern Conference. But, I can't help but to be optimistic as a season ticket holder. 
-- Why am I optimistic? Eddie Gran has me sold. Gran's, "No selfish play", "Can't make the club in the tub", and more comments lead me to believe that the offense has undergone a legitimate attitudinal adjustment. By attending press conferences and observing an open practice, his words do not seem hollow. Furthermore, I don't think that starters were concerned about losing their jobs last season. I also don't believe that offensive players were held accountable for effort lapses or being an insufficient teammate. Call me crazy; many do already, but a change of mindset with a talented group of skill players matched up with a solid corps of offensive linemen could lead to 30 points per game. 
Additionally, three position groups have been named in the top of the SEC by various talking heads: Running backs (SEC top 5), cornerbacks (tops), and receivers (best in the East). Add in arguably the best center in UK history and I see a solid indicator of progress.
We'll see come September 3rd