Your Kids' First Day of School's Thursday Morning Wakeup
Mornin', yall. Before we get going with today's activities, I would like to say congratulations to your kids on their first day of school this week. I saw the news on Facebook when you posted a picture of them with their new backpacks in front of the school. It was right under another picture of kids in backpacks on their front porch and another of a kid with her new backpack in front of a different school, right above my friend's photo gallery of his kids standing on the front porch with their new backpacks. They've gotten so big since this time last year. All of them. Seriously. Congrats. Love the backpacks.  
No media availability after today's practice.
Things will be silent at football camp today as the team closes its doors to the public each Thursday. They'll be back at the microphone following tomorrow's practice with the offense conducting interviews in the afternoon. Mark Stoops, Eddie Gran and DJ Eliot will be available for more on Saturday before we do it all again next week for Week 2.
The KSR Football Podcast is back.
The wait is over, KSR Football Podcast fans. Nick, Freddie, Jared and I dusted off the old equipment yesterday for our first podcast of the season. We gave our preseason season predictions and got off topic (several times) during our first of three shows before the Southern Miss game. Give it a listen
here
.
Olympic golf starts today.
Go Rickie Fowler and Matt Kuchar! (I can't stand Bubba Watson or Rickie Fowler.)
Am I the only person in America not watching Stranger Things on Netflix?
Usually I'm on top of the hot trends in the world but I'm behind on this 
Stranger Things 
craze. I saw about half of the first episode and it didn't hook me before I fell asleep, so I guess I'll give it another try before I get completely left behind good. People are acting like it's the best thing ever. Four shows I'm currently catching up on: 
Mr. Robot
,
Vice Principals
, 
The Night Of 
and 
Power.
I can't seem to find time for my television these days.
Bad NFL News: Chargers' Stevie Johnson to miss season with torn meniscus. 
Worse NFL News: I'm a die-hard Tennessee Titans fan.
What's Bobby Petrino up to these days on Twitter?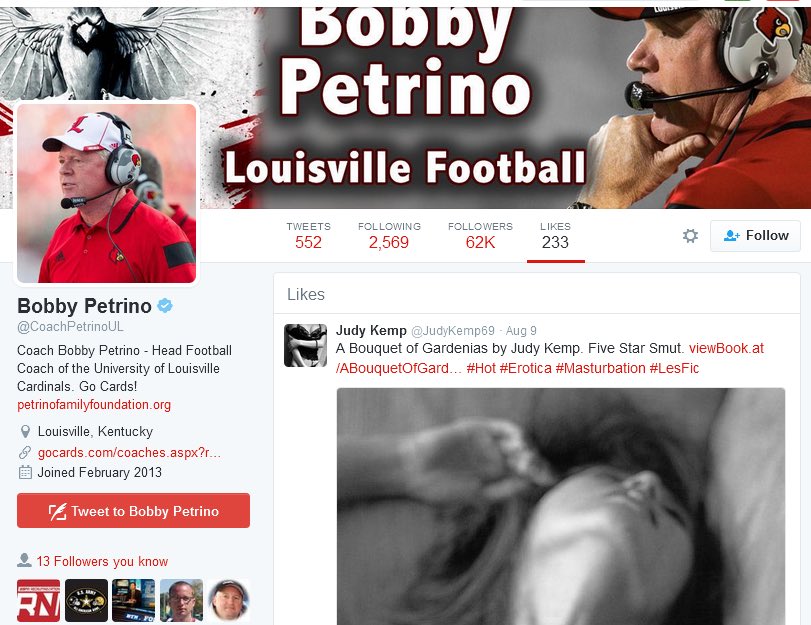 It appears he has been liking some questionable tweets, including one with a link to five-star smut. But I wouldn't know because he blocked me:
DeMarcus Cousins isn't dominating the Olympics like we had hoped.
Foul trouble is killing Boogie down in Rio. He found himself relegated to the bench for a second consecutive game in last night's narrow win over Australia. He scored only six points with eight rebounds in 10 minutes played, only slightly better than his five points and six rebounds in nine minutes against Venezuela. He'll get another shot when the Americans play Serbia tomorrow evening.
Kentucky Sports Radio is in Eastern Kentucky again today.
But where?