Your KSR Ballot That Has Nothing to do With Politics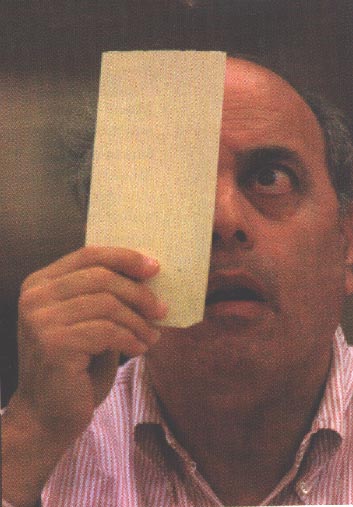 Archived Picture of Chris Johns reading ballots from last election
As we all gear up for a night and possibly more of election results that will replace some scumbags with other scumbags, I thought we could all take our attention to something of more importance, and that is of course Kentucky athletics.  So, take the time to fill out your UK election ballot, as it is your RESPONSIBILITY to do as a fan:
1) Which player is the most IMPORTANT for this UK Basketball team?
a. Brandon Knight b. Enes Kanter c. Darius Miller d. Deandre Liggins
2) Can this team make the Final Four WITHOUT Enes Kanter?
a. Yes b. No
3) Who will go down as the FAN FAVORITE of this year's team?
a. Josh Harrellson b. Brandon Knight c. Terrence Jones d. Jarrod Polson
4) Are the constant negative stories concerning the UK program lower your opinion of Coach Cal?
a. Yes b. No
5) What is the MOST LIKELY final outcome of this season?
a. 1st or 2nd round Exit b. Sweet 16 c. Elite 8 d. Final 4 e. National Championship
6) What Joker Phillips the right hire for the progression of the UK football program?
a. Yes b. No c. Too Early to Tell
7) What is MOST IMPORTANT for the Kentucky football program?
a. Making Bowls b. Beating Louisville on a Regular Basis c. Beating Tennessee on a Regular Basis d. Competitve in the SEC 
8) What has been the BIGGEST ROADBLOCK to Kentucky becoming a consistent football power?
a. Talent Gap in SEC b. Basketball School c. Lack of Huge Coaching Hire d. General Attitude of Fans/Players e. Destiny
9) What is your general attitude of the football program for the next 5 years?
a. Positive b. Negative c. Indifferent
10) Are fans justified to boo their team during poor performances?
a. Yes b. No Make your voices heard.