Za'Darius Smith's back injury could keep him out of Week 1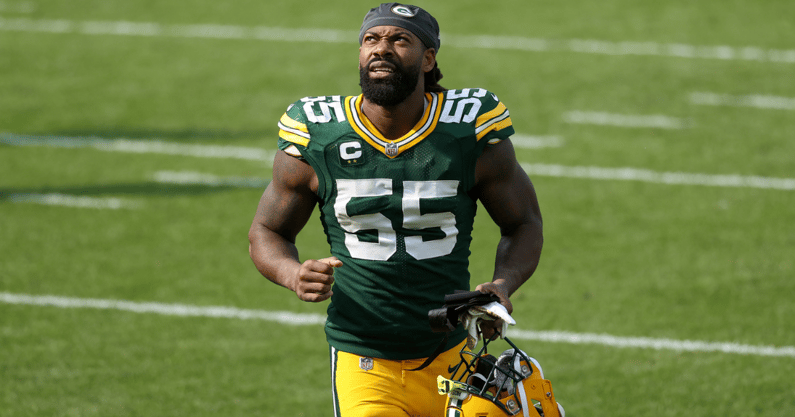 He still has a few more weeks to recover, but Za'Darius Smith is likely not going to be one 100 percent by the time Week 1 rolls around.
The Green Bay Packers outside linebacker didn't make his summer practice debut until this past Monday when he came off of the non-football injury list due to a lingering back issue. However, Smith missed a pair of joint practices on Wednesday and Thursday before sitting out the Packers preseason game against the New York Jets on Saturday.
Green Bay's season-opener isn't until Sunday, Sept. 12, against the New Orleans Saints, but Smith's head coach, Matt LaFleur, didn't sound all that optimistic about the edge rusher's status for that matchup. The Packers head coach that Smith "could potentially" miss Week 1.
"I'm not quite sure when we'll get (Za'Darius Smith) back," LaFleur said on Sunday. "He's injured right now. I know he wants to be out there, but we're going to be smart with him. He's obviously a big-time player for us. It definitely is a concern."
There were reportedly some issues between Smith and the Packers earlier this summer that stemmed from the way Green Bay handled the restructuring of Smith's contract, but this appears to just be a nagging injury.
Losing Smith for any period of time would be a huge downgrade for the Packers. The former Kentucky Wildcat has started every game over the last two seasons for Green Bay, earning Pro Bowl honors in both years (2019 and 2020). In those two seasons, Smith recorded a team-high 26 sacks to go along with 76 solo tackles.
Smith was at Kentucky from 2013-14, recording a total of 119 tackles and 11 sacks for the 'Cats. He previously came to Lexington after spending two seasons at East Mississippi Community College.