ZaKiyah Johnson, Leah Macy on ESPN's Top 25 Watch List for class of 2025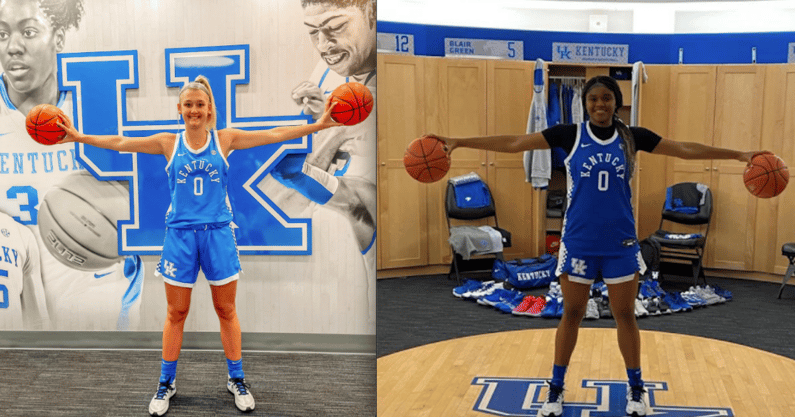 Two of the very best young high schooler hoopers in the entire country play right here in the Bluegrass State–and they're both very interested in the University of Kentucky.
ZaKiyah Johnson and Leah Macy, two class of 2025 high school freshmen, were recently named to ESPN's 2025 HoopGurlz Recruiting Rankings Watch List. Johnson will suit up for Sacred Heart Academy this season while Macy will play for Bardstown High School. The two are AAU teammates for Kentucky Premier
Let's get to know them both a little bit better.
Zakiyah Johnson: 5-11 guard/wing
Johnson has been on Kentucky's radar for well over a year now. The Wildcat staff — then led by former head coach Matthew Mitchell — offered the Shelby County native last summer in July, just a few days after the Louisville Cardinals did the same. Johnson's mom played basketball at Morehead State and her dad at Western Kentucky, and she has been playing up in age ever since she was in seventh grade.
Under new head coach Kyra Elzy, Kentucky has continued to recruit Johnson heavily, getting her to tour Lexington for a campus visit this past June. But UK and UL are hardly the only two Power 5 programs with a vested interest in the rising Bluegrass star. After an impressive summer playing for Kentucky Premier, her stock blew up. Johnson now holds offers from the likes of LSU, Mississippi State, Miami (FL), Oklahoma, Florida, Arizona, Michigan, Auburn, Oklahoma State, Penn State, UCLA, West Virginia, Tennessee, Virginia, Florida State, Georgia Tech, Ohio State, and Minnesota… All before playing one game as an official high school student.
Johnson will bring a big boost to Sacred Heart, the reigning KHSAA Sweet 16 Girl's Basketball champions, who is set to return most of its production from a season ago, including the top three scorers. As an eighth-grader for Shelby County, Johnson was 10th in the state in scoring at 21.8 points per outing.
Leah Macy: 6-2 wing/forward
Like Johnson, Macy has made a name for herself over the summer. She's been winning regional titles since middle school, but the versatile 6-foot-2 wing saw the college offers pour in the last few months playing for Kentucky Premier. Murray State came first in the spring before Western Kentucky, Illinois, Oklahoma State, Arizona, Oklahoma LSU, Georgia Tech, Kentucky, and Mississippi State reached out with offers.
Coach Elzy and Kentucky extended an offer to Macy following her August unofficial visit to Lexington. She also took an unofficial visit to Illinois earlier this month. Louisville has yet to offer, but the Cardinals was one of the very first programs to reach out at the beginning of the year. Macy also grew up a UL fan.
Macy was with Elizabethtown a season ago but will begin her high school career at Bardstown. During her eighth grade year, she was 27th in the state in scoring for E-Town with 18.9 points per outing and seventh in rebounds at 12.7. Macy was the engine that powered Elizabethtown to a 22-3 final record, although her squad missed out on the Sweet 16.
---
There's one more name on this Watch List we should pay attention to: 6-foot-0 guard Jaylah Lampley from Indianapolis, IN. ESPN plugged her into the list of 25 and she was on UK's campus over the summer with her younger sister (Lola Lampley, class of 2026). Lampley has earned offers from the likes of Purdue, West Virginia, Maryland, North Carolina, Mississippi State, Kentucky (April), and Michigan State since the summer began.
She also took unofficial visits to Florida, Ohio State, Michigan, and Michigan State in addition to her trip to Kentucky. Coach Elzy and her staff sure have been attacking the recruiting trail this summer.