Zion Childress Details Unconventional Path to Kentucky Secondary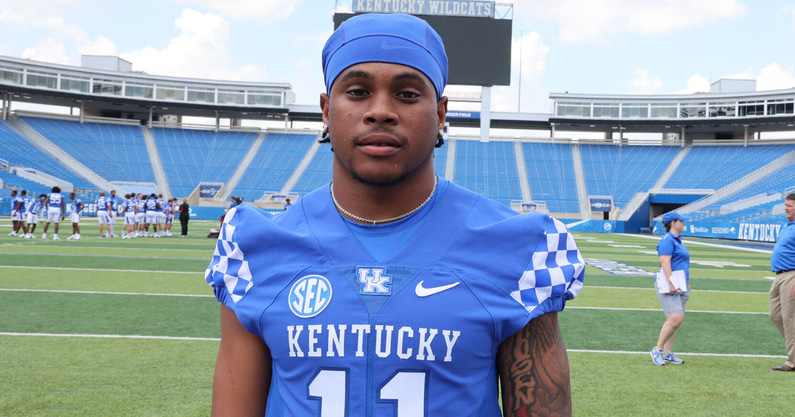 Three years ago he was a Texas high school star quarterback. Now Zion Childress is a Kentucky defensive back, on the verge of his first career start vs. Northern Illinois.
KSR has learned super senior safety Ty Ajian could miss some time after suffering an injury against Youngstown State. The Wildcats' other starting safety, Jalen Geiger, is likely out for the season. The two injuries are forcing Childress into a more prominent role at both free and strong safety alongside Jordan Lovett. Learning a new position in a new scheme is nothing new to Childress.
"It really wasn't hard because it's just football. It's still football," Childress told KSR. "You might be learning different techniques, but at the end of the day, it's football, so you gotta go out and play."
The Path Zion Childress took to Kentucky
Zion Childress grew up playing a little bit of everything on the football field in Houston, Tx. As a sophomore he rushed for a touchdown in double overtime to help New Caney High School win a district championship. During the final two years of his high school career, he settled in at quarterback and produced some eye-popping statistics. He threw for a total of 3,305 yards in his career. As a senior he rushed for 2,901 yards and 21 touchdown passes.
Upon arriving at Texas State, he was moved to the defensive side of the ball. Even though he had not played defense in two years, Childress quickly emerged into a starting role for the Sun Belt squad.
"Early in college I didn't really like tackling as much. Of course, I missed and reminisced playing offense, but now that I'm full dark-side I like hitting people."
Zion Childress is comfortable on the dark-side. Over two years at Texas State he started in 14 games and totaled 135 tackles. Once he entered the transfer portal, Childress was recruited by TCU and Washington before ultimate choosing Kentucky with three years of eligibility remaining.
Valuable Experience at Texas State Pays Off
Zion Childress was not a fish out of water when Kentucky played at Florida. He faced a similar situation at BYU in 2020 when he got a hit on Zach Wilson in front of a packed house in Provo. Brad White places a premium on experience above all else and Childress can certainly relate.
"It helps a lot," Childress told KSR. "I was talking to one of my teammates today. The game still feels really fast for him. I just told him, it's not slowed down to me because I'm still learning the system, but it's slower because I know how to play ball and I've already played ball. It's just learning the system all over again, really."
The speed is different in the SEC, but the Sun Belt proved early in the season that there are plenty of talented athletes in the conference. The biggest change for Childress at Kentucky is White's pro-style scheme. It's not just the concepts Brad White runs, it's how he scouts opponents to get his defense ready for Saturdays. The attention to detail during practice is why Keidron Smith knew where the pick six at Florida was being thrown before the ball was snapped to Anthony Richardson.
"As far as preparing for the games, Coach White has us ready. He's a lot more detailed as far as being able to know in a certain part of the field what to expect. If they line up like this, they're going to run this. It's all about tendencies. Being able to know what the other team's tendencies are prepares us for the game really well," said Childress.
"It's gotten to a point where we can tell each other what play we're about to get pre-snap so we can play ball."
Zion Childress may wear a couple different hats on the back end of the Kentucky defense, but at the end of the day, he is just doing what he loves: playing ball for the University of Kentucky.