After missing two straight games, Xavier Pinson a gametime decision for LSU-Alabama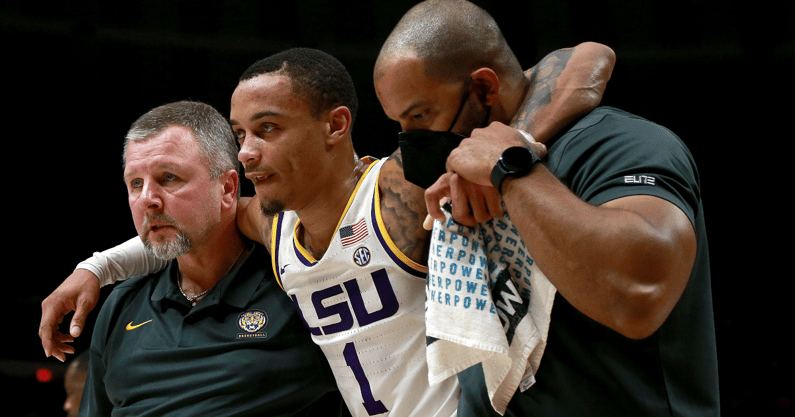 LSU point guard Xavier Pinson is a gametime decision for the game against Alabama on Wednesday night with a knee sprain and bone bruise. Head coach Will Wade told reporters before the team departed for Tuscaloosa that Pinson is getting closer to a return.
"He's fine," Wade said on Tuesday. "He ran a little bit yesterday. He was in there again this morning, so he will be a gametime decision tomorrow."
LSU's offense sputtered against Arkansas on Saturday in the team's second loss of the season. Without Pinson, LSU's offense isn't what it's been in the past.
Turnovers are hurting the Tigers, sure. It's a lack of crispness the detail-oriented head coach is seeing that worries him.
"It's not even just turnovers," Wade said. "We're not clean with the ball and that's part of the reason we can't score. Our timing is off moving the ball. We have poor spacing and there's a lot of stuff that leads to a turnover. We make ourselves so easy to guard because we do the same thing over and over. We got to learn and set things up."
Pinson's absence is putting a larger workload on the backcourt, which is a part of the team that Wade felt wore down against Arkansas. The Tigers are deep this year, which has allowed them to be the aggressor this year.
"We've been trying to keep guys at 28 to 30 minutes. That's where we've been really good," Wade explained. "I thought Arkansas flipped the tables on us. We've worn teams down that last five minutes we were down against Arkansas and so yeah, we haven't been able to use our depth with all the injuries and everything else that we have going on. We just haven't been able to use the depth to get them to the level that we need to."
Alabama a motivated team on losing streak
Pinson's averaging 27.9 minutes, 10.9 points, 4.6 assists, 3.1 rebounds and 2.1 steals per game this season in 15 games. While Pinson missed the last two games, the Crimson Tide have lost three straight.
It's a highly-motivated bunch heading into the 6 p.m. CT contest set for ESPN2.
"We've got to get our stuff in order," Alabama head coach Nate Oats said this week. "Our guys have got to realize they have to take care of the ball, get back in transition defense. LSU is great in transition offense. They are an unbelievable offensive rebounding team. We have to eliminate blow-bys and we need our shooters to make shots."
"They're gonna be desperate," Wade added. "We're going to get their best game they're going to play. They're going to play as well as they played all year. I have no doubt about that."
The No. 13/16 Tigers sit at 15-2 overall and 3-2 in SEC play. The Tide sit at 11-6 overall and 2-3 in league play.