Arkansas transfer Joe Foucha commits to LSU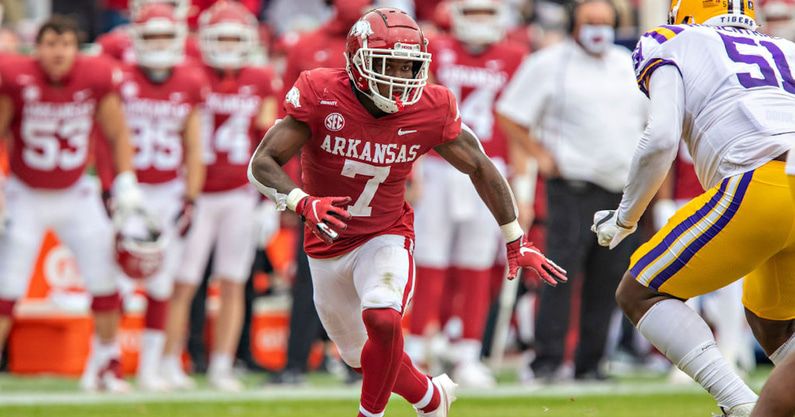 Arkansas transfer defensive back Joe Foucha entered the NCAA Transfer Portal earlier this month and the Louisiana native announced on Twitter that he'd committed to LSU.
"I got that beast in my eyes look like Tyson! #NewEra #geauxtigers COMING HOME!," the former McDonogh 35 star defender said in his tweet.
In 2021, Foucha notched 73 total tackles, 7.5 tackles for loss, 1.5 sacks, a forced fumble, seven pass breakups and two interceptions.
The New Orleans native has racked up 231 tackles, 11.5 tackles for loss, 2.5 sacks, two forced fumbles, 17 pass breakups and five interceptions during his 4-year run in Fayetteville for the Razorbacks.
In a statement released on social media, Foucha officially announced his intentions earlier this month to leave Arkansas.
"First and foremost, I would like to thank my lord and savior, Jesus Christ, for the ability to play the sport I love at such a high level. I would also like to thank Coach Cooper and Coach Morris for bringing me to the University of Arkansas," he wrote. "To Coach Pittman and his staff, thank you for the continued support and development. To every teammate that took me in as a brother and a friend, I am beyond thankful for you, and I will always cherish the memories we've made.
"To the academic and training staff, thank you for all your instrumental help and guidance. And finally, to all of the amazing Razorbacks fans, thank you for you unwavering support through thick and thin.
"I am forever grateful! With that being said, I will be entering my name into the transfer portal with one year of eligibility remaining."
For Brian Kelly and his coaching staff, Foucha is a part of building from the transfer portal, which the staff doesn't want to rely on longer than necessary. Kelly knows LSU's roster needs immediate help.
"In this instance, unfortunately, from my perspective, I would love to build everything through your freshmen class and develop your football team that way," Kelly said during the Texas Bowl broadcast on ESPN, "But we are going to have to use the transfer portal and this will have to be a transitional build this first year through the transfer portal, but moving forward, I want to build this football team through your freshmen players that you bring in an you develop, but we're going to have to use the transfer portal so it is a little easier."
LSU added another defensive back on Tuesday in Louisiana defensive back Mekhi Garner, who announced he's moving from Lafayette to Baton Rouge to finish his career.
The Tigers are also after another Razorback in defensive back Greg Brooks, another Louisiana native who is in the NCAA Transfer Portal.