Brian Kelly says Daniels is distancing himself in Heisman race
LSU's incredible offensive season continued to load up the stats on Saturday night with another dominant outing, this time in a 56-14 win over Georgia State. In the win, star quarterback Jayden Daniels saw his Heisman odds shoot up significantly. 
Daniels ended the game with 413 yards and six touchdowns on 25-of-30 attempts through the air, then added 96 rushing yards and two touchdowns on the ground in another LSU win. It was another chance to put the nation on notice as his stats continue to speak for themself.
"I truly think he's the best player in the country," head coach Brian Kelly said on Monday afternoon. "I've watched the other players too, and I think they're terrific players too, but what he is doing is so different from what I've seen in my career in terms of pushing the ball down the field and dropping balls into tight coverages and running the football. I would say the assertiveness which he's throwing the football – these aren't screen passes. These aren't swing passes. These aren't cupcake throws. Not that anyone's making cupcake throws, I'm not saying that, but all of his throws are vertical throws and he's pushing the ball down the field. His runs are making people miss and he's taking hits. He doesn't slide. He shows toughness. He's a football player and he's playing the game at a level I've never seen before."
Kelly has not had a Heisman candidate since Manti Te'o finished second in 2012, but he admits this time it's different. Daniels has shown the ability to put LSU on his back game after game, delivering consistently when his team needs him. The combination of passing and rushing success is already unique, but the way in which he's improved and carries himself this year has placed him on another level.
"He is so decisive," Kelly said, "There is no question about what he sees and how he acts. We got drop eight for the first time in a while on Saturday and he did not want to run. He is looking and trying to find a window to get the ball out. Last year when we got drop eight it was see ya, and he was running. That decisiveness has been the biggest change."
Building his case at LSU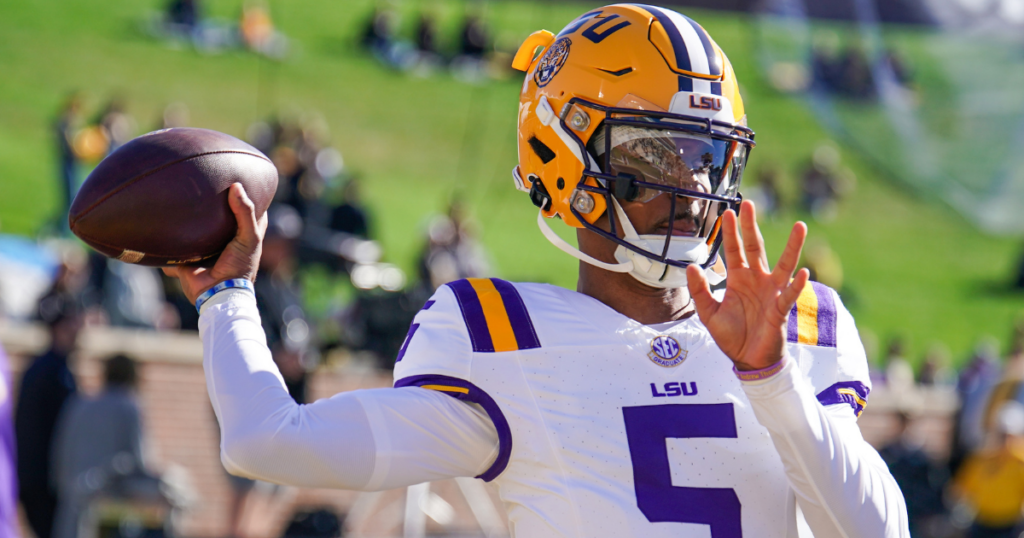 LSU's strength of schedule continues to be a strength in the debate for Daniels to win the Heisman. He's posted these types of numbers with one of the toughest slates in the country, playing the SEC West along with Florida, Missouri, and Florida State. He has four games against Top 15 teams and has been superb in three of those and was fine against the Seminoles to open the season.
"There are so many different things people look at when they have a ballot," Kelly said, "They're looking at strength of schedule, they're looking at losses, consistency in performance, and if you examine it, there are so many different components, but there's the eye test as well. When a guy takes over a game in a way [Daniels] has all year, that shifts it. All of the candidates are equal in playing a high level schedule.
"If you want to look at numbers, Jayden's numbers are starting to pull away from [the pack]. If you want to look at numbers, this race is starting to distance itself."
Daniels' receivers have benefited from his success, but they have carried their own weight as well at LSU. Malik Nabers and Brian Thomas Jr. have become two of the most accomplished receivers in the country in 2023 and seen their draft stock rise significantly.
Nabers has 80 receptions for 1,424 yards and 12 touchdowns, while Thomas has 55 catches for 1,021 yards and 14 touchdowns, putting them in the running for the Biletnikoff Award.
Kelly says, why not also put them in the Heisman conversation?
"You have to also include Brian Thomas' numbers and Brian rivals Marvin Harrison's numbers and Harrison is in the conversation for the Heisman. For both of our wide receivers, they could both easily be in that conversation. If Marvin Harrison is in that conversation, I don't know why Malik and Brian wouldn't be in that conversation."