East Tennessee State OL Tre'Mond Shorts commits to LSU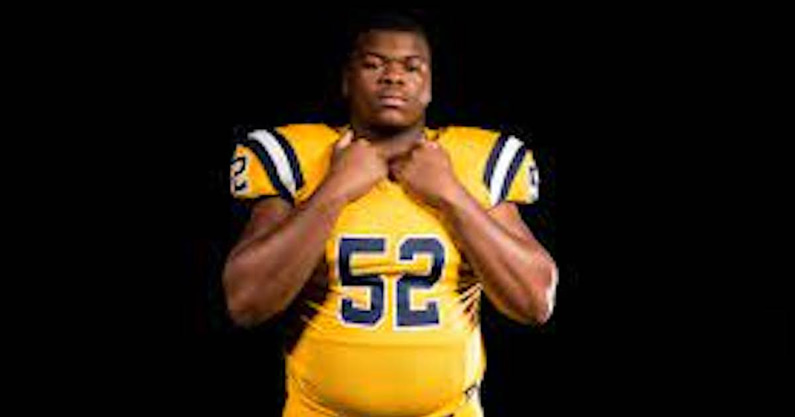 East Tennessee State offensive lineman Tre'Mond Shorts committed to LSU on Tuesday, giving the Tigers an FCS All-American in the trenches. He shores up a group that loses four of five starters off the 2021 starting group.
A mainstay on the starting line for the Bucs, Shorts comes to LSU to play out his final year of eligibility, adding plenty of versatility to the offensive line room for position coach Brad Davis.
In 2020, Shorts was an FCS All-American after starting all six games, earning the Jacobs Blocking Award. He became the second Buccaneer to receive the honor in program history. He played all 401 snaps in 2020, grading out at 99.5% in his 401 snaps.
In 2019, Shorts was named Second Team All-SoCon Coaches after he appeared and started in all 12 games for the Bucs. Shorts played in 746 of the possible 760 snaps on the season. He graded out at 99.5% in his 746 snaps and wrapped up his sophomore campaign with 38 knock downs.
In 2018, his first season after redshirting, he was named to the HERO Sports Freshman All-American squad and Phil Steele Magazine All-American Freshman Team.
The Hampton, Ga. native racked up plenty of starts for the Bucs and it's a thankless job, but he continues working to get his teammates in position to succeed.
"That's always been the case," Shorts told The Johnson City Press last year. "There's no stats for the offensive line. You just go out there and do your job. And when you don't do your job, that's when people notice."
Kelly continues to retool LSU offensive line, add transfers
LSU's staff has added nine other transfers into the fold to shore up the roster, and more are on the way. So far, Florida International offensive lineman Miles Frazier, East Carolina long snapper Slade Roy, Arkansas safety Joe Foucha, Arkansas defensive back Greg Brooks, Louisiana defensive back Mekhi Garner, Notre Dame punter Jay Bramblett, Virginia linebacker West Weeks, Penn State running back Noah Cain and Louisiana wide receiver Kyren Lacy have all pledged to transfer to LSU.
Like following LSU's work in the NCAA Transfer Portal? Subscribe to The Bengal Tiger for a year for just $10 and get a FREE Founders Club hat.
An important priority, Brian Kelly takes over the LSU program and is retooling the offensive line. That group lost starters like Chasen Hines, Ed Ingram, Liam Shanahan and Austin Deculus.
"You're looking at what their demeanor is," Kelly said at his introductory press conference about offensive linemen qualities. "Playing that offensive line position requires a profile that I like to stick with. I'm not going to get into the specifics right now, but there's a demeanor, there's a profile. There's a brotherhood on that offensive line that we build, and that brotherhood is real. Those guys are selfless, and they are the backbone of any great offense that I've ever coached.
"If you have that kind of resume, sign up. We're looking for you. That's the starting point. When it comes to development, it's hard work. We're ready to take on those kind of young men that have those special qualities and are ready to really dig in and put in the time."