Inside LSU's record-breaking Citrus Bowl - and season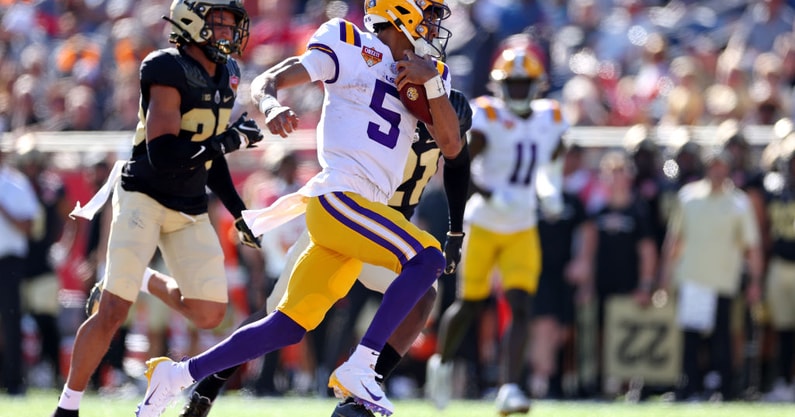 The LSU football team closed out the 2022 season in style in the Citrus Bowl.
One year ago, the Tigers suffered the program's first losing season since 1999.
12 months later, LSU is not just a 10-win team and SEC West Champions, but Citrus Bowl winners – and record setters.
LSU set six different Citrus Bowl records in the 63-7 win over Purdue, which moved the Tigers to 10-4 on the season in head coach Brian Kelly's first year in Baton Rouge.
LSU's 594 total yards of offense are a record for the most in bowl history (589, Georgia vs. Nebraska, 2013).
 
LSU's 63 points are the most in bowl history (56, Toledo vs. Davidson, 1969).
 
LSU's nine total touchdowns are a game record (8, Toledo vs. Davidson, 1969)
 
LSU's 56-point margin of victory is a bowl record (49-7, Alabama vs. Michigan State, 2011).
 
Quad Wilson's 99-yard interception return set a bowl record for the longest in game history.
 
LSU's 122 total interception return yards are also a bowl record (110, Oklahoma State vs. BYU, 1976).
For the Tigers, it was the chance to erase a two-game losing skid after a 9-2 start, reach double-digit wins, and finish the season as a (likely) Top 15 team.
"You get these opportunities and you want to be able to celebrate your season, enjoy the bowls and the atmosphere, and then you want to go play well," Kelly said. "We did that. Our guys executed at a high level. They competed at a high level. We were not at full strength, but that did not stop our guys from putting in the time and the effort."
Here are some other notable records and stats to take away from LSU's win to close out the 2022 season.
The single-season rushing TD record belongs to the 2022 team … With four rushing touchdowns in the Citrus Bowl, LSU set the single-season program record for rushing touchdowns in a season with 39. The prior record of 37 rushing touchdowns was set by the 2013 LSU team. The 2013 team's rushing touchdowns were scored by running backs Jeremy Hill, Terrence Magee, Kenny Hilliard and Alfred Blue, as well as fullback JC Copeland and quarterback Anthony Jennings.
Burrow, then Daniels … With Jayden Daniels finishing the season with 2,913 passing yards and 885 rushing yards, he combined for 3,798 total yards over 14 games. That's the second-most total yards in a season by an LSU quarterback behind Joe Burrow's 2019 season, when he totaled 6,063 yards across 15 games en route to a National Championship.
Daniels finishes with second-most passing yards for LSU across the past 10 years … For LSU, the No. 1 spot for passing yards in a season over the past decade is a seemingly untouchable one with Joe Burrow's 5,671 yards through the air. That said, Daniels did enough to move into the No. 2 spot for most passing yards by an LSU quarterback across that stretch. He finished the team's 14 games with 2,913 yards.
63 points (again) … LSU's 63 points was a Citrus Bowl record, but it wasn't a bowl record for the program. LSU's 2019 National Championship team also scored 63 points in the College Football Playoffs semifinal win over Oklahoma in the Peach Bowl. The Tigers also matched the program's 2019 bowl record for largest halftime lead, with both games sitting at 35-0 after two quarters.
56-point win … With LSU winning by 56 points, the Tigers did land the program's top spot for largest margin of victory in a bowl. The record was previously held by the 2005 LSU team that beat Miami by 37 points (40-3) in the Peach Bowl.
Catch, Run and Throw … Jayden Daniels became the first LSU player since running back Keiland Williams in 2008 to catch, throw and run for a touchdown in the same season. It's believed Daniels is the first quarterback in program history to accomplish the feat.
Mason Taylor's freshman year to remember … Tight end Mason Taylor made the most of his freshman season, and it brought far more than the winning catch to beat Alabama in overtime. Taylor had five catches for 88 yards and a touchdown in the Citrus Bowl win, which put him at 34 receptions on the season. That's the second-most catches by a tight end in LSU history, topped only by Thaddeus Moss catching 47 passing during the 2019 season.
Nabers joins the 1,000-yard club … LSU sophomore wide receiver Malik Nabers posted the 10th 1000-yard receiving season in LSU program history, becoming the ninth Tiger to hit the mark after finishing with 1,017 receiving yards this season.
1, 2, 3 … Quarterbacks Jayden Daniels and Garrett Nussmeier both passed for touchdowns in the Citrus Bowl, as did wide receiver Malik Nabers. LSU became the first team in the past 25 seasons to have three players throw for touchdown passes in a bowl game, according to ESPN.