LSU commit Dashawn Womacks lands 5-star rating from On3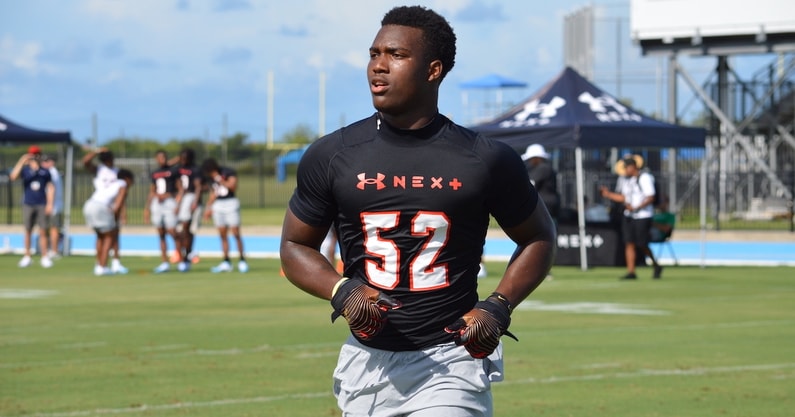 There's now a third five-star committed to LSU for the 2023 recruiting class, according to On3. Baltimore (Md.) St. Frances Academy EDGE Dashawn Womack is now a five-star in the latest On300 update released Monday.
Womack rose up into five-star territory earlier this year and now is the No. 22 overall prospect in the country. On3 saw too much from the Under Armour All-American to keep him off the five-star board, even in a class that features Keon Keeley, Damon Wilson, Adepoju Adebawore and others.
"Dashawn Womack was on the cusp of getting his fifth star in the last update," On3 director of scouting Charles Power said. "We just wanted to see a little more and the competition at the EDGE position is pretty tight. I think it remains tight as one of the deepest positions in the cycle. It's a pretty high bar for a new EDGE prospect to be a five-star. I think it's notable that we felt good enough about Womack to watch him as a senior, to make him a five-star right now before all-star games."
LSU landed a commitment from Womack on July 4 over Georgia, Ole Miss, Oregon and others. He's now On3's 4th-ranked EDGE and No. 1 player in Maryland.
"It just felt like home," Womack added about why he chose LSU. "It just feel(s) like, I don't even know how to explain it. I fit right in with the other players. I fit with in the staff and I can fit the defense, of course."
Want the scoop on one of LSU's top remaining 2023 targets? For $1 for a YEAR, you can get the latest intel ahead of early signing period!
Dashawn Womack scouting report
"Elite athlete in the camp setting who shows serious juice and power coming off the edge. Ran an electronically-timed 4.76 40, jumped a 30" vertical and 9'9" broad jump at 250 pounds in the spring prior to his senior season. Has the potential to kick inside on pass rush in a 4-down front and will most likely develop into a strong-side end or 4i depending on the scheme.
"Possesses raw power and athleticism. Has the power to shock players at the line of scrimmage. Handsy player that does an outstanding job initiating contact with his length. High upside player that could develop into a game-wrecker at the next level if he can tune his pass rush arsenal."
Prior to the update, Dashawn Womack was the No. 50 overall recruit in the 2023 cycle, according to the On3 Consensus, a complete and equally weighted industry-generated average that utilizes all four major recruiting media companies. He is the 6th-ranked EDGE prospect and the No. 1 player in Maryland. LSU's class ranks in the Top 5 of all recruiting classes, according to the On3 Consensus Team Recruiting Rankings.