LSU OL Chasen Hines enters 2022 NFL Draft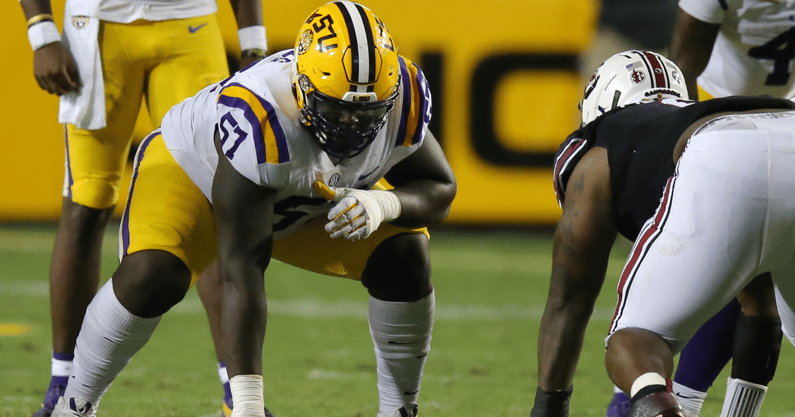 LSU offensive lineman Chasen Hines, a former four-star prospect in 2018, has entered the 2022 NFL Draft, he announced on Twitter.
"Thank you, Tiger nation for all the love and support through my career here at LSU," Hines wrote in the tweet. "To my teammates, I appreciate you guys for all the memories that will last a lifetime. To the training and strength staff, thank you for all the support you've given me since day one.
"Thank you Tam and her staff for all of their hard work. To the best fans in the world, thank you for making Death Valley an unbelievable experience!
"This has been one of the most difficult decisions to make, but with many prayers and talks with my family I've decided to forgo my eligibility and declare for the 2022 NFL Draft! Thank you and God Bless. Forever LSU!
Hines started for the Tigers in the Texas Bowl loss to Kansas State, finishing with eight appearances this season with seven starts. The former Marshall (Tex.) standout saw action in 35 career games with 17 starts during his time in Purple and Gold.
In 2020, Hines took over as the starter at right guard after serving as the backup center to Lloyd Cushenberry in 2019's National Championship season. Hines started the first nine games of the season in 2020, totaling 665 offensive snaps.
As a sophomore in 2019, Hines appeared in 10 games for the Tigers, with his most action coming against Vanderbilt with 36 snaps at the left guard position.
Hines played in eight games with one start in 2018, which came at left guard in a 19-3 win over Mississippi State. He also stepped in for Garrett Brumfield against Auburn in a game LSU won 22-21.
According to the On3 Consensus, a complete and equally weighted industry-generated average that utilizes all four major recruiting media companies, Hines was the No. 240 overall prospect, No. 14 interior offensive lineman and No. 32 prospect in Texas.
As Brian Kelly takes over the LSU program, he's looking to retool an offensive line that loses starters like Hines, Ed Ingram, Liam Shanahan and Austin Deculus.
"You're looking at what their demeanor is," Kelly said at his introductory press conference about offensive linemen qualities. "Playing that offensive line position requires a profile that I like to stick with. I'm not going to get into the specifics right now, but there's a demeanor, there's a profile. There's a brotherhood on that offensive line that we build, and that brotherhood is real. Those guys are selfless, and they are the backbone of any great offense that I've ever coached.
"If you have that kind of resume, sign up. We're looking for you. That's the starting point. When it comes to development, it's hard work. We're ready to take on those kind of young men that have those special qualities and are ready to really dig in and put in the time."