LSU with three 5-stars on On3 Rankings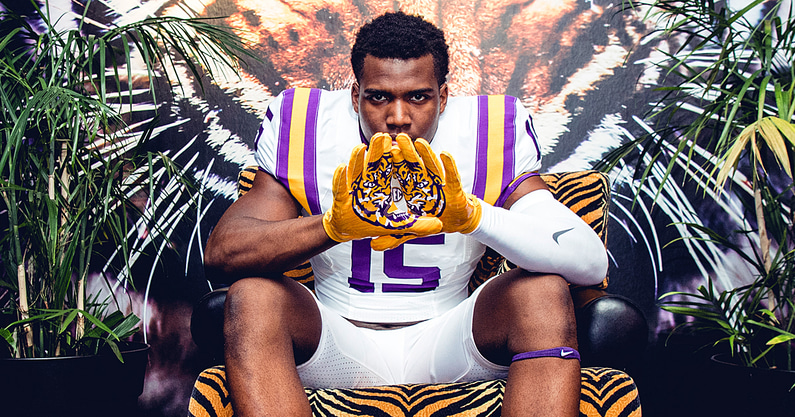 With the release of the most recent On3 rankings for the 2023 class, good news is in for the LSU football program.
The Tigers and first-year head coach Brian Kelly are now the lone program in college football with three five-star commitments on On3, which – as of November 21 – is more than any other team in the country.
Neville (Monroe, La.) offensive tackle Zalance Heard maintained his five-star ranking, as did Catholic (Baton Rouge, La.) wide receiver Shelton Sampson Jr.
Now, a third LSU commitment is ranked by On3 as a five-star.
St. Frances (Baltimore, Md.) edge rusher Dashawn Womack moved up from No. 29 to the No. 22 overall prospect in America, adding a fifth star in the process.
Womack is now ranked as the No. 4 edge rusher in the country for the 2023 recruiting cycle. Womack is one of just three new five-stars in the On3 rankings.
"Dashawn Womack was on the cusp of getting his fifth star in the last update," On3 Director of Scouting and Rankings Charles Power said. "We just wanted to see a little more and the competition at the EDGE position is pretty tight. I think it remains tight as one of the deepest positions in the cycle. It's a pretty high bar for a new EDGE prospect to be a five-star. I think it's notable that we felt good enough about Womack to watch him as a senior, to make him a five-star right now before all-star games."
Power also noted that Womack has a chance to contribute right away in Baton Rouge, adding that he could potentially put himself in a position to start games as a true freshman next season.
"His pass rush repertoire is one of the better ones we've seen in the cycle," Power said. "He can rush standing up or with his hand in the dirt and has played really well in showcase games for St. Frances. He really dominated their game against DeSoto. He's made high level plays throughout the season against a tough national schedule. He is very physical to go with the athleticism and ready-made size. There's very little holes in Dashawn Womack's game, which is what makes you feel so good about the projection and ultimately making him a five-star. He has the upside, but he has a pretty high floor, as well."
Heard, LSU's highest-ranked commitment, is ranked No. 15 overall and checks in as the No. 3 offensive tackle in the country.
Sampson is ranked as the No. 23 overall prospect and the No. 4 wide receiver in the country.
"With Zalance Heard and Shelton Sampson, they have had good years and senior seasons," Power said. "Heard we have been high on since the jump, and I think he's continued to play well. He made the transition to left tackle this year, and it's good he will go to LSU with experience at (both tackle positions).
"Sampson has had a good year and scored a lot of touchdowns. He's doing a lot more in the short passing game for Catholic, throwing quick-game stuff to him. We haven't seen him in a neutral setting outside of playing a little 7-on-7, so really looking forward to see him in the All-Star (Game) setting and be able to compare him with the other receivers."
It's an impressive group at the top for LSU's 2023 class, which maintained a Top 5 ranking on both On3 and the On3 Consensus Football Team Rankings. The Tigers currently have 25 verbal commitments in for the 2023 cycle, and Kelly and LSU will look to add more names to the list between the Early Signing Period in December and National Signing Day in February.