LSU WR Kayshon Boutte making 'really good changes' after second surgery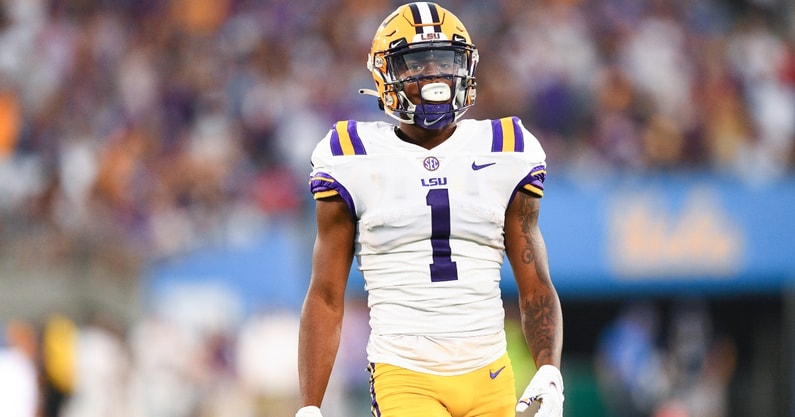 LSU's lone star offensive player returning in 2022 is wide receiver Kayshon Boutte, a former Freshman All-American who saw his sophomore season end with an injury. Transfer rumors swirled this offseason after LSU fired Ed Orgeron, he's rehabbing after a second surgery, and he's getting his priorities straight off the field.
It might be surprising that Boutte and new head coach Brian Kelly aren't there yet from a relationship standpoint, but Kelly pointed out that the former five-star prospect is re-engaging with the program.
"I would say I know his last name right now," Kelly said on Wednesday when previewing spring practice. "I say that only because we are in that process of, he's re-engaging. He's been injured. He's had a second surgery, but we are getting more acquainted every day."
Going through the changes this offseason, it's not surprising to Kelly to see Kayshon Boutte need some centering, and he is improving every day.
"Look, he's a great player. He's a good kid," Kelly said. "But this has been a rough spot for him. What happens is you tend to get distracted because you are not involved in everything. He's learning that he has to be involved in everything whether you are injured or not. That's a process he's going through. And we are seeing some really good changes."
With Boutte in a walking boot and spring practice beginning Thursday, it's likely he's out, until he's a full go. The good thing for LSU is Kelly and Boutte continue to talk about the progress he's making in the classroom and in his recovery.
"We had a nice conversation in the training room this morning where he is on top of his academics and he is making good progress," Kelly explained. "The good part about it is that the surgery was successful, he's making good progress. He's in a walking boot right now. That's really the most important thing. The rest of this stuff, we will work it out between the two of us. I'm not that hardheaded. He's a good player."
Healthy Kayshon Boutte will aid LSU QB — whoever that is
LSU is set to rotate four quarterbacks — Myles Brennan, Jayden Daniels, Walker Howard and Garrett Nussmeier — by seniority in spring practice. A healthy Kayshon Boutte would help whoever is the LSU starting quarterback. When healthy, he's one of the best receivers in college football.
Last year, he grabbed 38 passes for 508 yards and nine scores before his injury that ended his season against Kentucky. He broke out as a true freshman in 2022, leading LSU with 785 yards and five touchdowns on 45 catches.
If the New Iberia, La. native's recovery continues and things line up on the field, Kayshon Boutte's NFL dreams are all in front of him. With his trajectory, he could be the latest LSU wideout selected in the first round of the NFL Draft.
Cortez Hankton inherits talented WR room
For passing game coordinator Cortez Hankton, he's inheriting Boutte, Jack Bech, Malik Nabers, Jaray Jenkins, Brian Thomas Jr., Kyren Lacy and Chris Hilton Jr. They all hail from Louisiana and he's looking forward to developing the mostly young, but promising group.
"First and foremost, the talent is there without a question. But it's always going to be about continued growth and development," Hankton said earlier this spring. "I haven't had an opportunity to work with these guys. I did have the privilege of recruiting most of them so I've had a previous relationship. From that standpoint, is definitely a benefit. I'm excited to get to work, see what these guys are going to do when we get on the field. But they do have this eagerness about them.
"This hunger to learn the game of football. It's mutual just in terms of embracing this opportunity to move back towards the things that we need to do not only as a position, but more importantly, as a football team."
Spring practice begins for LSU on Thursday with the practices culminating in the annual spring game on April 23.