LSU's NFL Draft 2023: Early Departures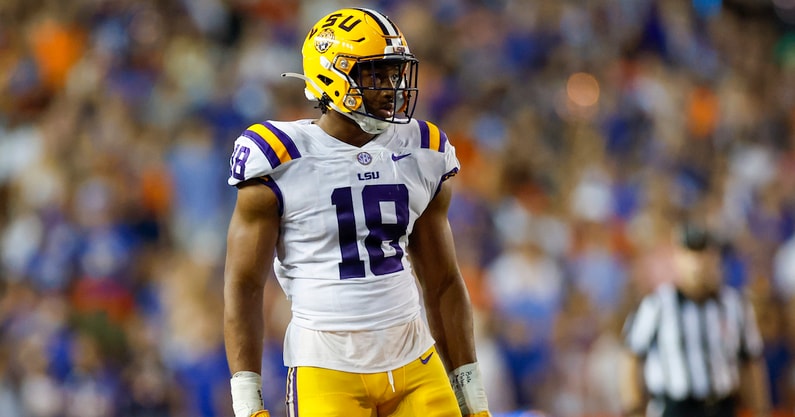 The deadline for college football players to enter the 2023 NFL Draft has passed.
For the LSU football program, there are eight former Tigers who decided to leave college despite still having eligibility remaining.
Meanwhile, seven players exhausted their college eligibility and will also be in the draft pool.
The Tigers had a number of players pass up the chance to enter the NFL Draft, including quarterback Jayden Daniels, running back John Emery and defensive back Greg Brooks Jr.
Will LSU have any first round picks in this year's NFL Draft? What's the outlook for the entire group?
Here's a look at who's leaving the roster and will be on the board for the 2023 NFL Draft.
Declared early: (8)
OG Anthony Bradford (TBD)
WR Kayshon Boutte (Round 1-2)
WR Jaray Jenkins (Round 4)
EDGE BJ Ojulari (Round 1-2)
LB Mike Jones Jr. (Round 7)
DB Jay Ward (Round 3)
CB Mekhi Garner (Round 3)
DT Jaquelin Roy (Round 3-4)
Thoughts: There are only two players in this year's NFL Draft pool who have a shot at hearing their names called in Round 1.
Wide receiver Kayshon Boutte is one, and edge rusher BJ Ojulari is the other. Boutte's best year was his freshman season when he led the team with 735 receiving yards in 10 games. And he got out to one of the country's best starts in 2021 with 38 catches for 508 yards and nine touchdowns before suffering a season-ending injury during the sixth game of the season. Boutte didn't look the same after his injury, finishing his final year in Baton Rouge with 48 catches for 538 yards and two touchdowns.
Boutte is popping up in some mock drafts as a late-first round selection, while others have him coming off the board in the second round.
Similar projections are in for edge rusher BJ Ojulari. Some mock drafts have Ojulari coming off the board with one of the final selections in the first round, while others have him being quickly snatched up early in the second round.
The Georgia native appeared in all 10 games during his freshman season in 2020, then played in 13 games with 12 starts in 2021, when he finished the year by leading the team with seven sacks. Ojulari had 5.5 sacks and 58 tackles this past season, and now he will head to to the NFL Draft and follow in the footsteps of his older brother. Azeez Ojulari, who attended Georgia for college, was drafted in the second round with the No. 50 overall selection in the 2021 NFL Draft.
LSU defensive backs Jay Ward and Mekhi Garner could be the next names to come off the board as both are being projected as potential third round picks. Ward, who won a National Championship at LSU in 2019, has played cornerback, nickel and safety during his time in Baton Rouge. Garner, who transferred in a year ago from Louisiana-Lafayette, had a solid season as an SEC cornerback and made the choice to enter his name into the draft pool.
LSU defensive lineman Jaquelin Roy is hoping to hear his name called in that same range – and maybe even ahead of Ward and Garner. Roy was a key piece to the LSU defensive line in 2022, and he's being projected as going as high as Round 2 or as low as Round 4 in this year's draft.
Jaray Jenkins is the lone LSU receiver beyond Boutte in this year's draft, and nearly all mock drafts agree that he's likely a mid-round selection. After catching a pair of touchdowns as a sophomore in 2020, Jenkins hauled in six touchdowns in each of the past two seasons – including some game-winners.
Two of the more intriguing players to leave school early and enter the NFL Draft were offensive lineman Anthony Bradford and linebacker Mike Jones Jr.
Bradford's draft stock is largely a mystery, meaning it will hinge on how he performs in settings like LSU's Pro Day and – if he gets the invite – the NFL Combine. Bradford started on the offensive line across multiple seasons in Baton Rouge.
Jones, who transferred in from Clemson, has been in and out of the starting rotation in Baton Rouge. Now he's hoping to hear his name called in this year's draft. One of the biggest questions will be where NFL teams view Jones in terms of his position at the next level. The high school safety played nickel at Clemson and transitioned to linebacker at LSU.
******
On Tuesday, The Bengal Tiger will take a closer look at the seven players below who will be part of the draft pool after playing out their college eligibility.
Exhausted eligibility: (7)
DE Ali Gaye